Parippu vada Anyone?
Now that cooler weather is rolling in, my family wants something comforting to eat and drink. My cuitees wanted hot chocolate and cinnamon rolls, but myself and my husband want something hot nadan snack. So I decided to make parippu vada and hot chocolate 🙂 I know what you guys are thinking ?Combination is wired right? but I love hot chocolate very much so ended making them. Warm and cozy is how I feel whenever I eat paripppu vada and hot chocolate, no matter what the weather.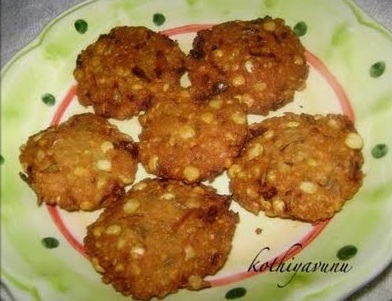 Now let me introduce Parippu Vada to my friends who haven't heard about the snack…Parippu vada -Dal/Lentil Fritters is famous deep fried snack made with chana dal ot toor dal, curry leaves, chili, ginger and onions. These teatime vadas are from the South Indian state, Kerala and are very tasty. This snacks are very popular especially in all the tea shops (we call them chayakada in malayalam) and in railway stations. You can always hear sellers in the train station shouting, "Pazhampori, Parripu vada, Uzhunnu vada, etc…All tea shops (chayakada) always have anyone of these vadas..some of them carry all these vadas. Needless to say, when I write about this, I go back to my childhood days it brings back fond memories 🙂
If you haven't tasted the Parippu Vada, what are you waiting for ? Do give it a try. I'm sure you will like it! Enjoy!
Parippu Vada Recipe – Channa Dal -Thoor Dal Fritters Recipes
Preparation Time : 2-4 hrs
Cooking Time : 30 mins
Makes : 15-20 vadas depending upon the size of vada.
Ingridents :
Toor Dal (Thuvara parippu) or Channa dal (Kadala parippu) :1 cup or you can use 3/4 cup toor Dal or 1/4 cup of Chana dal ( I have used both)Dry red chillies :4-5 nos
Shallots/Pearl Onion : 4-5 Or use Onion : 1/2 (finely chopped)
Asafoetida : a pinch
Fennel Seeds : 1/2 tsp
Ginger : 2 tbsp (finely, chopped )
Green Chilly : 4-6 (chopped)
Curry Leaves : 3 tbsp (chopped)
Salt to taste
Oil for deep fry


How to make Parippu Vada – Channa Dal Vada – Thoor Dal Vada :
1. Rinse and soak the channa dal and toor dal for at least 3-4 hours. Drain the water and leave it in a colander for 15-20 minutes until the water drains completely. Press the dal with a paper towel, this will help in removing any water left in the dal.
2. Coarsely grind the soaked dal with dry red chillies and fennel seeds in a mixer grinder for just 3-5 pulses without adding any water. (Note: Do make sure not to make it to a fine paste. Some of the dal will be left as it is. That would be the perfect dough.)
3. Next crush or coarsely grind shallots and ginger and keep it aside. Finally add crushed shallots and ginger, green chillies, curry leaves, asafoetida powder and enough salt to the ground dal mixture and mix it nicely. Keep it aside for about 5-10 minutes.
4. Meanwhile heat enough oil in a deep bottom pan in a medium-low flame.
5. Wet your palms and take small amount of the dal mixture and make a ball.Place in the center of the palm and flatten to a round shape.
6. Then slightly press it with your palm and make patties and drop into the hot oil.
7. Flip after 5 minutes and cook until the vada is a dark golden brown and crisp on the outside take out and drain in kitchen tissues. (Note: It might take about 3-4 minutes and then transfer the fried parippu vada to a paper towel.) Serve hot with tea and Enjoy!
Notes :
Don't make the vada too thick as it would take a longer time to cook.
Usually channa dal is used for making this. But I tried out using toor dal & channa dal and that too came out well. Personally I feel channa dal vada is more crunchier than toor dal and channa dal combination.
Grinding dal is an important part as it should be ground as coarse and not as a paste.
Related Posts:
Uzhunnu Vada /Medu Vada
Beetroot Vada
Cheers!
Sangeetha