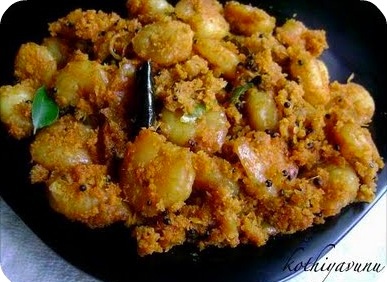 Recipe for Chemmeen Thoran / Prawns/Shrimp with Grated Coconut Stir Fry


Ingredients :


Chemmeen/Prawns/Shrimp : 1/2 lb /250 grms (deshelled, devined and wash)
For Grinding :
Grated Coconut : 1 cup
Green Chillies : 2-3 nos
Turmeric powder : 1/4 tsp
Red chilli powder : 1 tsp
Shallots/Pearl onion : 3nos
For Sauting :
Cheriya Ulli/Shallots/Pearl Onion : 1/2 cup (sliced)
Inji/Ginger : 1 tbsp (finely chopped)
Green Chilles : 2 nos (slit)
Coconut oil : 1 tbsp
Mustard Seeds : 1/2 tsp
Dry red Chillies :2nos (broken into 2pieces)
Curry Leaves :1sprig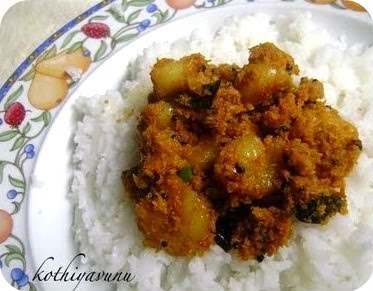 Method of Preparation :
1. In a bowl mix all the grinding ingredients using yours hands and blend it coarsely.(Just pulse 1-2 time)
2. In a meen chatti(traditional earthen pot)or in a kadai, heat coconut oil and splutter mustard seeds,then add dry red chilly,curry leaves,chopped ginger one by one and saute it for a minute.
3. Add the sliced shallots/pearl onions and saute it till light brown colour.
4. Add the cleaned prawns/shrimp and the grounded coconut mixture,salt and mix well.
5. Add 1/2 cup of water; close with lid and cook till all the water evaporates.
6. Open the lid and stir fry until its dry.
7. Chemmeen/Prawns thoran is ready; Transfer to a serving bowl. Serve hot with rice and Enjoy!
Check here for more Shrimp/Prawns recipes.
Cheers!
Sangeetha