Wishing everyone around the world a very Happy and Prosperous NeW YeAr!!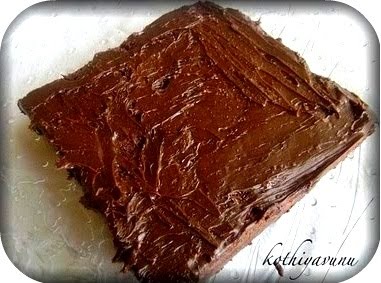 Brownie Recipe with Creamy Brownie Frosting
Makes about 15 brownies
(Recipe Source : allrecipes.com)


Ingredients :
Butter : 1/2 cup /1 stick (melted)
Confectioners Sugar : 1 cup
Vanilla extract : 1 tsp
Eggs : 2 nos
All-purpose flour : 1/2 cup
Unsweetened Cocoa Powder : 1/3 cup
Baking powder : 1/4 tsp
Salt : 1/4 tsp
Chopped nuts : 1/2 cup (optional)
For Creamy Brownie Frosting:(Makes about 1 cup frosting)
Butter : 3 tbsp softened
Cocoa Powder : 3 tbsp
Light Corn Syrup or Honey : 1 tbsp
Vanilla extract : 1/2 tsp
Confectioners sugar : 1 cup
Milk : 2 tbsp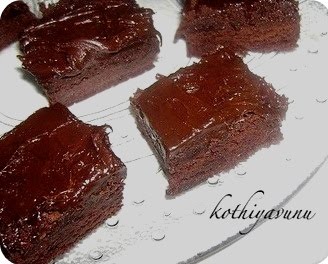 How to make Brownies with Creamy Brownie Frosting :


To Make Creamy Brownie Frosting:
1. In a bowl, beat butter, cocoa, corn syrup and vanilla until blended well.
2. Add powdered sugar and milk; beat to spreading consistency.


To Make Brownie:
1. Preheat oven to 350°F and grease 9-inch square baking pan.
2. Melt the butter (Note : Make sure that the butter is completely melted, otherwise it will not mix in with the other ingredients)
3. Stir together butter,sugar and vanilla in bowl now add eggs; beat well with spoon.
4.Stir together flour, cocoa, baking powder and salt; gradually add to egg mixture, beating until well blended.
5. Stir in nuts, if desired and spread batter evenly in prepared pan.
6. Bake for 20-25 minutes or until brownies begin to pull away from sides of pan or Poke with a toothpick into the center of the brownie; if it comes out clean.
7. Remove from oven and cool it in pan for 10-15 minutes and transfer to a wire rack and cool completely.
8. Frost brownies while they are still warm. Cut into squares and Enjoy!
Check here for more Cakes recipes.
Happy New Year!
Sangeetha