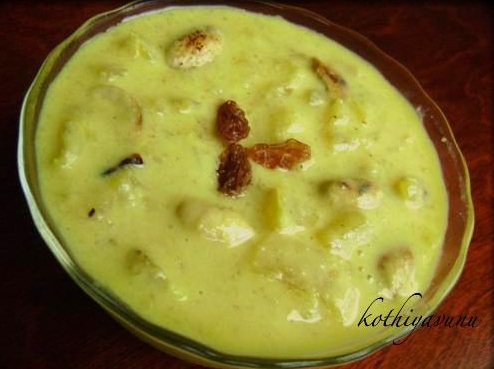 Pineapple Payasam Recipe – Pineapple Coconut Milk Dessert Recipe


Ingredients :


Ripe Pineapple : 1/2 of one pineapple (cut into small pieces)
Sugar : 1/2 cup or to your taste
Thin Coconut Milk : 2 cup
Thick Coconut Milk : 1 cup
Condensed milk : 1/2 cup
Cardamom powder : 1/4 tsp
Dried ginger powder : 2 pinch
Ghee : 1 tbsp
Cashew nuts : 1 tbsp
Raisins : 1/2 tbsp
Optional -Yellow colour : 2 drops if using powder then mix one pinch into 1tsp of water
How to make Pineapple Payasam Recipe – Pineapple Coconut Milk Dessert Recipe :
1. Chop the ripe pineapple finely into small pieces.
2. In heavy bottomed pan,cook the chopped pineapple with little water.
3. Meanwhile heat the ghee in small pan and fry the cashews and raisins and keep it aside.
4. When the pineapple is done; add the ghee,sugar and saute well till it turns to soft and mushy.
5. If your using yellow food colour then add to the pineapple paste and boil it for 2 minutes.
6. Add thin coconut milk and condensed milk to the pineapple mix and stir continuously; when it starts to boil.
7. Add the thick coconut milk and mix well for a minute and remove from the fire.
8. Add the fried cashew nuts,raisins to the pineapple.
9. Sprinkle the cardamom and ginger powders and mix well.
10. Close the pan with a lid to keep the yummy flavor.
11. Yummy Pineapple payasam is ready. Serve chilled and enjoy!!
Notes :
You can extract the milk from two grated coconut; take first,second and third extracts.
If your using tinned coconut milk; mix one cup water to the half tin of coconut milk and dilute it, you can use more or less according to the thickness of the milk.
You can increase or decrease the quantity of sugar and condensed milk according to your taste level.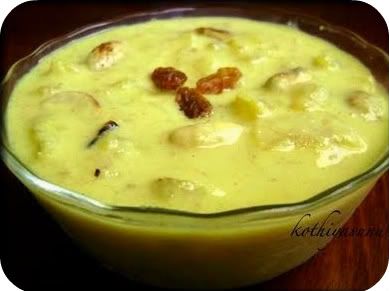 Click here for more Payasam/Kheer recipes.
Cheers!
Sangeetha