Broccoli and Egg… slurp! No introduction is needed for this amazing combination. What if we could combine these two together in a Thoran? This recipe is the answer for that question…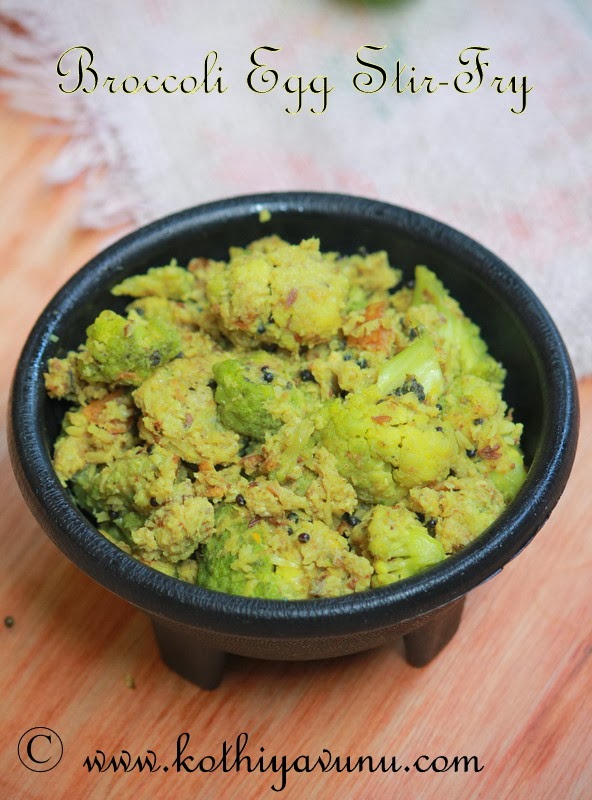 Try it, I'm sure you will like it…
Broccoli Egg Thoran – Stir Fry Recipe | Broccoli Mutta Thoran Recipe
Preparation Time : 10 mins
Cooking Time : 10 mins
Serves : 4
Ingredients :
Broccoli : 1 (chopped)
Egg : 2 nos
Shallots/Small onions : 5-6 (sliced)
Grated Coconut : 1/4 cup
Green chillies : 3-4nos
Turmeric Powder : 1/4 tsp
Mustard seeds : 1/2tsp
Cumin seeds : 1/2tsp
Pepper Powder : 1/4tsp
Curry Leaves : 1 sprig
Salt to taste
Oil : 1 tbsp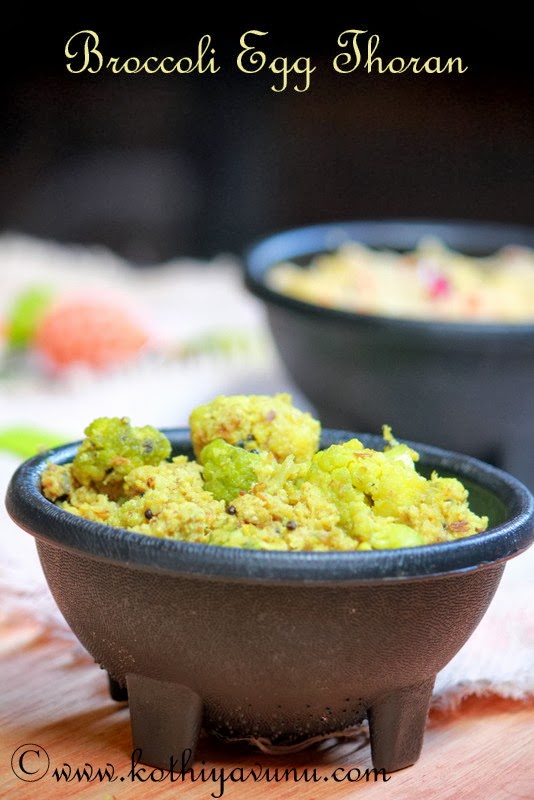 How to make Broccoli Egg Thoran – Stir Fry | Broccoli Mutta Thoran Recipe :
1. Beat the egg with pepper powder,salt and keep it aside.
2. Pluse together, grated coconut,cumin seeds,shallots,green chilly with turmeric powder using a blender for a couple of times. Set aside.
3. Heat oil in a pan,splutter mustard seeds and curry leaves.Add grounded coconut mixture, salt and saute well.
4. Add the chopped broccoli florets and saute for a minute; Cover and cook on low heat until crisp.(
Note :
Do not overcook)
5. Pour the beaten egg and stir it well and cook for 5-8 minutes. Serve with rice or
chappathi
and Enjoy!
Notes:
You don't have to use the bigger chunky florets, if you prefer small pieces,then by using a chopper/food processor, finely chop the broccoli.
You prefer adding garlic, then add couple of cloves; nicely minced.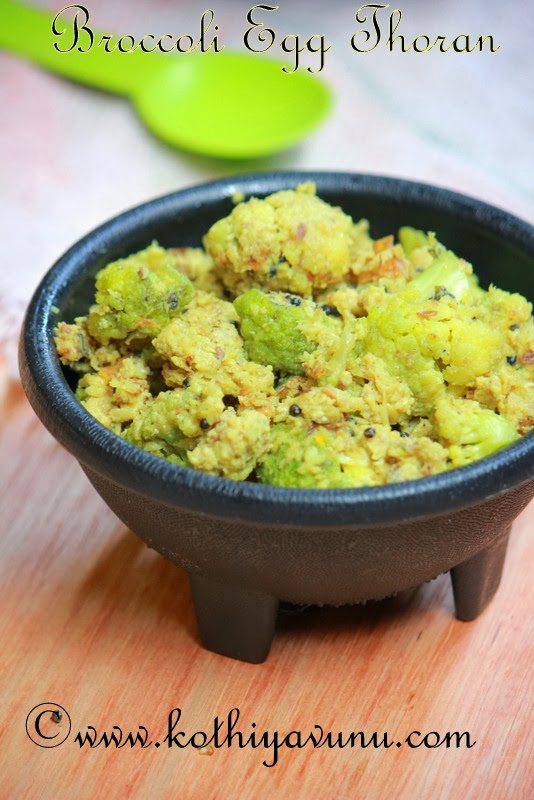 Check here for more Broccoli recipes.

Cheers!
Sangeetha