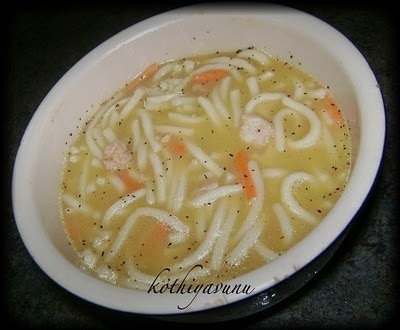 Chicken Noodle Soup Recipe


Ingredients :
Egg Noodles : 1/2 cup
Shredded Cooked Chicken : 1 1/2 cups
Onion : 1 medium, (chopped)
Garlic : 3 cloves (minced)
Carrots : 1 medium (cut diagonally into 1/2-inch-thick slices)
Bay leaf : 1
Chicken Stock : 2-3 cups
Cold Water : 1 cup or as needed
Olive Oil /Butter : 2 tbsp
Salt to taste
Freshly Ground Black Pepper : as needed
How to make Chicken Noodle Soup :
1. Heat the oilve oil or butter in the saucepan over medium heat.
2. Add the chopped onion, minced garlic, sliced carrots and bay leaf. Cook and stir for about 5-6 minutes, until the vegetables are softened but not browned.
3. Pour the chicken stock and add enough cold water to cover the ingredients and bring to a boil.
4. Add the egg noodles and simmer for 5 minutes until tender.
5. Add in the shredded cooked chicken, and continue to simmer for another couple of minutes.
6. Season with salt and pepper and Serve hot.
Notes:
The soup can be prepared up to couple of days ahead, cooled, covered, and refrigerated.
Check here for more Soup recipes.
Happy Cooking!
Sangeetha