Everybody likes to munch something and when it comes to munching the best snacks is obviously chips. Banana chips are a popular snack in Kerala (South India). Sliced banana fried in coconut oil and sprinkled with salt, called upperi or kaya varuthathu in malayalam. Both ripe and unripe bananas are used for this variant, sometimes they are coated with jaggery to form sweet variants.They holds a very important place in Kerala Sadya , a vegetarian feast prepared during festive occasions.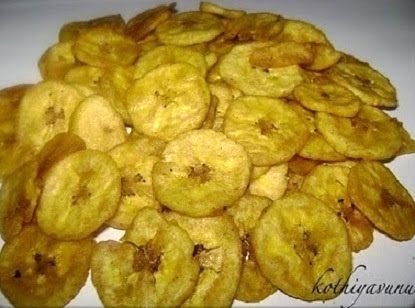 Ethakka Upperi Recipe – Banana Chips Recipe – Kerala Banana Chips Recipe
Preparation Time : 20 minutes
Cooking time : 30 minutes
Serves : 4-6
Ingredients :
Raw Banana(Plantain)/Nenthran Kaya : 4 nos
Turmeric powder : 1/2 tsp
Salt water :1 tsp in 1/2 cup water
Cooking Oil for frying (For authentic taste use Coconut oil)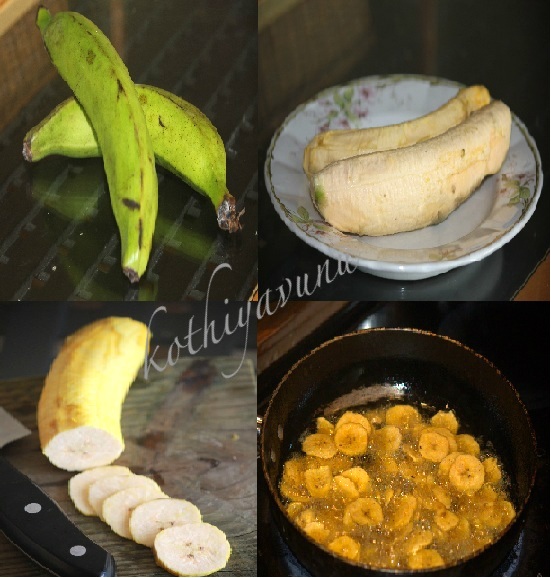 How to make Ethakka Upperi – Banana Chips – Kerala Banana Chips :
1. In a large pan add water and turmeric powder and keep aside.
2. Peel the outer skin of the bananas and immerse them in the turmeric water for 10-20 minutes. (Note : This will remove the stickiness of plantain and preserve the color.)
3. Slice it into thin round pieces. You can use a slicer or a knife, just ensure that the pieces are thin and dry the sliced pieces in baking sheet or in a plate lined with kitchen tissue.
4. Heat the oil in a deep frying pan on medium heat.(Note: It should neither be too smoky nor dull).
5. Slide the sliced bananas into hot oil without overcrowding them. Occasionally give stir to flip them and keep them from sticking together.
6. When it is half done; approximately 8 mins. Minimize the flame to its lowest and sprinkle the saline solution; immediately close the pot with a lid. (this will prevent splashing) and remove the lid after a couple of minutes.
7. When the bubbling diminishes completely, turn over the flame to medium and gently toss them on every side. (Note : To see whether it's done, take one and crush it . If still soft or squishy inside it's not done, so simmer and fry in hot oil until it attains a crisp.)
8. Remove to a tissue paper and store in an airtight container. Serve and Enjoy!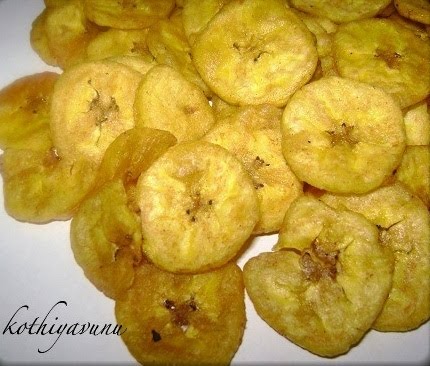 Click here for more Snacks recipes
Have a Good Day All!
Sangeetha