Tapioca is called kappa in Malayalam, very popular and all time favorite of Keralites. Kappa can be cooked in different ways. It can be simply cooked with salt known a '
Kappa Puzhingiyathu'
, or mashed and seasoned version is knows
'Kappa
Puzhukku'
or cooked with meat is knows as 'Kappa Biryani' etc…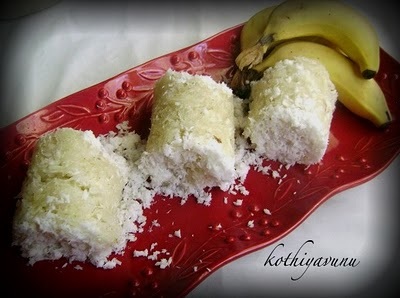 Today I am sharing an different unique recipe with Tapioca/Kappa. Kappa Puttu is made by adding grated coconut kappa (tapioca) and then steamed. Here u go the fantastic Kappa Puttu /Steamed Tapioca for those of you who have not tried and tasted it.. Do give a try and you will be hooked…Enjoy!
Kappa Puttu Recipe | Steamed Tapioca – Cassava – Yuca Recipe
(Recipe Source : Ummi Abdulla )


Ingredients :
Tapioca/Kappa : 1.1 lb/1/2 kg (soft tapioca without much fibres/naaru)
Grated Coconut : 1 cup
Cumin seeds : 1 tbsp
Salt to taste
How to make Kappa Puttu – Steamed Tapioca – Cassava – Yuca :


1. Wash and peel the skin.Grate the tapioca and mix it with salt and keep aside for 10 mins so that the water will drain.
2. Strain and squeeze out the water completely from the tapioca.
3. Add jeera/cumin seeds; mix thoroughly and set it for 5 mins.
4. Now add a fistful full of grated coconut in the puttu maker and then add the two handfuls of grated tapioca till half, then add another handful of coconut.Repeat till you reach the top.
5.Close the lid and steam for 6-7 minutes or until the steam passes from the top of the puttu kutti.
6.Serve hot with banana and sugar or with fish curry or any curry of your choice and Enjoy!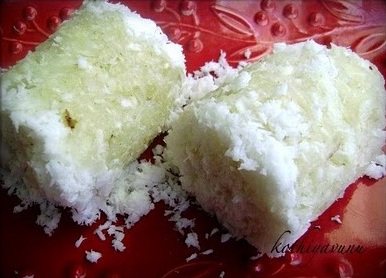 Related posts :
Puttu Ularthiyathu/Puttu Uppuma
Puttu/Steamed rice flour
Erachi Puttu/Steamed rice flour with meat mixture
Happy Cooking!
Sangeetha