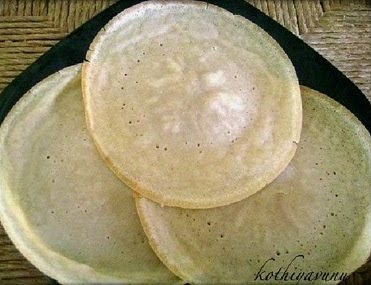 Recipe for
Kerala Godhambu Vellayappam /Fermented Wheat Pancakes


Ingredients :
Wheat Flour : 3 cups
Yeast : 1/2 tsp
Sugar : 3 tbsp
Coconut Milk : 1/2 cup
Egg : 1
Luke Warm Water : 1-2 cups
Salt to taste
Method of Preparation :
1. In a blow add wheat flour,yeast,1 tbsp sugar and salt and combine well.
2. Add the luke warm water little by little and mix well to form a thick batter without lumps.
3. Cover with a lid and keep aside for 8-10 hours or overnight. Quantity will be double after fermentation.
4. Add coconut milk, remaining sugar to the batter and adjust the salt.
5. Beat the egg and add it to the batter and mix everything well.
6. Heat a non-stick appachatty. Grease the appachatty with 1/4 teaspoon oil and reduce heat to medium.
7. Pour 1 1/2 ladleful of appam batter to the appachatty and slowly turn the appachatty round so that a thin layer forms on the sides and the middle remains thick.
8. Cover with a lid and cook on a low heat till the edges resembles crisp lace with light brown color and centre soft.
9. When the appam is ready, remove gently with a spatula.
10.Serve with Chicken curry/Egg Curry/Veg Kurma or any curry of your choice.
(Recipe Source : Lakshmi Nair)


Related Posts:
Kallappam
Vellayappam
Noolappam/Idiayappam
Happy Cooking!
Sangeetha