Wishing you all a Very Happy Onam!
Ada Pradhaman is a mouth watering delicacy from the southern state of Kerala in India.It is part of the traditional Kerala sadya (feast) which is a banquet of food served on important occassions consisting of rice and an array of curries, pickles and ending with two to three payasams or desserts.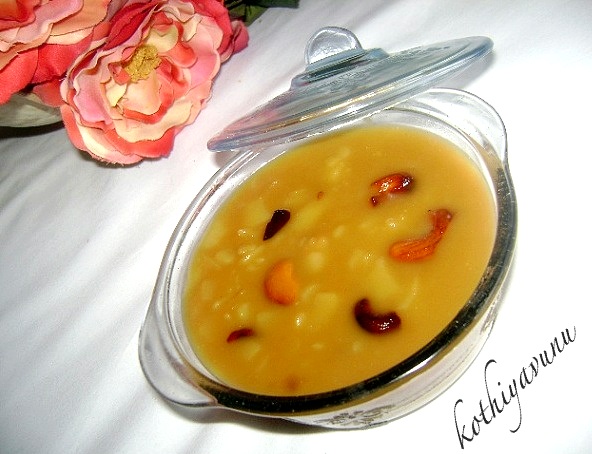 Ada Pradhaman is made of flakes of cooked rice, coconut milk and jagerry. Try it and I am sure you will like it. To know more about Kerala Sadya click here
Recipe for Ada Pradhaman /Cooked Rice Flakes with Coconut Milk & Jagerry /Kerala Ada Pradhaman



Ingredients :

For Ada:
Rice flour /Unakkalari podi : 1 cup
Water : 1/4 cup (may be less or more depending on the rice flour)
Coconut Oil : 2 tbsp
Salt a pinch
Banana leaves /Vazhayila : Fresh or frozen for spreading the dough
For Pradhaman :
Jaggery /Sharkkara : 400 grms /1 cup (melted & filtered)
Thin Coconut milk -3rd extract /Monnampal : 2 cups
Semi Thick Coconut milk – 2nd extract /Randaampal : 1 cup
Thick Coconut milk – 1st extract /Onnampaal : 1/2 cup
Ghee : 2 tbsp
Cashew nuts : few
Coconut pieces : few (cut in to small pieces)
Dried ginger powder : 1/2 tsp
Cardamom powder : 1/4 tsp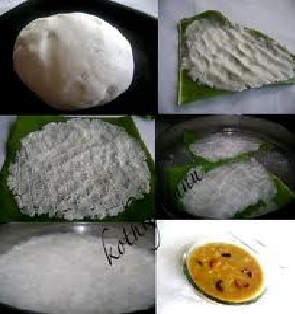 Method of Preparation :
1. In a bowl,add the rice flour using water and coconut oil make a soft dough and cover it.
2. Clean and wipe the plantain leaf pieces and spread the oil on the back side of the leaves.
3. Make small balls out of the rice flour dough and spread it as thin as possible.
4. Then start drawing cris cross lines with help of toothpick like grill marks,only smaller cubes.
5. In wide & big pan,add water and allow it to boil, Once it comes to a rolling boil, drop the banana leaves with ada into it and steam the flour batter for 2-3 minutes or till it becomes transparent.
6. Remove from the pan and put it in another container of warm water.
7. Strain it and rinse 3-5 times with cool water thoroughly to remove all the excess stickiness of oil out of it.
8. Boil 1/2 cup of water and add jaggery and keep on stirring till it is fully melted (almost the consistency of honey),strain it and keep aside
9. Fry separately the coconut & cashews in 1 tbsp of ghee and keep it aside.
10. Heat 1 tbsp of ghee in a thick bottomed flat utensil or Uruli (nonstick woks can also be substitute
11. Add the ada piece and fry for few seconds, add melted jaggery and stir continuously and cook until the mixture becomes thick and start separating from the sides of the pan. (Note : Sometime you will find the ada to be hard and sticky, it will get separate and become soft while stirring)
12. Add the 3rd thin milk /monnampal mix well and cook till it becomes thick.
13. Add the 2nd semi thick milk/randaampal and stir well until it become thick again.
14. Add the 1st thick milk/thanipaal and stir well. Do not boil.
15. Remove from the fire and add the fried cashew nuts and coconut.
16. Add the cardamom powder and dry ginger powder and cover the pan with a tight lid for few minutes and mix well.
17. Yummy Ada Pradhaman is ready to serve.Serve hot or cold.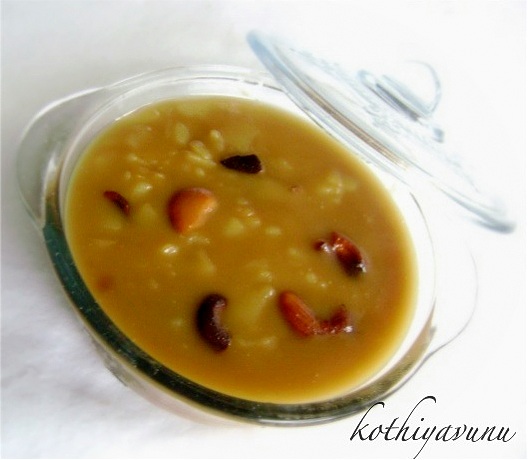 Notes :
If you feel ur pradhaman to be too thick u can dilute it by adding more thick coconut milk.
How to make coconut milk :

Take a 1 1/2 fresh coconut, grate it finely. In a blender or food processor, add the grated coconut with1 cup of hot water and process for a minute, then squeeze it for milk. This gives you 1cup thick milk.
Return coconut to processor and add 2 cup hot water and process for couple of minutes and squeeze it for milk in separate bowl. This gives you 1cup thin milk.
OR
Buy 1 (400ml) can of thick coconut milk, shake well and pour 1/2 contents in a bowl and mix with 1 cup er (i.e. same quantity of water). Remaining milk in can is thick milk.
OR
Mix 25 g instant coconut milk powder with 200 ml water for thin coconut milk.
Mix 25 g instant coconut milk powder with 100 ml water for thick coconut milk.