Mutton Chukka is a lick smacking Chettinad cuisine from Chettinad region of Tamil Nadu, state in South India.The word chukka means 'Dry Curry'. Mutton Chukka is well known for its spiciness, when I think of Tamilnadu cuisine the first word that comes to my mind is Chettinad, I'm  addict to their spicy dishes.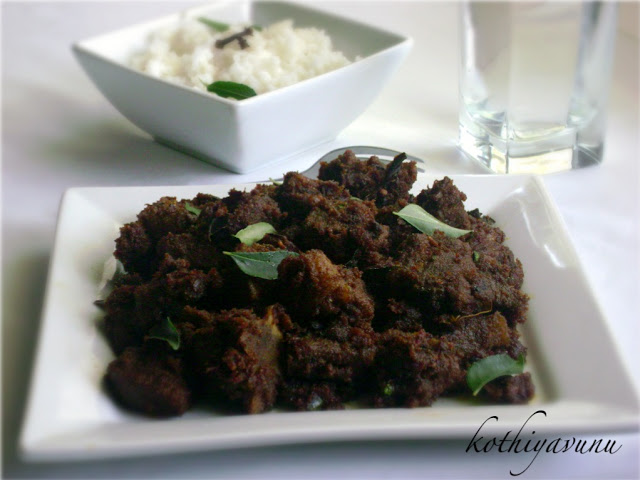 Quite a long i want to try mutton chukka as chettinad version, this is a spicy dry preparation of mutton and is strongly flavored with the spices. If you need it milder, you may adjust the spiciness by increasing or cutting down amount of chilli powder. It pairs well with curd rice, paratta or any roti varities, biryanis etc.Here is a simple yet an interesting recipe for all mutton lovers…Enjoy!
Have you tried these?
Chettinad Mutton Chukka Recipe – Spicy Lamb Dry Curry Recipe
Preparation Time : 30 minutes
Cooking Time : 45 minutes
Serves : 4
Ingredients :
To Marinate :
Mutton (Lamb/Goat Meat) : 450 grms / 1.1lb
Turmeric Powder : 1/4 tsp
Ginger Garlic Paste : 1/2 tsp
Red Chili Powder : 1 tsp
Salt to taste
To Pressure Cook :
Red Small Onion /Shallots : 2 tbsp (finely chopped)
Garlic : 5 pods (finely chopped)
Turmeric powder : 1/2 tsp
Coriander powder : 3 tsp
Red Chilli Powder : 1 tsp
Salt to taste
Water : 1-11/2 cup
To Grind :
Grated coconut : 2 tbsp
Fennel seeds : 1 tsp
Poppy Seeds : 1 tsp
For Sauteing :
Clove  : 2
Cinnamon : 1 inch piece
Bay leaf  : 1
Fennel seed : 1 teaspoon
Curry leaves : 1 sprig
Red Small onion /Shallots : 25-30 or Onion : 2 (Medium)
Tomato : 1 (finely chopped)
Ginger- Garlic paste : 1 tsp
Sakthi Mutton Masala powder or Red Chilli Powder  : 1 tsp
Lemon Juice : 1 tsp
Oil : 3 tbs
How to make Chettinad Mutton Chukka – Spicy Lamb Dry :
1. Wash and cut mutton in to small pieces, marinate with the ingredients given in " To Marinate " for at least 30 minutes.
2. In pressure cooker, heat 1-2 tbsp of oil, add the marinated mutton and saute for couple of minutes,
3. Add all the ingredients given in "To Pressure cooker"  and everything mix well, close the cooker and cook for about 8-10 minutes after couple of whistle (after it comes to full pressure) reduce the fire to medium and then switch of the flame and let it cool naturally. Alternatively, mutton can be cooked in a regular pan; In a pan; cover and cook the meat with 1 cup of hot water for about 20 to 30 minutes or till the mutton is soft. This water will help cook the meat as well as ensure that it does not get charred. At the end of the cooking, there should be at least 1/2 cup of liquid remaining in the mutton.
4. Meantime grind the items given in "To Grind".
5. Heat 2 tbsp of oil in a kadai/sauce pan, saute with clove,cinnamon,bay leaf,fennel seed and some curry leaves for a minute. Add ginger garlic paste, chopped onion, chopped tomatoes till it turns to translucent.
6. Add the grounded masala and saute well.
7. At this stage open the cooker and separate the mutton pieces with a slotted spoon. Keep it aside.
8. Add the reserve stock/gravy left into the kadai and now add mutton masala powder or red chilli powder, mix well and adjust the salt.
9. Keep stirring the liquid on high heat till most of the water evaporates becomes thick. (Note : Stir often to avoid burning.)
10. Add the cooked mutton pieces and mix well and keep sauteing till the mutton pieces are well coated with masala and becomes dry and starts taking a light blackish/dark brown colour.Stir in the remaining curry leaves and remove from the heat.
11. Add the lemon juice and mix well and immediately remove from the stove.The dish will get a darker shade once it rests.
12. Goes well with curd rice, Kerala parotta or any roti varities, biryanis etc. Serve hot & Enjoy!
Notes :
Over night marination of mutton in refrigerator makes it more juicy and flavorful.
You may adjust the spiciness by increasing or cutting down amount of chilli powder.
I recommend using small red onions for the more flavour and taste. Also if you prefer cooking typical Chettinadu style, use seasame oil
Keep in mind, pressure cooking time depends on the type of meat and pressure cooker you use.Good quality meat should cook in 1 to 2 whistles. If using matured meat like lamb allow 4 to 6 whistles while cooking the meat.
Like this Recipe? Sign up, and get more recipes delivered directly to your inbox.