Jack fruit is one of the seasonal products in Kerala and it is available in different varieties. Idichakka or Idinchakka /Tender Jack fruit thoran is one such popular dish in Kerala, which tender jackfruit is cooked, then shredded and stir fried with coconut,some spices and served along with steamed rice.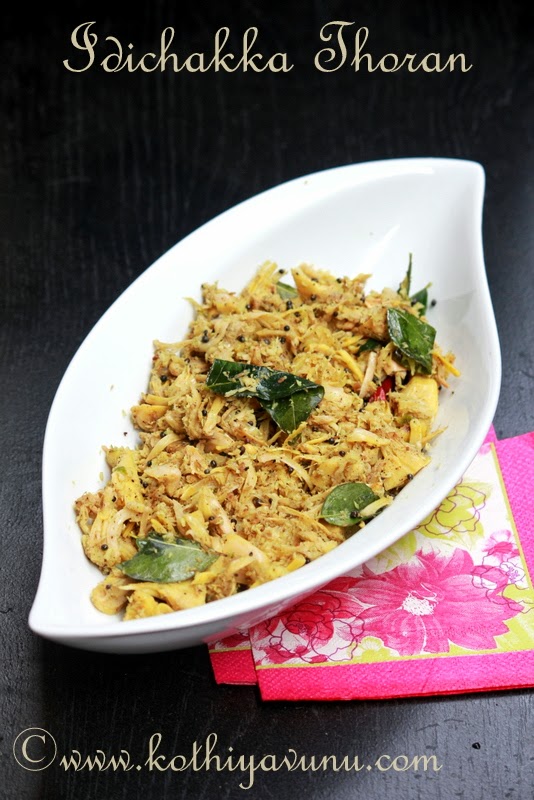 It is simple to make and very delicious to eat…Do try and Enjoy!

Idichakka Thoran Recipe – Idinchakka Thoran Recipe – Tender Jack Fruit Stir Fry Recipe


Ingredients :
Tender Jack fruit /Idichakka : 1 small / 1 can which is available in most Indian grocery stores
Ginger : 1 small piece
Garlic : 2 pods
Cumin seeds : 1/4 tsp
Green Chillies : 2-3
Small onion /Shallots : 4-5
Grated coconut : 1/2 cup
Dry red chilly : 2 broken into 2 pieces
Turmeric powder : 1/2 tsp
Mustard seeds : 1/4 tsp
Curry leaves : 1 sprig
Coconut oil : 1 tbsp
How to make Idichakka – Idinchakka Thoran | Tender Jack Fruit Stir Fry :
1. Cut the jackfruit in to small pieces and de-skin them, remove the stem, top portion of the tender jackfruit.(Note: if it is too hard and wash the pieces with salt.) (or) if your using canned jack fruit then drain the water and rinse the pieces in running water.
2. Pressure cook the cleaned jackfruit with little water, salt and 1/4 tsp of turmeric powder for 1-2 whistle or cook covered in a pan till soft. (Note : Do not overcook the pieces), when it is done remove from fire,drain it and allow it to cool.
3. Shred the cooked jackfruit piece by pounding them using a pestle or pulse in a food processor or mixer.
4. Combine grated coconut, shallots,green chilies,ginger,cumin seeds and 1/4 tsp turmeric powder and grind it coarsely.
5. Combine the grounded coconut mixture to the shredded jackfruit.
6. Heat coconut oil in a pan ,add dry chilly pieces, splutter mustard seeds and add curry leaves.
7. Now add the coconut jackfruit mix and saute them in medium heat.
8. Cover and cook for couple of minutes in low flame, finally add fresh curry leaves and 1 tsp of coconut oil and saute for a minute, adjust the salt and remove from the fire.
9. Serve with hot steamed rice or kanji and Enjoy!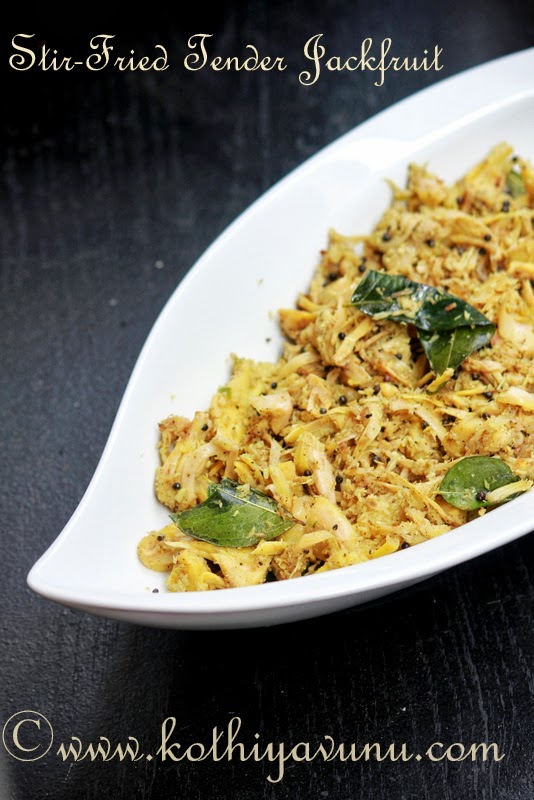 Notes :
The traditional recipes made in the Southern parts of Kerala do not use garlic, but i have used as it is good for digestion.

Happy Cooking!
Sangeetha