Thai dessert is so exotic and scrumptious tasting.Coconut milk paired with mango makes an extra smooth and delicious pudding,its quick and simple to make.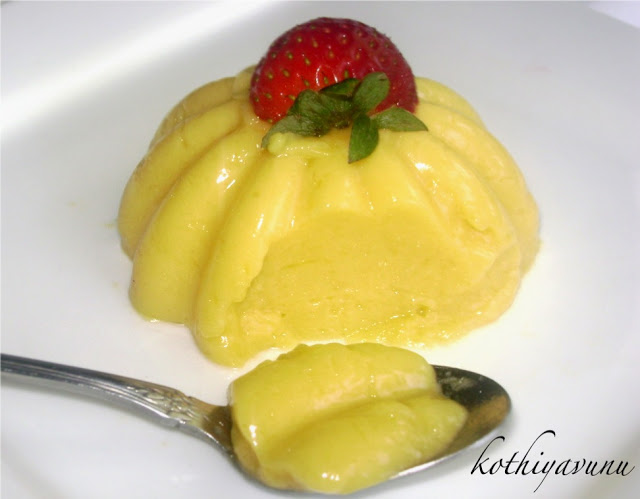 Try this fantastically easy recipe, If you like mangoes, you're going to love this very simple but tropical dessert. Yummmm!
Recipe for Mango Pudding /Thai Mango Pudding
Ingredients :
Ripe Mangoes : 2 medium
Unflavored gelatin : 1 packet /3 tsp
Hot water : 1/2 cup
Sugar : 1/2 cup
Coconut milk : 1 cup
Method of Preparation :
1. Measure the water into a microwave-safe container and heat until steaming, about 2 minutes or in a sauce pan heat up the water until it reaches a rolling bowl.
2. Remove from the heat, while stirring the water with a whisk or fork, sprinkle the gelatin over the surface of the water and stir briskly in order not to have any lumps.
3. Add the sugar to the gelatin mixture and stir to dissolve.
4. Scoop out the pulp from the mangoes including around the stone
5. Place the mango pulp in a food processor or blender and blitz to crate a smooth mango puree.
6. Add gelatin mixture,coconut milk to the mango puree in the food processor/blender and blitz briefly until ingredients are combined.
7. Pour into dessert bowls or cups and place in the refrigerator for at least 2-4 hours.
8. Yummy mango pudding is ready, Serve and enjoy!!!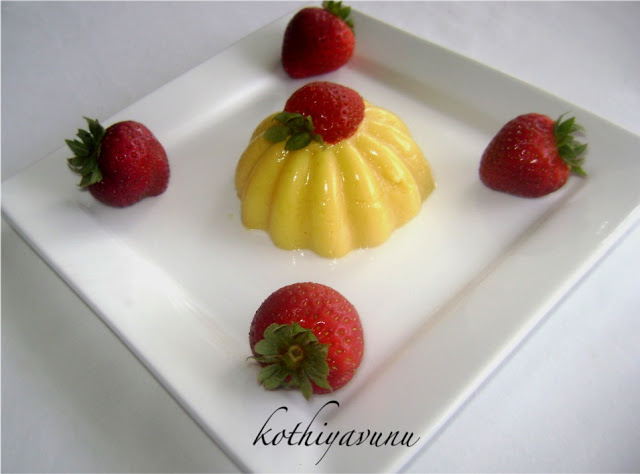 Notes :
For richer pudding add heavy whipping cream, Instead of coconut milk you can also use milk.
(Recipe Source : Darlene Schmidt )
For more Dessert & Pudding recipe click here
Cheers!
Sangeetha