Mussels known in Malayalam as Kadukka or Kallumakka , is a popular seafood in Malabar regions of Kerala (South India). Arikadukka is the speciality of the Malabar region. "Arikadukka" is a delicacy prepared by mussels, which is stuffed with subtly spiced rice mixture, cooked in the shell and then fried.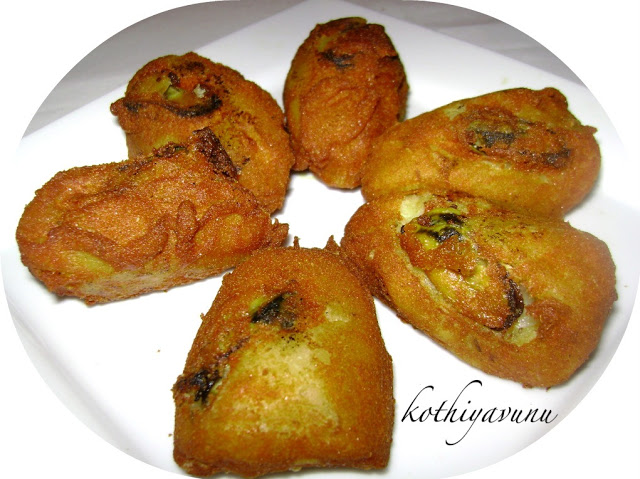 We got some fresh mussels here and I tried this snack that I had bookmarked from
Sree recipes
and followed the recipe exactly except for some minor changes..To my surprise, my first attempt was a success, those of you who have not tasted it, do give a try and you will be hooked.This is served hot as snack for tea or as a starter.
Arikadukka Recipe | Kallummakaya Nirachathu Recipe | Stuffed Mussels Recipe
Ingredient :
Fresh mussels /Kallummakaya : 15 (medium size)
For Stuffing
Rice flour : 2 cups
Dessicated coconut / Freshly grated coconut : 1/4 cup
Shallots : 4-5 ( chopped)
Cumin seeds : 1/2 tsp
Fennel seeds : 1/2 tsp
Green chilli : 1 (chopped)
Ginger : a small piece
Curry leaves : few
Salt to taste
For the Batter
Chilli powder : 2 tbsp
Turmeric powder : 1/2 tsp
Rice Flour : 1 tbsp
Salt to taste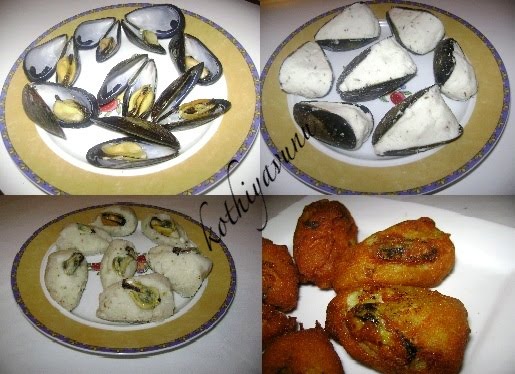 How to make Arikadukka | Kallumakaya Nirachathu | Stuffed Mussels :
1. Boil the mussels with enough water,till the shells open. Drain it and clean the mussels and keep it aside.
(Note : Shells must be scrubbed in water with a stiff brush to remove any barnacles and sand. Do not use shells that have not opened,
Click here
or
Check here
for how to clean the mussels )
2. Coarsely grind grated coconut, shallots, cumin seeds, fennel seeds, green chillies, ginger, curry leaves.
3. Dilute salt in water and add to the rice powder.
4. Mix coarsely grounded paste to the rice powder and make a smooth dough by adding enough hot water.
5. Take a prepared dough ball and stuff the mussels, repeat the process with all the mussels.
6. Steam cook the stuffed mussels for 15-20 minutes and keep aside to cool.
7. Scoop out the mussels out of their shells.
8. Make a spicy mixture using red chilli powder, turmeric powder, rice powder and salt.
9. Heat oil in pan, when its hot, dip each stuffed mussel in this spicy mixture and deep fry it.
10. Serve this snack for tea or as a starter and Enjoy!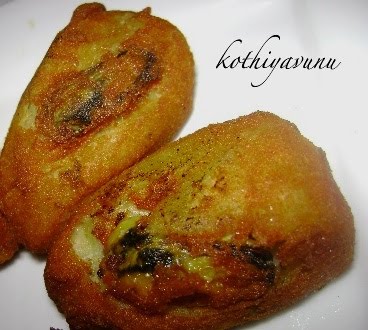 Click here for more Snacks recipe.
Good Day All!
Sangeetha