Happy Ganesha Chaturthi to all dear readers.


Ganesha Chaturthi, also known as Vinayaka Chaturthi, is the Hindu festival of Ganesha, the elephant-headed son of Shiva and Parvati, who is believed to bestow his presence on earth for all his devotees in the duration of this festival. It is the birthday of Lord Ganesha who is widely worshiped as the god of wisdom, prosperity and good fortune. Ganesha or Ganpati loves coconuts and modakam /Kozhukatta, so its customary to make modakam on this festive occassion.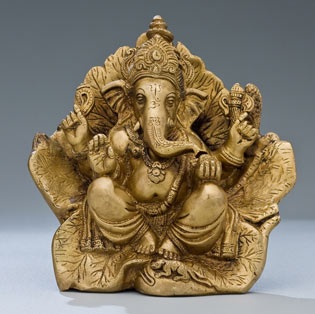 Every state in India has its own version, many sweet and savory varieties can be prepared as kozhukatta /Modakam. Sweet kozhukkata/Modakam are steamed rice dumplings with coconut and sugar or molasses stuffing. All of us in our house love this sweet treat. I would not be doing justice to other equally yummy savory kozhukkatt. This can be cooked in normal occasions also as a breakfast or snack it is healthy and suits everyone including children. This kozhukatta can be eaten without any side dish, but if you can find time to make chutney then you can eat it with your favourite chutney. Here am posting both sweet and savory kozhukatta. My savory version is not an authentic one I have just tried to recreate the recipe based on my family's taste bud, so here u go…
Ingredients :
For the Outer Covering :
Raw rice / Rice flour : 1 cup
Water : 2 cups
Coconut Oil : 1 tsp
Salt to taste
For the Filling /Poornam :
Grated coconut : 3/4 cups
Jaggery /Shakkara : 1/2 cup
Cardamom powder : 1/4 tsp
How to make Kozhukatta/Modakam – Sweet Version :


1. Wash and soak raw rice for an hour.
2. Drain the water completely and spread the rice on a cloth and allow it to dry.
3. Grind the raw rice to a smooth flour.
4. For 1 measure of rice flour take 2 measures of water.
5. Boil the water over a medium flame, in a kadai (a shallow thick bottom vessel). Add salt and coconut oil, bring to boil.
6. To the boiling water, add the batter and stir continuously without allowing any lumps to form.
7. When the mixture has formed into a smooth thick dough, remove from the fire.
8. Melt the jaggery in a saucepan over a medium low heat. (Note : Add a tsp of water to the jaggery to facilitate the melting)
9. Once melted, the jaggery will start slowly bubbling and form a 'pouring' consistency.
10. Add the grated coconut to a pan and pour the jaggery over it.
11. Slowly incorporate the jaggery into the coconut, over the stove, and stir continously to ensure it doesn't burn. add the Flavor the cardamom powder and mix well.
12. Smear your hands with a little oil, smoothen the prepared rice flour dough with your hands and make small balls (the size of a lemon).
13. Press in palm of hand and slowly flatten the edges with thumbs to get a cup-like shape.
14. Fill these cups with the prepared coconut-jaggery filling and seal to make a ball.
15. Place all those filled dough balls in an idli cooker or steamer and steam cook for about 10-2- minutes or until the outer layer looks firm. Serve warm…
Notes :
Kozhukkattai made with freshly made rice flour will turn out very soft. If thats not available try using ready made fried rice flour.
Savoury Kozhukatta /Modakam Recipe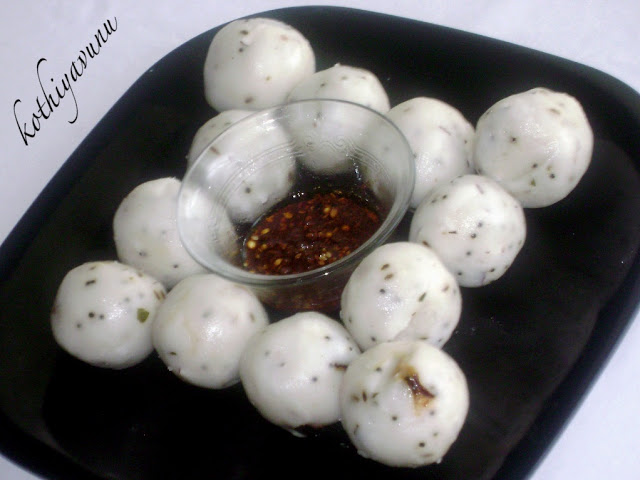 Ingredients :

Rice Flour : 1 cup
Coconut Pieces or Grated Coconut : 3 tbsp
Mustard seeds : 1/2 tsp
Dry red chilli : 1-2 (broken into pieces)
Asafoetida /Hing : a pinch
Cumin seed : a pinch
Cashewnut : 5-8 (chopped)
Curry Leaves : few (chopped)
Coconut oil :1 tbsp
Salt to taste.
How to make Savory Kozhukatta/Savory Modakkam :
1. Heat oil in a pan; splutter the mustard seeds, add dry red chilli and saute it for couple of minutes.
2. Add rice flour, asafoetida , salt and just enough water to cover the rice and cook for 10 mins.
3. Add coconut pieces or grated coconut, cumin seeds, cashew nuts, curry leaves and mix well; remove aside and keep it to cool.
4. Divide the mixture equally into balls and steam for 10-15 minutes in idli cooker or steamer . Repeat till the mixture is used up.
5. Serve hot with any
chutney
of your choice.
Notes : They also can be stored in the fridge for a day or two.
Click here for more Snacks recipes.
Happy Ganesha Chaturthi!
Sangeetha