For all mango lover… Mango Coconut Burfi – Smooth, rich and creamy which melts in your mouth!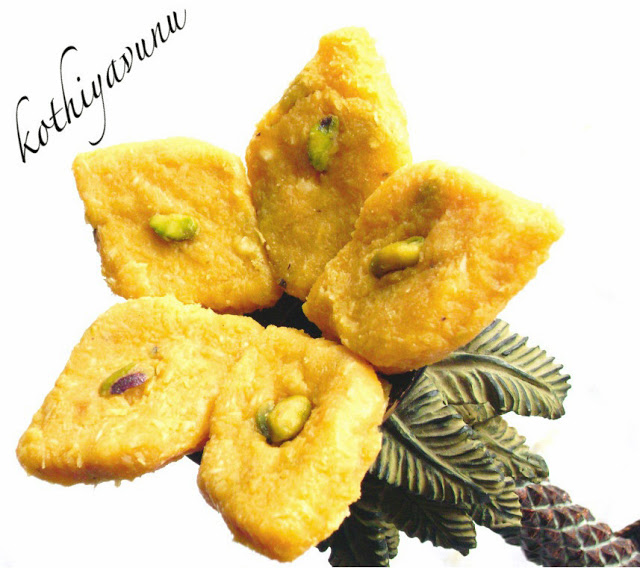 Burfi or Barfi is a Indian fudge-like sweet made from reduced condensed milk in various flavors. There are many varieties of burfi, which is often flavoured with fruits such as mango or coconut or nuts (like cashew and pistachio) and spices such as cardamom. Here I'm sharing mango coconut burfi, which is made with fresh grated coconut, mango pulp, ghee & sugar.The fresh coconut brings out and enhances the taste of the mango, plus adds that touch of richness you're looking for in a burfi…Just follow the easy steps and then enjoy the taste of a mango & coconut with every bite!
Mango Coconut Burfi Recipe – Mango Burfi Recipe


Ingredients :
Mango Pulp : 1 cup
Fresh Grated coconut : 1 cup
Milk Powder : 1/2 cup
Granulated Sugar : 3/4 cup or to taste
Ghee : 3 tbsps
Powdered Sugar : 1/2 cup
Cardamom Powder : 1/2 tsp


How to make Mango Coconut Burfi :
1. In a non stick pan, add mango pulp and cook over a low flame stirring continuously, till it solidifies.
2. Add grated coconut, milk powder and the granulated sugar mix well and remove from the fire and set aside for 10-15 minutes.
3. Now cook the cooled mixture over a low flame, stirring continuously and allow to boil.
4. When it boils add the ghee and keep cooking till it thickens into a lump and froths slightly. Switch off heat and stir another 3 minutes.
5. Add the powdered sugar and the cardamom powder and mix well.
6. Pour into a greased plate and pat with the back of a spoon to spread it evenly. Set aside, let cool for 10-20 minutes, then cut into desired shape and enjoy!
Notes :
To find out the right consistency, After you pour the mixture on the greased plate, you should be able to cut into pieces after 5 minutes, if not, just put them back on the pan and stir on low flame for couple of minutes.
Apply little butter to the knife and then cut, this will help to cut through easily.
For more Sweet recipes check here
Cheers!
Sangeetha