Raw plantains/Vazhakai are almost everybody's favourite. There are so many recipes you can think about when it comes to plantain.Today i am sharing a yummy, spicy and easy fry with Raw plantain.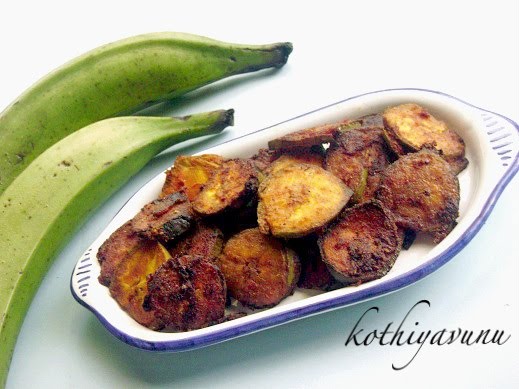 It is so simple to cook and tastes crispy on the outside and soft on the inside.These fry goes well with curd rice and rasam rice…It's always a big hit and is requested by my friends and family constantly! Do give a try and Enjoy!
Recipe for Vazhakai Varuval /Kaya Varattiyathu /Raw Plantain Fry
Ingredients:
Raw Plantain /Vazhakkai /Kaya : 2 large
Garlic :1 whole (minced)
Tamarind paste : 1/4 tsp
Turmeric powder : 1/2 tsp
Red chili powder : 2 tsp or to taste
Gram masala : 1/2 tsp (optional)
Rice Flour : 1 tsp
Asafoetida powder :1/4 tsp
Curry leaves : 1 sprig
Oil : 5 tbsp (this dish needs more oil)
Salt to taste
Method of Preparation:
1. Wash and slightly peel the skin and cut them to thin round slices; put them in the water and keep it for 5 minutes; wash well and drain water.
2. Combine the vazhakkai /raw plantain with minced ginger, turmeric powder ,red chili powder,gram masala powder, tarmind paste, rice flour and salt; sprinkle little water and mix well, make sure that the spices are well coated on the pieces. Marinate for about 10-30 minutes.
3. In a deep frying pan heat the oil and add asafoetida powder, curry leaves and saute them for few seconds.
4. Add raw plantain piece and stir gently to all sides with spatula, while using spatula make sure of not mash the plantain. (Note : Better to use wooden spatula.)
5. Reduce the flame to low heat, cover with a lid and cook for 2-4 minutes.
6. Now remove the lid, turn the pieces, cover again with the lid and cook the plantain well fried the other side too. (Note : The plantain should be crispy outside and yet soft inside. This is the correct time to remove & serve)
7. This fry is good combo with Curd rice or
Rasam
rice.
Check here for more Vegetarian Side Dishes.
Happy Cooking!
Sangeetha