I haven't posted a Nadan Kerala dish here in a while; so here goes one which is the favorite food of keralites, Yes, it is a Sardines/Mathi/Chaala fish curry. This curry is one of the popular dish in Kerala Cuisine.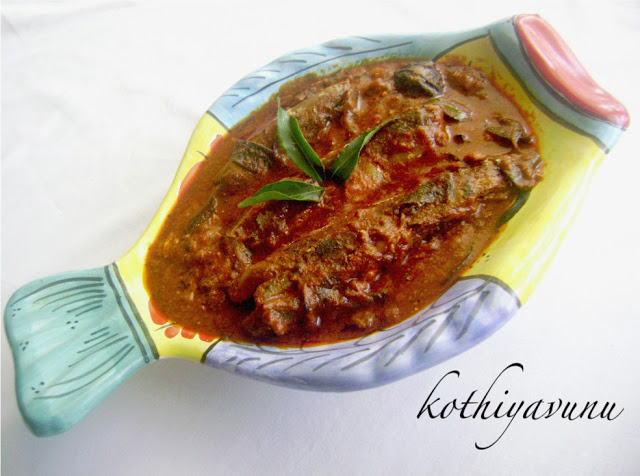 Sardines are rich in omega-3 fatty acids and also a good source of vitamin D, calcium, B12, and protein. This signature dish of Kerala features sardines in a deliciously spicy and tangy sauce flavored with tamarind. Makes a nice dish to serve company or anyone who loves sardines, so give this easy fish recipe a try – you won't be disappointed!
Nadan Mathi Recipe – Chaala Curry Recipe | Kerala Sardines Curry Recipe
Serves 5

Ingredients :
Sardines /Mathi/Chaala : 15 nos /150 grms
Fish Tamarind /Camboge fruit rinds /Kudampulli : 2 pieces (broken into pieces)
Curry leaves : 6 sprig
Coconut oil : 2 tbsp
Salt to taste

To Ground to a fine paste:
Kashmiri Red Chilli Powder : 1 tbsp
Turmeric powder : 1/2 tsp
Red Chilli powder : 1 1/2 tsp or (to your tolerable spice levels)
Coriander Powder : 1tbsp
Fenugreek seed powder 1/4 tsp
Shallots : 4-5
Ginger : 1/2 inch piece
Garlic : 3-4 pods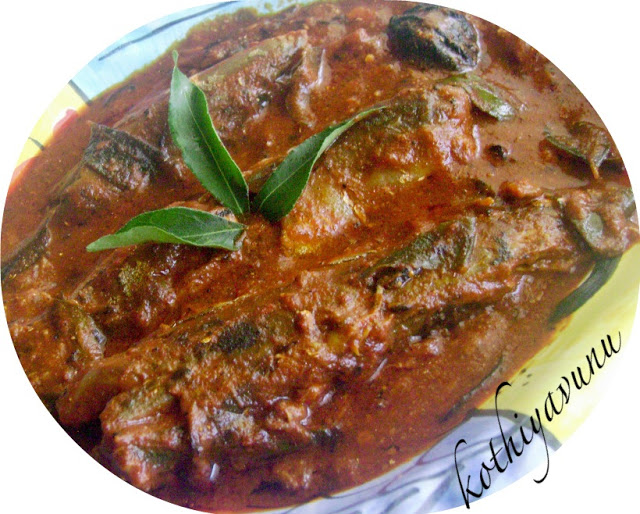 How to make Nadan Mathi – Chaala Curry | Kerala Sardines Curry
:
1. Wash and clean the sardine with salt and drain out water completely and make some small gashes on it and keep it aside.
2. In blender grind the listed ingredients mentioned above "To Ground" with enough water to fine paste.
3. Gently mix the ground spice paste, fish tamarind /kudampulli and salt with the sardines well.
4. Heat a pan (preferably in 'Kalchatti' an earthen pot) and pour required coconut oil (Note : It will enhance the authentic taste) when its hot tilt the pan/earthen pot in such a way that oil gets spread evenly in the pan/earthen pot.
5. Spread and arrange 4 sprig of curry leaves on the pan/earthen pot, add mathi /sardines with carefully over the curry leaves.
6. Add little water and bring to boil, now add the remaining curry leaves and reduce the flame and let it simmer for about 15– 20 minutes until all/most of the water evaporates and the gravy thickens. (Note : Tilt the pan/earthen pot in between such a way that everything is mixed well.)
7. Remove from fire; sprinkle some coconut oil on the top of curry and keep covered for 20-30 minutes.
8. Serve hot with boiled rice or
Kappa/Tapioca
and Enjoy!

Notes :
For best result allow the curry to stand for at least 2-3 hours or overnight and serve next days so that the gravy absorbs all the flavors. It tastes Yummy!
For more Fish Recipes check
here
Happy Cooking!
Sangeetha