Appam is a specality dish of Kerala (South India). Appam is a fermented pancake usually prepared with finely grounded or powdered rice flour. It is one of the favorite breakfast of almost all keralites. There are numerous varieties of pancakes (Appams) and steamed rice cakes made from rice like Palappam,Velayappam, Kinnathappam, Noolappam, Kallappam,Vatayappam,etc…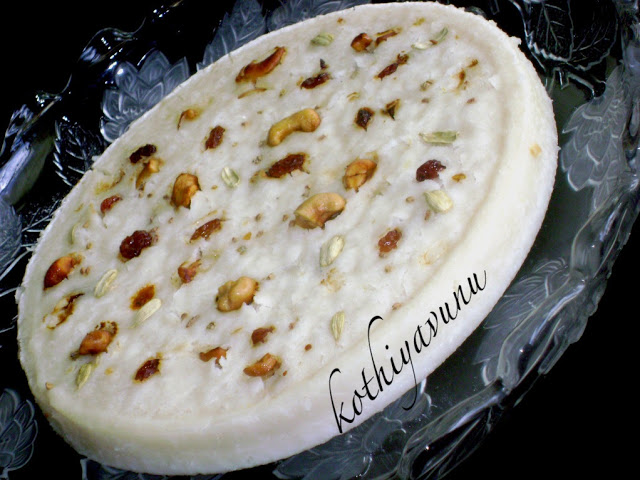 Though the same ingredients are used all over the state, each community has its own specialties. Vattayappam is delicious thick steamed pancakes made from fermented rice flour and coconut which have soft, thick white spongy texture.It pairs beautifully with tea or coffee, which makes it a nice tea time snack or breakfast where it will be eaten up in no time! Do give a try and Enjoy!


Vattayappam – Vatteyappam Recipe – Steamed Sweetened Rice Cake
Preparation Time : 6-8 hrs
Cooking Time : 20 minutes
Serves : 4
Ingredients:
Raw Rice/Pacha Ari : 2 cups
Yeast : 1/2 tsp
Cooked rice : 1/2 cup
Grated Coconut or Coconut milk : 1 cup
Sugar : 1/4 cup or to taste
Salt to taste
Raisins and Cashewnut : 10-15 nos
Cardamom : 2 pods (crushed) (optional)
Salt : a pinch
Ghee/Butter : 1 tsp
How to make Vattayappam -Vatteyappam – Steamed Sweetened Rice Cake :
1. Wash and soak the rice in the water for 4-6 hrs and drain it.
2. Grind the rice and grated coconut or coconut milk, cooked rice by adding required amount of water to fine paste and keep it aside.
3. Stir in yeast with sugar to warm water for 10-15 minutes till its forth.
4. In a bowl add coconut rice paste, yeast mixture, salt; combine well and make a smooth soft batter. (Note : If necessary use more water,a little at a time. The consistency of the batter should be like idli batter)
5. Cover and set aside to ferment 6-8 hrs.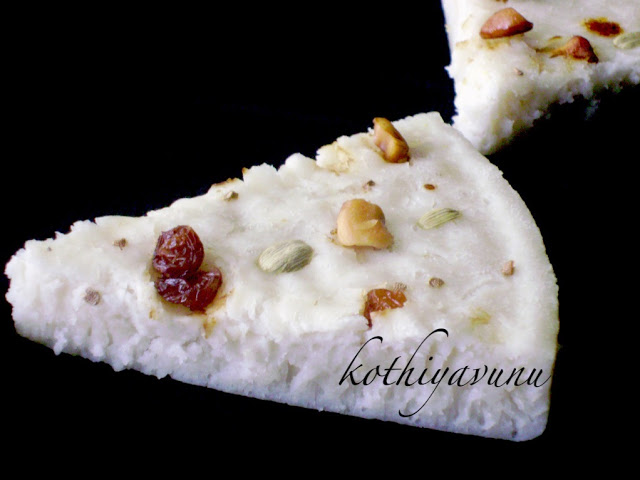 6. Now the batter should be ready for steaming, check salt & sugar
7. Grease the stainless steel flat plate or idly mould with ghee/butter and pour the batter to the plate.
8. Steam and cook for 10-15 minutes, when its half done, open and add the rasinis, cashews and cardamom,on the top and steam again for 10 or till done. (Note : To check whether its done insert the toothpick at the center, if comes out clean then its ready)
9. Remove from the steamer and open lid to avoid moisture and allow the vattayappam to cool.
10. Cut into wedges and serve as snacks or as breakfast with spicy Mutton Curry, Chicken Curry,or any curry of your choice and Enjoy!
Notes:
In traditional vattayappam instead of cooked rice, thari kurukkuiyathu (cream of rice) is made. It is made by mixing 1/4 cup of rice flour with 1 cup of water till it thickens and reduces to 3/4 cup stirring continuously, so that it yields a creamy consistency and then finally blended into the mixture.
This batter can be used to make pallappam too.
To make it more easier, instead of soaking and grinding the rice, you can use rice flour and follow the same procedure.


Related Posts :