Chicken Lollipop is a great delicious appetizer that is made from the middle segments of chicken wings or with Chicken Drummettes. Chicken Lollipop is a very popular appetizer in Indian Chinese cuisine. There are various style to make chicken lollipop either you can deep fry the lollipops or else deep fry and toss them in sauce.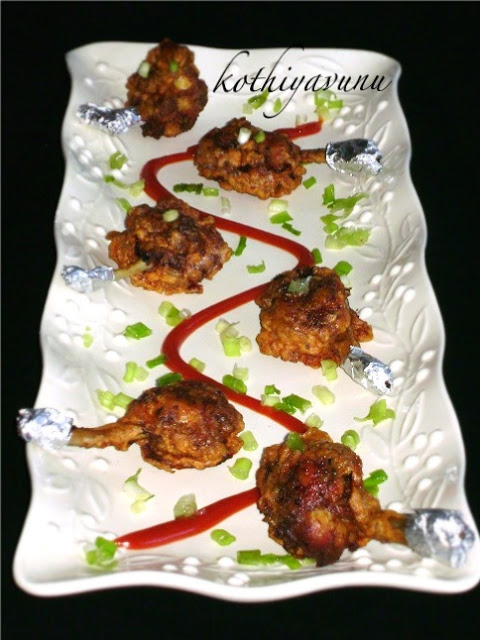 If you also want a really crispy chicken lollipop first marinate the chicken and then deep fry it. It's all time favorite of both grown ups and children all across the planet.
My kids love to have it, It's always a big hit and is requested by my friends and family constantly. Do try this delicious starter and serve one of these chicken lollipop at your next gathering, or anytime you want to make extra special. Enjoy !

Chicken Lollipop Recipe and Sweet Chilly Sauce Recipe
Makes : 12 Chicken Lollipops


Ingredients:
For Marinating :
Chicken Wings /Drummettes : 6 nos (skinless chicken) (I have used Chicken Wings)
Garlic Paste : 1/2 tsp
Red Chilly Sauce or Red Chilly Paste : 1 tsp (To make redchilli paste immense 7 to 8 dry chillies in water for 5 mins before made into paste)
Soy Sauce : 2 tsp
Vinegar or Lime Juice : 1/2 tsp
White Pepper Powder : 1/2 tsp or can substitute with black pepper powder
A pinch of Ajinnomotto (optional)
Spring onion : 4 (finely chopped) (Keep half of portion for garnishing)
Corn Starch : 2 tbsp
All Purpose Flour : 2 tbsp
Cooking oil : Enough to deep fry
Eggs Yolk : 2 (beaten)
Salt to taste
For Sweet Chilly Sauce : 
Red Chilli Sauce or Red Chilli Paste : 1tbsp
Honey : 1tbsp
Water : 2 tbsp or else you may use your own sauce recipe if you wish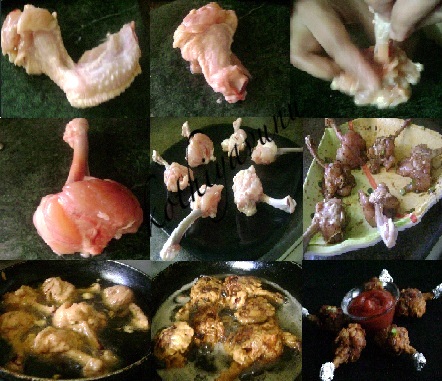 Learn how to make Chicken lolipop :
1. Wash and clean the chicken drummette or chicken wings and drain the water from the pieces. Each chicken wing can be made into 2 lollipops, one portion closer to the shoulder and another portion away from the shoulder.
2. With a paring knife, cut the tendons at the narrow end of each drummette. Push the meat down as far as possible without removing the meat completely, to form a round lollipop shape. If using wings, cut around the thin tip of each chicken wing to loosen the meat around the joint. While holding the base, push the meat down and pull out and toss the smaller bone. Remove any flesh left on the thin end with a clean towel.
3. Mix the marinade ingredients in a wide bowl and whisk together all the ingredients for the marinade. Add the wings and gently toss to coat. Place in the refrigerator to marinate for 1-2 hour.
4. Heat the sufficient oil in wide pan until just beginning to smoke. Working in batches, fry the chicken on a medium flame for 3-5 minutes or until golden brown on all sides. (Note : The lollipops need to cook properly inside, so oil should not be too hot or else outside will get brown too quickly leaving the insides uncooked).
5. Drain the excess oil on paper towel and keep it aside.Learn how to makeSweet Chilly Sauce :


1. In a small sauce pan, heat up the water and chili sauce or chilli paste. When the mixture begins to simmer, stir in the honey.
2. Remove from heat and drizzle over chicken lollipop.
Garnish with chopped spring onion and serve hot & Enjoy!
Notes :
 In restaurants the lollipops are red in color. They add color,but i don't prefer adding color and it's always better to avoid the color and eat it with the natural golden color.