Kara Sev is spicy and crispy South Indian snacks.These scrumptious snack are very easy to make and fun to munch with tea or coffee. It's a nice tea time snack or even pairs well with beer or a cocktail.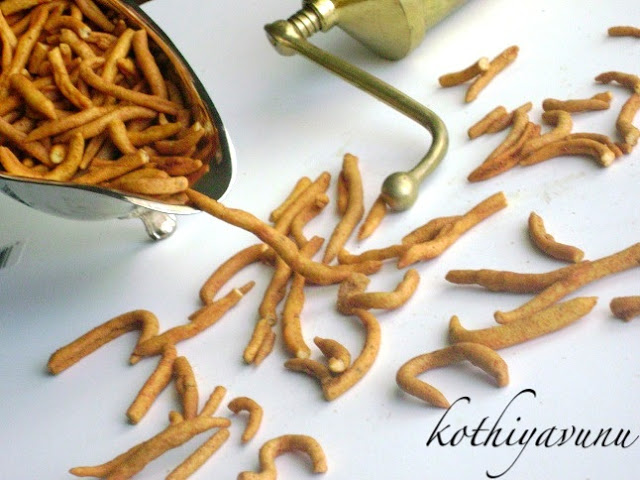 This spicy snack will delight the palate and satisfy your strongest munchy cravings. If you and your friends like spicy snacks, try making up a platter of these and Enjoy!
Recipe for Karasev
Ingredients :
Gram Flour : 2 1/2 cup
Rice flour :1 cup
Chilli powder : 1 tsp
Cumin Seeds or Ajwain Seeds : 1/2 tsp (Optional)
Black pepper coarsely powdered : 1tsp
Asafetida : pinch
Baking powder : pinch
Ghee : 2 tsp
Salt to taste
Oil for frying
Hot water required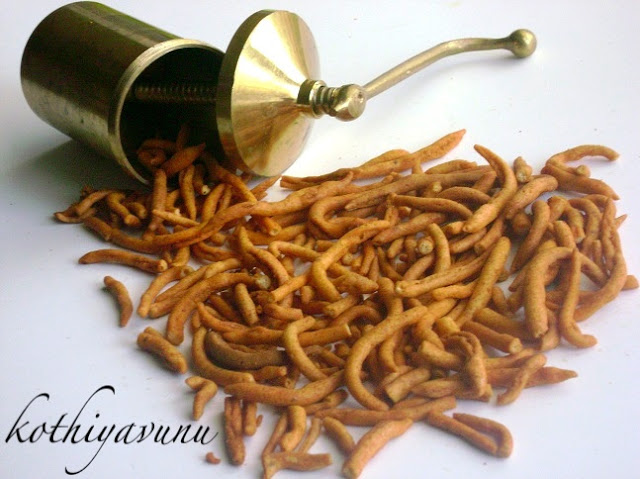 Method of Preparation :
1. In a large bowl; Mix rice flours, gram flour, coarsely powder black pepper, red chilli powder, cumin seeds or ajwain seeds, ghee and salt. Mix well and add hot water to make a stiff dough. (Note : Do not make the dough too watery, as strings would not turn nice, if needed add some more besan to bring into a right consistency).
2. Heat oil in a large kadai, Using a kara sev ladle or with murukku press/chakli maker or with grater.
3. Take a handful of dough and press on the karasev ladle into hot oil or if using murukku maker put handful of dough into the murukku/chakli maker and press into the hot oil or if your using grater, take some dough and rub directly into oil. (Note : While rubbing into the oil, rub the dough towards you).
4. Deep fry in oil, when it is done it will float on the top of oil and bubbles will be reduced.
5. Remove to a tissue paper and store in an airtight container.
6. Serve & Enjoy!