Spritz cookies are one of the simplest cookies you will find and they come in many flavors. It's awesome and extremely easy to use, all you will need a cookie press in order to make these cookies.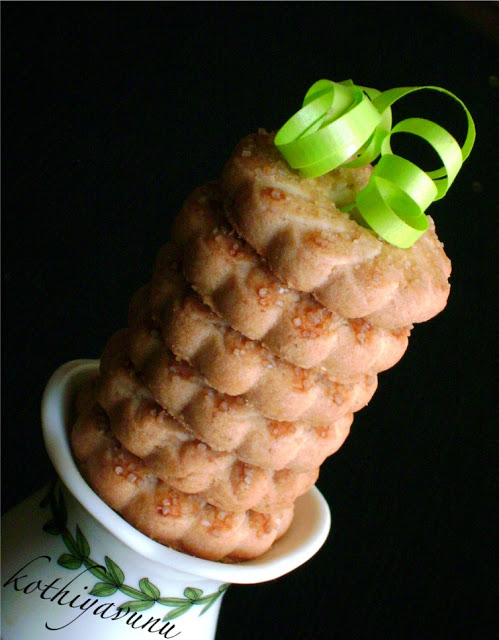 I was really excited when my friend presented cookie press to me..I never used a cookie press before, this is a really nice set that includes 14 different cookie disks, 6 decorating tips and the Spritz Cookie recipe. All you do is insert the dough into the barrel of the gun, attach a disk and squeeze the handle. I had fun using my cookie gun for the first time and look forward to using it to make lots of themed cookies in the future..These cookies are the ideal holiday cookies, decorate or leave them plain and Enjoy!
Recipe for Spice Spritz Cookies


Makes 5 dozen Cookies
Ingredients :
All Purpose Flour : 2 1/2 cups
Unsalted Butter or Margarine : 1 cup (softened)
Ground Cinnamon : 1 tsp
Ground Nutmeg : 1/2 tsp
All Spice Powder : 1/2 tsp
Ground Clove : 1/4 tsp
Granulated Sugar : 3/4 cup
Vanilla Extract : 1 tsp
Egg yolk : 1 large
Salt : 1/8 tsp
Method of Preparation :
1. Preheat oven to 350 ° F/180 ° C.
2. Sift flour into a bowl. Add in the salt and all grounded spice and sift again.
3. At medium speed, beat butter for several minutes until soft.
4. Now with the mixer on low speed, add the sugar in a slow stream and beat until light and fluffy.
5. Add the egg yolk and vanilla extracts and mix until combined.
6. Add in the flour mixture until combined.
7. Following the manufacturer's direction, load dough into cookie press.
8. Press shapes onto baking sheet spacing 2″ apart. (Note: Cookie press works best if dough is at room temperature).
9. Decorate the cookies with sugr granules or sprinkles, candies and other decorations. I sprinkled sugar granules on mine.
10. Bake for 8-10 mins until lightly browned.