Unniyappam-Unniappam -Neyyppam Anyone?
I am back after a short break! Sorry,could not inform in advance. I had an unplanned vacation and that was the reason for my sudden silence for past few week. My humble apologies to all my dear readers & all my friends here for my absence and for lack of updates. Thanks a ton to all for asking me about my absence…it really meant a lot to me…Lets move on to the recipe.
Unniyappam-Unniappam-Neyyappam is the traditional recipe and popular snack of keralites, which is made with rice flour, jaggery/molasses and
ghee
/clarified butter. "Unniyappam-Unniyappam-Unniappam-Neyyappam is a
fluffy deep-fried rice sweet fritter  similar to Dutch Aebleskiver.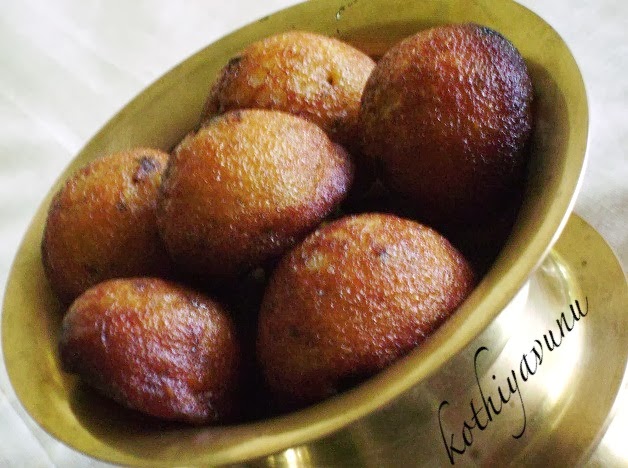 Unniyappam-Unniappam is a variation of Neyiappam in which mashed plantain is added to the batter. Unni in malayalam means small, Ney means ghee/clarified butter and Appam means small rice cake. Both Neyyappam and Unni appam is often used as a ritual offering in temples in Kerala (South India).The batter made out of rice flour, jaggery and plantain is poured into a cast iron mould called "Appa karal" or Appakaram in which ghee is heated and fried until deep brown.
My appa karal is family heirloom as it was given to me by my grandmother, who was given it by her grandmother. It is made of bell metal and it's quite heavy. I got this recipe from my ammuamma/ grandmom and her secret method for making this…but I really don't know if I will ever be able to create her taste in my kitchen. Making unniyappam has always made be nostalgic. It is little time consuming to make, but its worth all the effort..those of you who have not tasted it, do give a try and you will be hooked.:-) Here u go…
You may like these as well…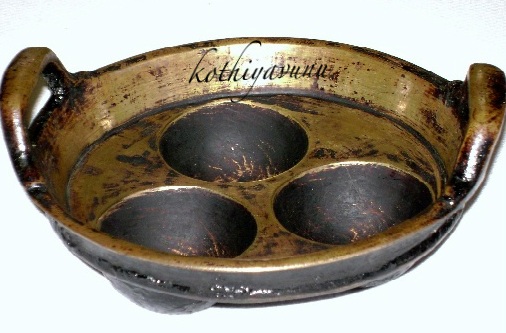 Unniyappam-Unniappam Recipe-Neyyappam /Appam Recipe -Sweet Rice Fritters
Preparation Time : 3-4 hrs 
Cooking Time : 30-45 mins
Makes : 20 Unniappams (depending upon size of the appam  mold)
Ingredients : 
Raw Rice /Rice flour (lightly roasted) : 2 cups
Ripe Small Bananas (Ceru pazham/Palayankodan) : 3 nos
Jaggery / Molasses  : 1 cup /250 grms (more or less as to taste)
Black Sesame Seeds /Ellu : 1/4 tsp
Milk : 1/2 cup ( optional )
Coconut bits /Thenga kothu : 1/2 cup or as needed
Cardamom : 3-4 pods
Salt : one pinch
Coconut Oil or Ghee for frying
Optional – Pappadam /Kerala Pappad : 2
 Water : 1/4 cup
How to make Unniyappam  – Unniappam  | Neyyappam – Appam 
1. Soak the raw rice in water for about 3-4 hours, if your using rice flour then lightly roast the flour and keep it aside.
2. In the meanwhile, melt jaggery with 1/4 cup of hot water and make a thick syrup out of it, Strain to take out any impurities and cool the syrup.
3. Soak the pappadam in water for 10 to 15 mins (Note : This steps is purely optional, traditionally it is not done, by doing this process unniyappam  with turns soft and taste more tastier and this is secret tip, I learned from my ammuamma/grandmom.)
4. Drain the water from the rice and grind the rice to a smooth paste/ batter using the jaggery solution. (Note : If the batter is too thick then add enough water as and when required) (Or) If your using rice flour, mix the rice flour with jaggery solution and proceed with the below-mentioned method.
5. Chop the banana into 3 or 4 pieces, and add them along with the seeds from the cardamom pods; drain the water from the soaked pappadam and add the soaked pappadam to the batter and grind everything together  to a smooth nice batter.
6. Fry the coconut bits/thenga kothu in 2 tsp of ghee till it become light brown in colour and now add sesame, fry.
7. Now add the fried coconut bits and sesame seeds to the batter and mix well.
8. Keep this batter for 1-2 hour  in a tight container. In the meantime if the batter has thicken up or is too tight, add milk to make it again to a thick batter consistency.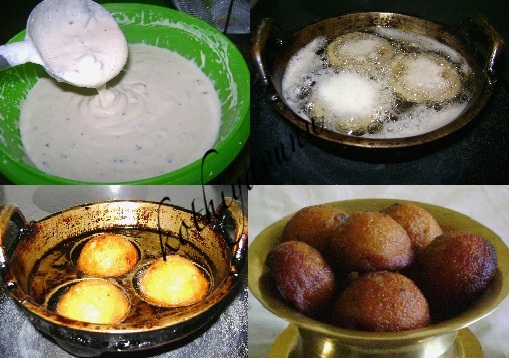 .
9. Place the appa kaaral (cast iron mould pan) /Unniyappam pan onthe stove and pour equal amounts of ghee and coconut oil (about a tbsp of each) into each rounds . Each rounds should be half full.(Note : The level of the oil in the pan will rise with the addition of the batter; consider this when you pour oil into the pan)
10. When hot simmer the flame and pour half ladlefuls of batter into each rounds.
11. Now increase the fire to medium and allow the appams to cook, pour oil in the rounds whenever needed.
12. Once cooked, the sides will detach from the pan and will start to rotate in the oil, if not with the help of a fork turn the unniyappam to cook on the other side to a golden color. Once the Unniyappam are browned both on the bottoms and tops, remove them from the pan using a metal skewer or  with a pair of forks/ tongs. 
13. Allow them to drain well on paper towels and repeat the same process to make the rest of the appams.14. Cool them to room temperature. Serve and Enjoy!
Variations :  This can be made with wheat flour instead of rice flour using the above-mentioned method with the exception of plantain.
Notes :
To reduce the amount of batter sticking on to the cast iron mould pan/appa karal,  let the pan heat up a bit before adding the oil. Let the oil heat again before adding the batter. 

The heat should be kept uniform throughout the process on medium heat.If you increase the heat the inside may not cook properly and gets browned faster. If you cook at low flame,the oil consumption will be more.

These keep for a couple of days after which they spoil, if refrigerated they stay a little longer and it tends to become hard. You can soften them by steaming or microwaving them for a couple of minutes before serving.

If you prefer fluffier appam then add baking powder/soda,but here I haven't added anything to the batter. Adding baking soda consumes more oil. Leaving 1-2 hr aside helps the batter to ferment nicely.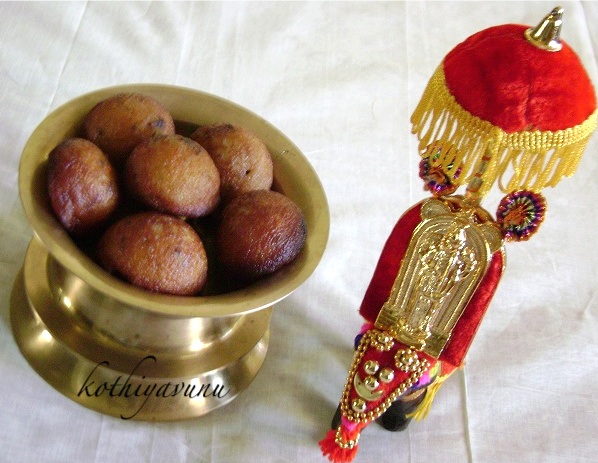 Cheers!
Sangeetha