A real treat for fish lovers! If you're in the mood of cooking something spicy then try this Fish Roast recipe..Very aromatic and so satisfying.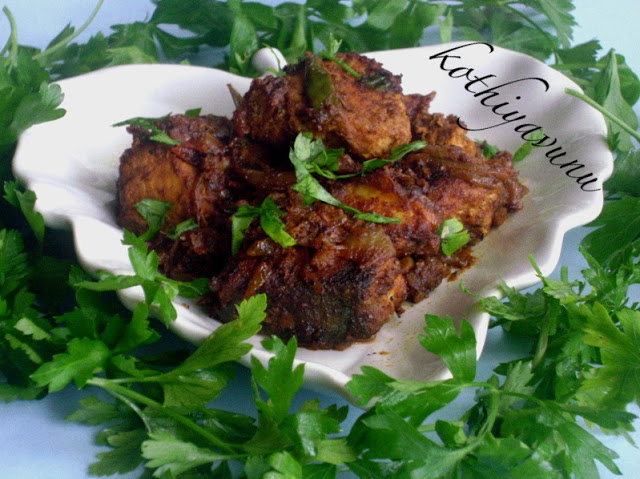 This classic fish roast doesn't disappoint and it is a popular choice for casual as well as formal occasions..Makes an excellent entree for lunch or dinner, just serve with any kind of
rice,
roti
or
bread
and Enjoy!
Meen Ularthiyathu – Ularthu Recipe – Meen Roast Recipe – Spicy Fish Roast
Serves : 4
Ingredients :
To Marinate :
Meen / Fish (Any fleshy fish ,King fish/Tuna/Salmon : 1 lb /1/2 kg, (I used King fish)
Turmeric Powder : 1/4 tsp
Red Chilli Powder : 1 tsp
Coriander Powder : 1 tsp
Fenugreek Powder : 1/4 tsp
Fennel Seeds : 1/2 tsp
Lime Juice or Vingear : 1/2 tsp
Salt to taste
For Masala :
Onion : 2 (medium, thinly sliced)
Tomato : 2 (medium , finely chopped)
Green chillies : 3-4 or to your spicy level (finely, chopped)
Ginger : 1 tsp (crushed)
Garlic : 1 tsp (crushed)
Red Chilli Powder : 1 tsp or to your tolerance level
Black Pepper Powder : 1 tsp (freshly grounded) or to your tolerance level
Curry Leaves : 3-4 sprigs finely chopped
Coriander Leaves : few for garnishing
Coconut oil /Cooking oil : 2 tbsp
Salt to taste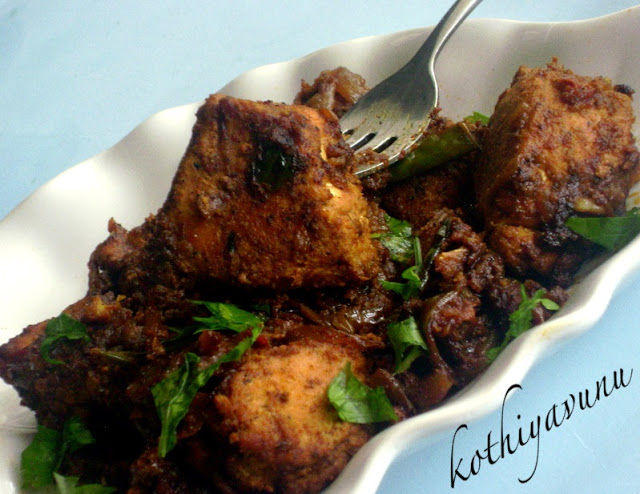 How to make Meen Ularthiyathu | Spicy Fish – Meen Roast :
1. Clean the fish and pat dry it and cut into medium pieces.
2. Marinade the fish with marinade ingredients listed above and set aside for 15-20 minutes.
3. Heat 1 tbsp of oil in a pan (preferably in 'Kalchatti' an earthen pot) (Note : It will enhance the authentic taste) and slightly fry marinated fish pieces on a medium heat and remove the fried fish keep it aside.
4. In the same pan, pour the remaining oil; add crushed ginger, garlic, sliced onion, chopped green chilles, chopped curry leaves and saute till onions turns to translucent and brown in color.
5. Lower the fire; add all the spice powders, salt and saute for couple of minutes or till the raw smell goes.
6. Add the chopped tomatoes and continue to saute, once the tomatoes are soft and mushy.
7. Add the fried fish and gently coat the fish with the masala. (Note : Take care not to break the fish pieces)
8. Adjust the salt and cover the pan with a lid and cook at low heat for 5-8 minutes; saute turning the fish pieces carefully in between.