Wishing you all a Happy Valentine's Day!!
Do you celebrate Valentine's Day
??
We
usually
don't
make a big fuss about
Valentine's Day but this year t
o celebrate the holiday, my friend's family decided to organize a party..To thank them, I decided to make them a beautiful valentine gift. Red Velvet Cake whoa, Isn't it ?
Yes I know…I can't take credit for these though. I found them at here. To know more on the history of red velvet cake, read here.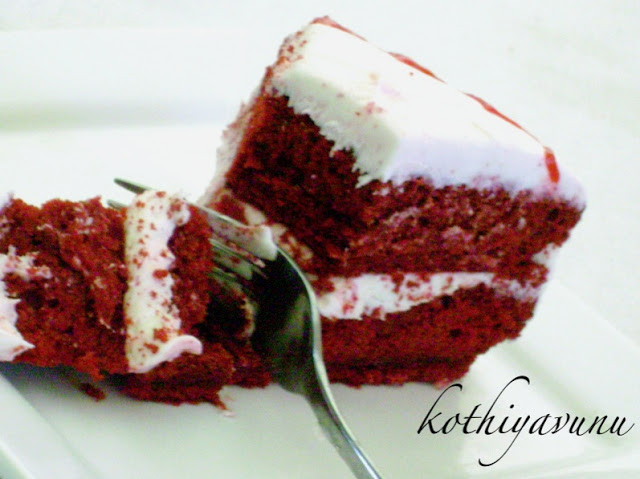 This cake is extremely moist and easy; everyone always comments on how beautiful it is. Here u go a easy, homemade gifts straight from the heart and the kitchen to u all..Enjoy!
Ingredients :
All Purpose Flour : 2 1/2 cup /250 grms
Vanilla Extract : 1 tsp
Cocoa Powder : 2 tbsp /15 grms regular or Dutch-processed cocoa powder
Red Food Coloring : 2 tbsp
Buttermilk : 1 cup /240 ml
Unsalted Butter : 1 cup /2 sticks
Sugar : 2 cups
Eggs : 2 large
Baking Soda : 1 tsp
Cider Vinegar or White Vinegar : 1 tsp
How to make Red Velvet Cake aka Waldorf Astoria Cake :


1. Preheat the oven to 350 degrees. Grease and flour 2-8 inch pans and set aside.
2. Combine the flour and salt in a medium bowl and use a fork to mix them together well.
3. In a small blow combine the cocoa powder and the red food colouring, mashing and stirring them together to make a thick smooth paste without lumps; set aside.
4. In a large bowl, beat the butter with using a hand mixer or stand mixer at low speed for 1 minute until creamy and soft. Add the sugar and then beat well for 3 to 4 minutes, stopping to scrape down the bowl now and then.
5. Beat in eggs, one at a time, then beat in vanilla and the red cocoa paste, scraping down the bowl with a spatula as you go.
6. Add one third of the flour mixture to the butter mixture, beat well, then beat in half of the buttermilk. Beat in another third of flour mixture, then second half of buttermilk. End with the last third of the flour mixture, beat until well combined, making sure to scrape down the bowl with a spatula.
7. In a small bowl, combine the baking soda and vinegar and stir well. Use a wooden spoon or spatula to quickly mix this last mixture into the red batter, folding it in gently by hand. Scrape the batter into the prepared pans.
8. Working quickly, divide the batter evenly between the two prepared cake pans and smooth the tops with an offset spatula or the back of a spoon and place them in a preheated 350 degree oven
9. Bake for 25-30 minutes. or until a toothpick inserted into the center comes out clean.
10. Let the cake cool in the pan for 15 minutes and invert the cake onto a wire rack. To remove the cakes from the pan, place a wire rack on top of the cake pan and invert, then gently lift the pan.
11. Allow cakes to cool completely before frosting. Once the cakes have completely cooled, wrap in plastic and place the cake layers in the refrigerator for at least an hour (or overnight). (
Note :
This is done to make filling and frosting the cakes easier.)
12. Frost with cream cheese icing or your desired frosting.
Notes:
Sift cake flour once before measuring, then sift again with the other dry ingredients per recipe instructions.
Place the cake layers in the refrigerator (for several hours) or freezer (for at least an hour) before frosting. This extra step makes the spreading of the frosting a much easier task as a freshly baked cake is quite fragile and when you try to spread the frosting there is a tendency for the cake to tear. Refrigerating or freezing the cake first eliminates this problem.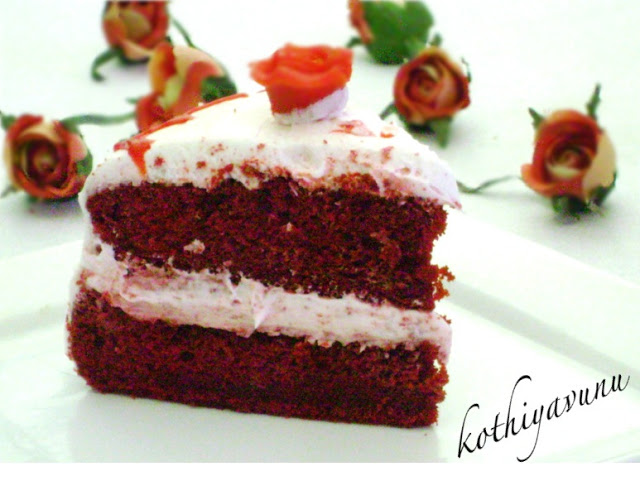 Cream Cheese Frosting Recipe :
Ingredients :
Cream Cheese : 1-8 oz /227 grms softened
Powdered Sugar : 3 cup (sifted)
Butter : 4 tbsp, softened

Preparation for Cream Cheese Frosting :


1. In a medium bowl, cream the cheese, butter and vanilla til smooth with a hand mixer.
2. Slowly mix in sifted powdered sugar til light and fluffy.
Assembling the Cake :

1. Place one cake layer, top side down, on a cake stand or serving plate.
2. Cover it generously with icing.
3. Place the second layer on top of the iced layer, top side up. First ice the sides to help keep the cake steady, and then spread icing generously over the top, completely covering the cake.
4. Serve at room temperature and Enjoy!!!
If you prefer a sweeter and/or stiffer frosting, more powdered sugar can be added.