Hello Everyone ! How is it going?  It's wonderful to be back in the world of blogging! Hope life is treating you all well. As you know mine was a bit topsy turvy, but is slowly returning to normal. Thanks a ton to one and all for checking in on me to see what happened and for the kind comments you always leave behind. Guess what? It's my 300th post…I am so excited and I can't believe that I have posted 300 recipes! It seems like just yesterday I ventured into this, were not sure it would last. Has been a wonderful journey throughout!! Thanks to all my dear readers, fellow bloggers, friend & family for your support and encouragement without which I would not have reached here. To mark this milestone..Here comes a sweet treat Chakka Varatti-Chakka Varattiyathu|Jack Fruit Jam straight from  "God Own Country" Kerala (a state in South India).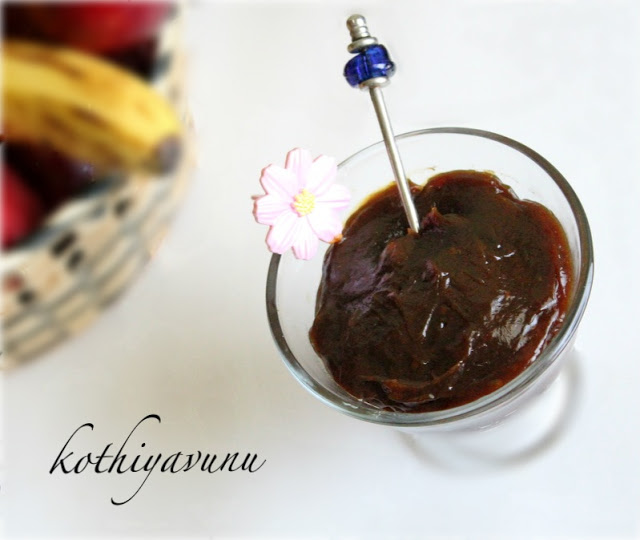 For those of you who are not familiar with this term "Chakka Varatti " let me explain briefly! Jackfruit which preserved in the form of jam. This is a exotic preparation originates from the state of  Kerala (a state in South India). Jackfruit is an aromatic, fleshy fruit with wide sharpy like dotted skin. It can be eaten ripe, and cooked or uncooked. The seeds can also be eaten cooked or baked like beans. Although many who eat jackfruit loves it for its delicious taste, quite a few are unaware of the health benefits of jackfruit. It contains vitamin A, vitamin C, riboflavin, calcium, potassium, iron, sodium, zinc and many other nutrients.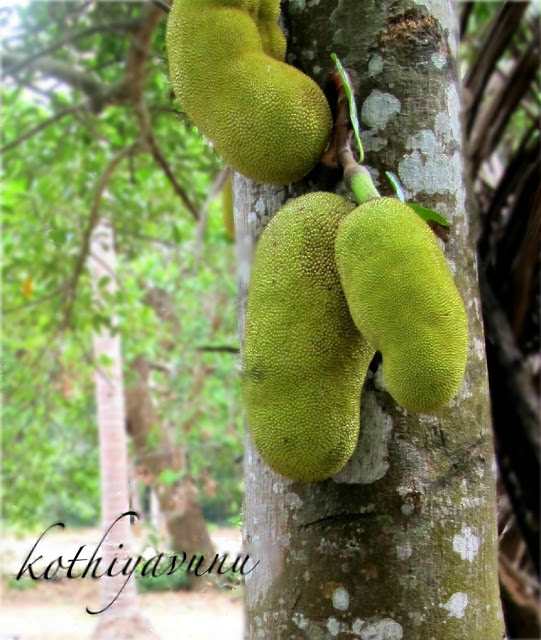 In the 
Kerala
 this fruit is native and is always found in the backyard and its incorporated in different recipes. Ripe Jackfruit is used for sweet delicacy such as 
jam
, 
desserts
 etc. Tender jackfruit is used for peparing 
side dishes 
and 
chips
, etc… Chakka Varatti/Jack fruit jam is made of jackfruit bulbs along with jaggery and ghee (clarified butter), are boiled and simmer for a long time to remove the water content to make a thick jam form, which stays for over a year. Preparing this dish is time consuming atleast it takes 5-6 hrs, but its worth all the effort and the taste is heaven!! The outcome of your hard labour is one of the most tongue tingling, sweetest jackfruit jam called chakka varatti.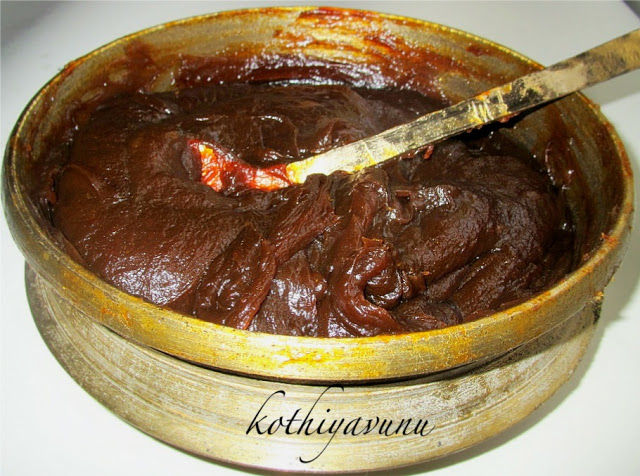 Traditionally it is prepared in Uruli (a circular shape vessel made of bell metal used in 
Kerala
.The picture shown above).This is prepared by my mom and I learned from her. The credit is my mom's.  You must try this authentic delicious dish and you will love it, believe me!!
Chakka Varatti aka Chakka Varattiyathu /Jack Fruit Jam
Cooking Time : 6 hrs
Ingredients :
Ripe Jack fruit flesh : 2 kg /6 cups (finely chopped)
Jaggery : 1 kg /3 cups or according to the sweet requirement
Water : 2 cups
Ghee : 1/2-1 cup
Dried Ginger Powder /Chukku : 1 tbsp
Cardamom Powder /Elakka : 1/2 tbsp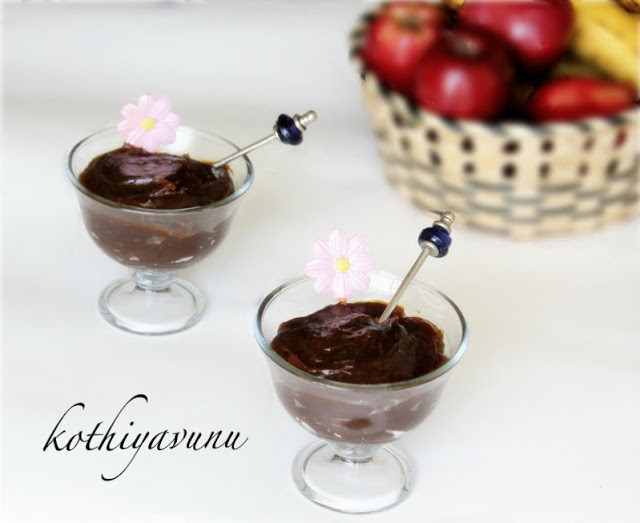 How to make Chakka Varrati-Varattiyathu-Jack fruit Jam :
1. Deseed the flesh pieces of the jackfruit and chop them into small pieces.
2. Pressure cook the chopped jackfruit pieces with one cup of water for 6-8 whistles or until soft.
3. Ground this cooked jackfruit in a mixer grinder to a paste and let it cool to the room temperature.
4. In a heavy bottomed pan or in wide vessel like "Uruli" transfer jackfruit paste and allow all the water to disappear stirring occasionally.
5. Meanwhile melt the jaggery with one cup of water to get a thick syrup.
6. Pour the melted jaggery syrup to the cooked jackfruit and stir continuously till it becomes thick and sticky.
7. Add ghee little by little and stir continuously over medium-low heat until you get a dark brown colored thick jam.(Note : Stir continuously to prevent it from sticking to the vessel, If you think this is sticking to the bottom of the pan then add more ghee.)
8. Add the dried ginger powder and cardamom powder.
9. Remove from fire and let it cool to the room temperature.
10. Store in an air tight container and Enjoy!!