One of my  mom's staple recipe Nadan Kozhi-Chicken Curry and I grew up eating this delicious chicken curry. It's one of my favorite. I have been craving it lately. So I decided to make it and here it is.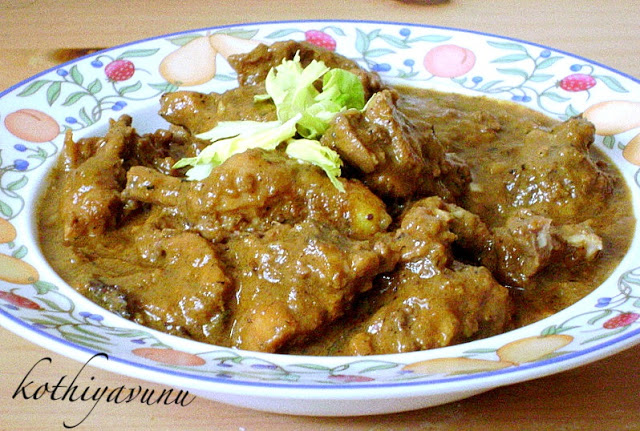 So wondering what so special about this Kerala style chicken curry? Lightly roasted spices are blended together and gently simmered in coconut milk to give unique taste. Hope you all will enjoy this Nadan Kozhi-Chicken Curry as much as we do!
Nadan Kozhi-Chicken Curry |Kerala Style Chicken Curry – Kothiyavunu Special
Preparation Time : 1/2 to 1 hrs
Cooking Time : 30 minutes
Serves : 4
Ingredients:
For Marinating : 
Chicken with bones : 1 lbs
Chicken Masala Powder  : 1 tbsp (I used skathi chicken masala)
For Dry Roast :
Whole Coriander seeds : 2 tsp
Dry Red Chilli  : 5-6 or to your tolerances level
Fennel Seeds : 1 tsp
Black Pepper Corns: 1/4 tsp
Cardamon : 2 pods
Cloves : 2
Bay Leaves : 1
Cinnamon : 1/2 inch
Turmeric powder : 1/4 tsp
For Gravy :
Coconut Oil : 1 Tbsp
Dry Red Chilly : 2-3 nos
Mustard Seeds : 1/2 tsp
Onions  : 1 medium, (finely thinly sliced)
Ginger : 1 tbsp  (minced)
Thick Coconut Milk : 1/2 cup
Garam Masala Powder : 1/2 tsp
How to make Nadan Kozhi  – Chicken Curry – Kerala Style Chicken Curry – Kothiyavunu Special:
1. Marinate the chicken pieces with chicken masala for 30 minutes to 1 hour and set it aside.
2. Dry roast the above listed ingredients " To Dry Roast" for a minute and when they start to turn brown, add the turmeric powder and remove and allow to cool.
3. In a blender, add the above dry roasted spices along with ginger, garlic and add little water; grind to make a smooth paste and keep it aside.
4. Heat  oil in a pan over medium heat and splutter mustard seeds, and add dry red chilles.
5.  Add the sliced onion  and saute until it turns to translucent and brown in color.
6. Add the marinated chicken pieces and grounded spice paste, salt and mix well.
7. Add the coconut milk and reduce the flame to medium and cook the chicken for 15 minutes approximately.
8. After 15 minutes or when the chicken is 3/4 cooked, add gram masala and curry leaves.
9. Adjust the salt and cook until the gravy turns dark brown in color and the gravy thickens.
10. Remove from the fire; sprinkle little coconut oil on top and keep covered until its ready to serve. (
Note :
 It enhance the flavor)