Are you bored of the usual Thoran/Stir Fry and want to try something different,yet tasty? then try this Pappada Thoran /Stir fried Pappad !
Pappadam /Pappad are thin, crispy Indian flatbread made out of lentil flour, they're lots of variations available like plain or spiced. It is served as an accompaniment to a meal or eaten as an
snack
. Usually its deep fried or grilled over a flame or popped in microwave oven but today recipes has a little twist…Pappadam /Pappad is tossed with fresh grated coconut and stir fried…I know it may sound different, but it tastes good…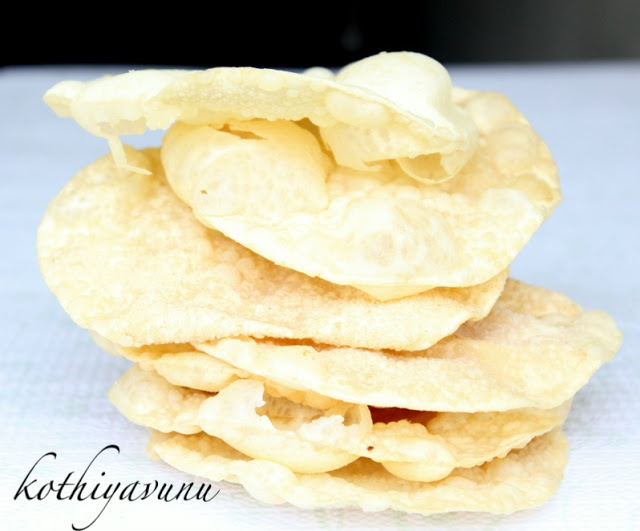 This recipe I learned from my cousin Smitha, who is a phenomenal home cook, when I was in India recently, she shared few more recipes with me, wait…wait…it is on the way to make it to the site yet ;)…stay tuned..! Blend of spices and coconut combined with deep fried pappadam, gives the thoran a very unique taste..Thank you Smiechi for sharing such a wonderful recipe with us..:)
Here is a Pappada Thoran which my family enjoyed having and hopefully anyone trying this recipe enjoys it too!


Pappada Thoran Recipe – Stir fried Pappad Recipe | Crispy Lentil Flatbread Stir fry – Spicy Version
Serves : 4
Ingredients :
Pappadam : 10-15
Fresh Grated Coconut : 1/2 cup
Small Onions /Shallots : 6 (finely chopped)
Green Chillies : 2
Dried Whole Red Chillies : 3-4
Turmeric Powder : 1 pinch
Red Chilli Powder : 1 tsp or to your tolerance level
Pepper Powder : 1/4 tsp
Garlic : 2 (crushed)
Cumin Seeds : 1/4 tsp
Mustard Seeds : 1/2 tsp
Coconut Oil : 2 tbsp + 1/4 cup for frying pappadam
Curry leaves : few
Salt to taste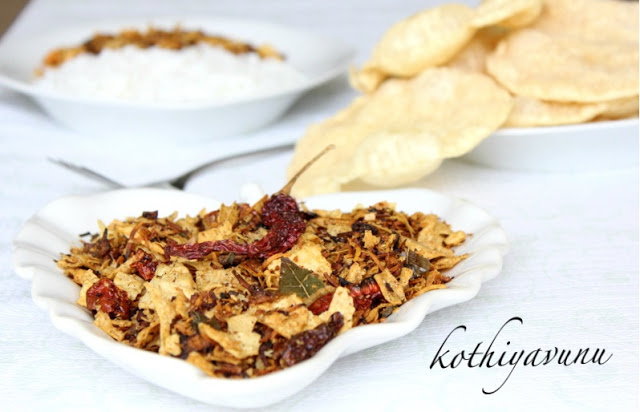 How to make Pappadam Thoran – Stir fried Pappad Recipe:
1. Fry the pappadams and then crush them.
2. Using your hands, mix grated coconut with turmeric powder, shallots, cumin seeds, garlic or you can just pulse 1 time everything together coarsely in blender.
3. Heat oil in a pan and splutter mustard seeds and when it starts to splutter, add, dry red chillies curry leaves and saute for a minute.
4. Add red chilly powder, pepper powder and when the raw smell goes away, add grated coconuts mixture and salt (Note : Add little salt, as the pappadams should be salty) and mix everything together.
5. Crush the pappadam and add it to the coconut mixture and mix well.
6. Lower the flame and cook for couple of minutes and remove from the fire.
7. Serve as side dish with rice or eat as a snack for tea and Enjoy!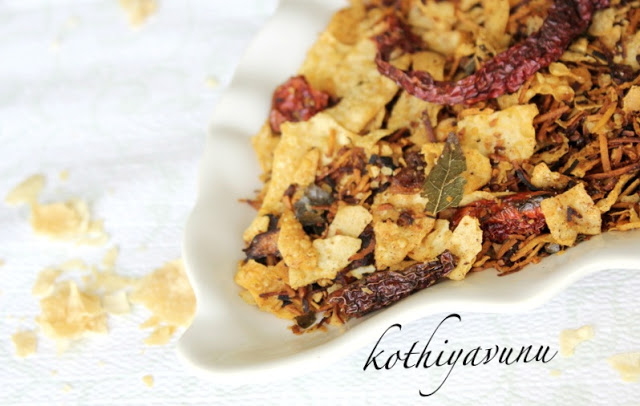 Notes :
Above recipe is spicy version, If you prefer less spicy version then skip adding pepper powder and red chilli powder.
Click here for more Vegetarian Side Dishes.
Have a Good Day All!
Sangeetha