We've been trying to eat a lot more fruits & veggies in our house lately and salads are at the top of the list. Not only are they healthy and fast to prepare. I got this recipe with the purchase of mint from "The Herbal Garden".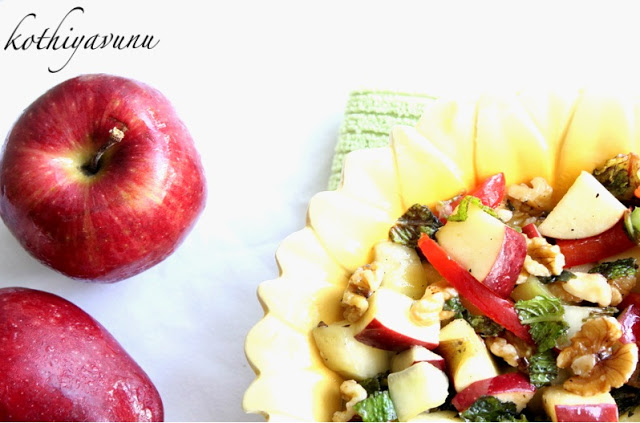 The combination of the sweet of the fruit and the crunch of the nuts with the flavor of mint makes a delicious, nutritious salad that my family flipped for..It takes only minutes to prepare and goes down nice and easy! Enjoy!


Apple Mint Walnut Salad Recipe
Preparation time : 5 mins
Cooking time : No cooking required
Serves : 1 big bowl
Ingredients :
For Salad :
Apples : 2 cups (cut into bite-size pieces)
Cucumber : 1 cup (diced into small pieces)
Red Bell Pepper /Capsicum : 1/2 cup ( Sliced into Julienne Strips)
Toasted Walnut : 1/2 cup
Dried Sweet Can berries : 1/2 cup (I didn't used it as i didn't have in my pantry)
For Dressing :
Juice of 1 Lemon
Mint Leaves : 2 tbsp (finely chopped)
Olive Oil : 1/4 cup
Honey : 2 tbsp
Salt, to taste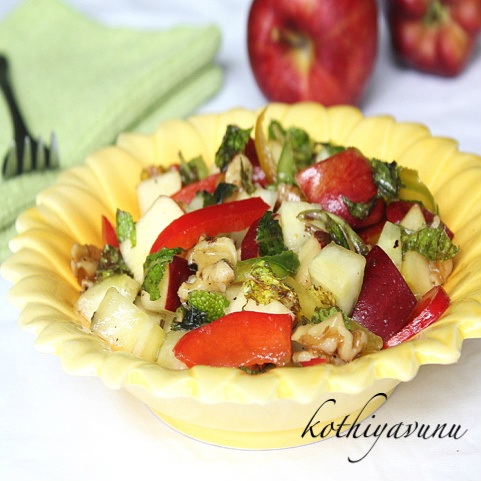 How to make Apple Mint Walnut Salad :
1. Combine all the above ingredients listed "For Salad" in a medium bowl and toss lightly.
2. Mix and shake vigorously together all the ingredients listed " For Dressing "
3. Add the dressing to the salad and toss again…Serve and Enjoy!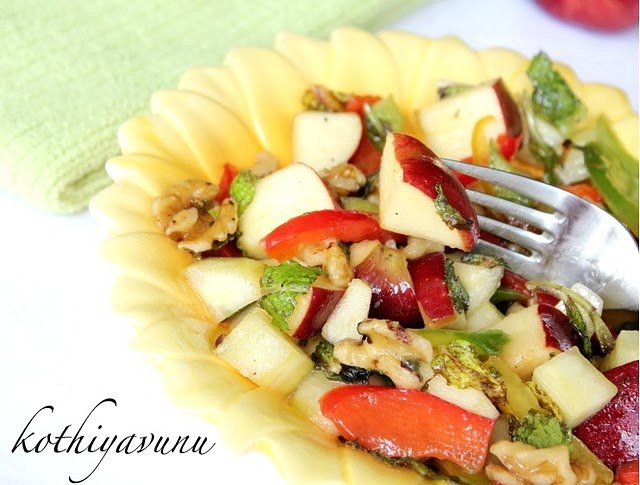 Click here for more Salad Recipes
Good Day All!
Sangeetha