Pizza is one of my family's favorite, Our latest weekend tradition have been making homemade pizzas together as a family and it has been so much fun and great hit. Of course it gives so much latitude to top the pizza exactly the way we want. This particular fusion of Indian and Italian pizza topping is an idea that has been brewing in my husband mind for quite a while. So we wanted to give it a shot..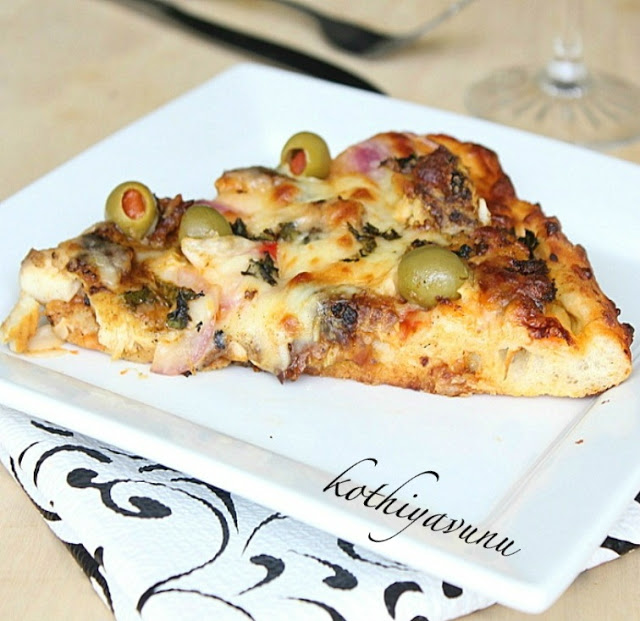 While we've made some pretty good pizzas at home before, but none of them work to my satisfaction… So I started looking for the perfect recipe to make and I came across Brown Eyed Baker, originally from Baking Illustrated by the Editors of Cook's Illustrated Magazine.The comments were incredible, so I decided to try them. It was an easy dough to work with and when baked, is perfectly crisp on the outside with a chewy interior..I am delighted the way it turned out. They were so good and the recipe is a keeper!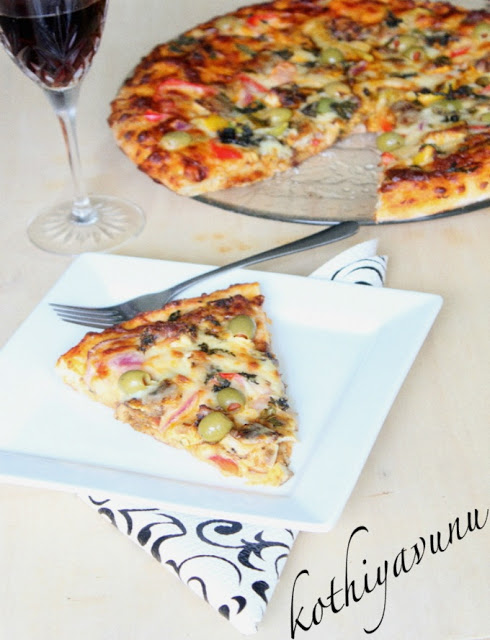 One thing, I will have to work on next time is to roll the dough enough to fit the whole pizza stone. In this recipe, I didn't roll properly, so it puffed up a lot around the edges. So didn't look proportional but it tasted great. This is probably among my favorite pizzas I've ever made, everything just works together to create a really flavorful and not overly spicy result.
If you love Indian Twist to an Italian favorite Pizza, this recipe will either disappoint or thrill you..Do try this and let me know how you like it 🙂 Enjoy!!
Recipe for Fish Pizza


Pizza Crust :
Makes 3 medium pizza
Instant Yeast : 1 envelope (about 2 1/4 tsp)
Water : 1 1/4 cups at room temperature
Extra-Virgin Olive Oil : 2 tbsp
Bread Flour : 4 cups (22 ounces), plus more for dusting work surface and hands
Salt : 1 1/2 tsp
Olive oil or Nonstick cooking spray for oiling the bowl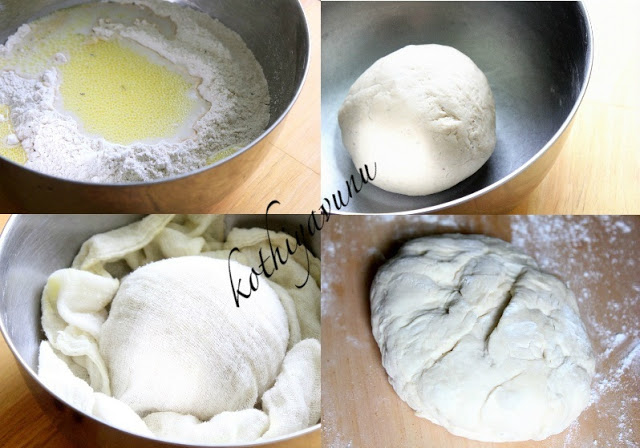 Method of Preparation :
Preparing Pizza Dough By Food Processor :
1. Sprinkle in the yeast and let stand for about 5 minutes or until the yeast dissolves and gets frothy.
2. Add the room-temperature water and oil to above yeast mixture and stir to combine.
3. In a food processor, process the flour, and salt, pulsing to combine.
4. Continue pulsing while pouring the liquid ingredients (holding back a few tablespoons) through the feed tube. If the dough does not readily form into a ball, add the remaining liquid and continue to pulse until a ball forms.
5. Process until the dough is smooth and elastic, about 30 seconds longer. (Note : The dough will be a bit tacky, so use a rubber spatula to turn it out onto a lightly floured work surface.)
6. Knead by and for a few strokes to form a smooth, round ball.
7. Transfer the dough into a deep oiled bowl and cover with a damp cloth or with plastic wrap for 11/2 to 2 hours.. Let rise until doubled in size. Press the dough to deflate it.
Preparing Pizza Dough by Hand :
1. Sprinkle in the yeast and let stand for about 5 minutes or until the yeast dissolves and gets frothy.
2. Omit the room-temperature water and oil.
3. Instead combine the salt and half the flour in a deep bowl.
4. Add the liquid ingredients and use a wooden spoon to combine.
5. Add the remaining flour, stirring until a cohesive mass forms. Turn the dough onto a lightly floured work surface and knead until smooth and elastic 7 to 8 minutes, using as little dusting flour as possible while kneading.
6. Form the dough into a ball, put it in a deep oiled bowl, cover with cover with a damp cloth or with plastic wrap for 11/2 to 2 hours.. Let rise until doubled in size. Press the dough to deflate it.
Notes :
This recipe makes enough dough for 2-3 medium pizzas, depending on how thick you like your crust.
Unused dough can be stored, Freeze the dough until it is ready to be used. The day you plan to use the dough, transfer it to the refrigerator to thaw and let stand at room temperature for about 30 minutes to take off the chill before making the pizza.
Unbleached all-purpose flour can be used, but the resulting crust will be less crisp.
Fish Pizza with Olives, Bell Peppers and Parmesan Cheese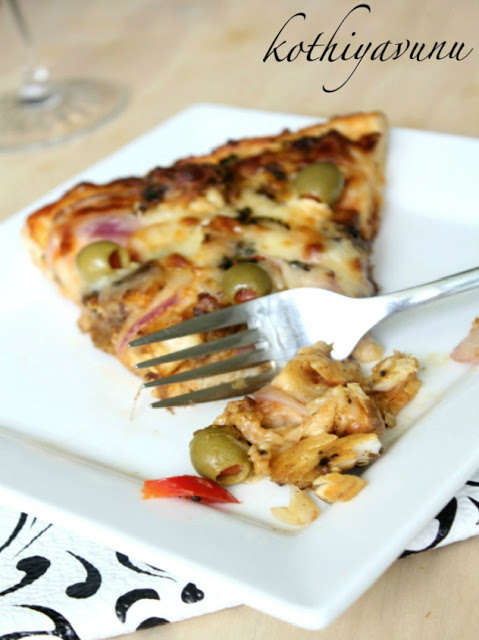 Serving : 4
Ingredients :
Any Fleshy Fish (King fish,Pomfret,Tilapia) : 4 fillets ( cut into small cube pieces, I used King Fish)
Extra-virgin olive oil : 1 tbsp for brushing on the stretched dough
Little Semolina or Cornmeal for dusting the pizza peel
Onion : 1/2 (thinly sliced)
Capsicum (Red, Yellow, Green : 1/2 (julienned)
Olives (Green or Black) : few (I used spanish Olives)
Fresh Basil Leaves : 1 tbsp (finely chopped)
Mozzarella and Parmesan Cheese : 1/2 cup ( shredded, to cover the toppings.)
Salt and Ground Black Pepper for seasoning.


For Marinating Fish :
Ginger- Garlic Paste : 1 tbsp
Red Chilly Powder : 1 tbsp or to your spice level
Turmeric Powder : 1/4 tsp
Black Pepper Powder : 1/2 tsp
Italian Seasoning : 1/2 tsp
Lemon juice/Vinegar : 1/2 tsp
Coconut Oil/Vegetable oil as required (coconut oil preferred)
Method of Preparation :
Preparing Fried Fish :
1. Clean and pat dry the cleaned fish using a kitchen tissue and cut into cube pieces.
2. Make a fine paste of all ingredients listed above "for marinating fish" using either oil or bit of water.
3. Apply the masala paste on the fish pieces one by one and keep the marinated fish pieces for 1/2 hour in refrigerator.
4. Pour oil and when its hot tilt the tawa/pan in such a way that oil gets spread evenly in the tawa/pan.
5. Shallow fry the fish on medium heat with curry leaves; close it with a lid to avoid any spluttering out due to the moisture content on the fish and the marinade.
6. Flip the fish pieces carefully after couple of minutes, reduce the flame to low and fry for another 2 minutes. (Note : Fish need not be fried crisp as for fish fry, just slightly browned.)
7. Remove from the fire and drain onto paper towel and keep it aside.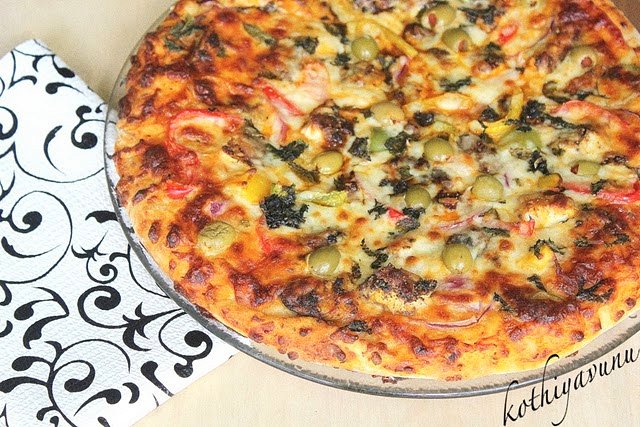 Preparing Pizza :
1. Prepare the dough as directed in the Pizza Dough recipe above.
2. Divide the dough into two pieces and form each piece of dough into a smooth, round ball and cover it with a damp cloth. Let the dough relax for at least 10 minutes but no more than 30 minutes.
3. Place a pizza stone on a rack in the lower third of the oven. Heat the oven to 450° for at least 30 minutes.
4. While it is preheating, Place a parchment paper the size of your pizza stone on a work surface and lightly sprinkle it with semolina or cornmeal
5. Place the pizza dough in the center and roll it out into a large round using a lightly floured rolling pin, or a pulling/stretching motion with floured hands.
6. Leave an approximately 1-inch border that is thicker around the edges for the crust. Lightly brush this outer edge of the crust with olive oil. (Note : This gives it a nice golden sheen after baking.)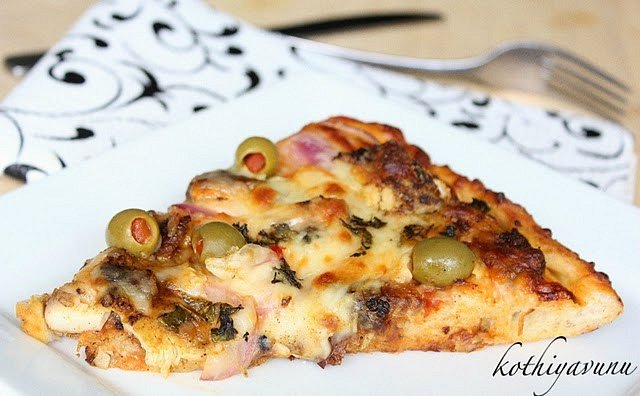 7. Spread a thin layer of pizza sauce on the pizza crust using the back of a spoon.
8. Sprinkle with a layer of shredded mozzarella cheese.
9. Top with fried fish pieces and julieneed bell peppers, onions, olives and chopped fresh basil leaves.
10. Finally sprinkle shredded parmesan cheese on the top and season with salt and freshly ground pepper, to taste.
11. Carefully transfer the parchment paper to the preheated pizza stone. Place in the oven and bake until the cheese is bubbling and the crust edges browned, about 12-15 minutes. Repeat with remaining ball of dough or freeze for later use.
12. Remove the pizza from the oven, sprinkle with 2 tbsp parmesan cheese.
13. Slice and serve immediately and Enjoy!!