One of my family classics!! The taste of a dish, that one grows up with, are very hard to forget, don't they???
I grew up eating Mom's Kerala Fish curry, they are to die for, my daughters are hooked too!! There are ton's of variations for Kerala Fish curry and each one has unique taste according to the way of preparation of each region or each home..Interestingly you may find as many popular recipes as there are a wide variety of fish curry. This is one among them Fish with Mango!!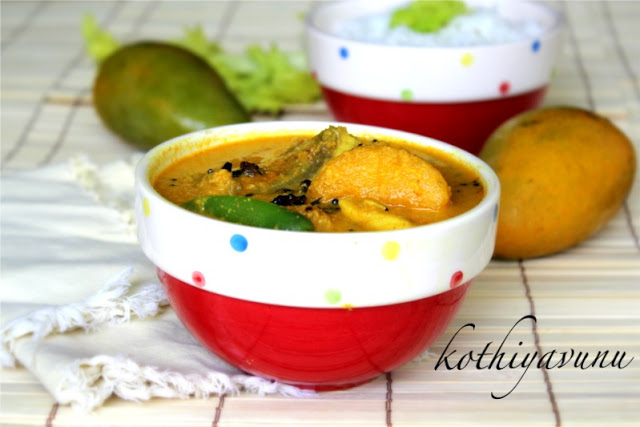 Sweet and sourness of mango combined with fleshy fish pieces, blended in a mixture of grounded coconut, served with hot
piping rice, pickle and pappad
…Oh Yum!! I don't want to tempt you anymore, I'm leaving yourself to judge this wonderful combo…Enjoy!
Recipe for Meen Manga Curry /Pazhamanga Meen Curry /Fish Mango Curry
Preparation Time : 20 minutes
Cooking Time : 20 minutes
Serves : 4
Ingredients :
Any kind of Fish /Meen : 1 lbs /1/2 lb (cut the fish to medium sized pieces)
Grated Coconut : 1/2 cup
Mango : 1 ( medium sized mango, cut into big slices )
Shallots / Small Red onions : 8 – 10
Tomatoes : 1 (medium sized, chopped)
Green Chillies : 3 Nos
Crushed Ginger and Garlic : 1 1/2 tbsp
Turmeric Powder : 1 tsp
Red chilli Powder : 1 tsp
Fennel Seeds / Perinjeerakam : 1/2 tsp
Mustard Seeds : 1/2 tsp
Fenugreek Seeds /Uluva : 1/4 tsp
Curry Leaves : 2 sprigs
Coconut Oil : 1 tbsp
Salt to taste
Method of Preparation :
1.Wash the fish and rub it with little lemon juice and salt, rinse well; drain it and set it aside.
2. In a blender grind the grated coconut , half of the small red onions, fennel seeds and all the spice powder to a fine paste by adding 1 cup of water.
3. In a pan (preferably in 'manchatti' an earthen pot) pour grounded coconut mixture.
4. Add chopped tomatoes, green chillies, mangoes pieces, crushed ginger & garlic and salt along with 2 cup of water and mix well. Switch on the stove and allow to to boil over medium heat.
5. Once the curry starts to boil, add the fish pieces and cover it with a lid and simmer it for 5-8 minutes until the gravy thickens.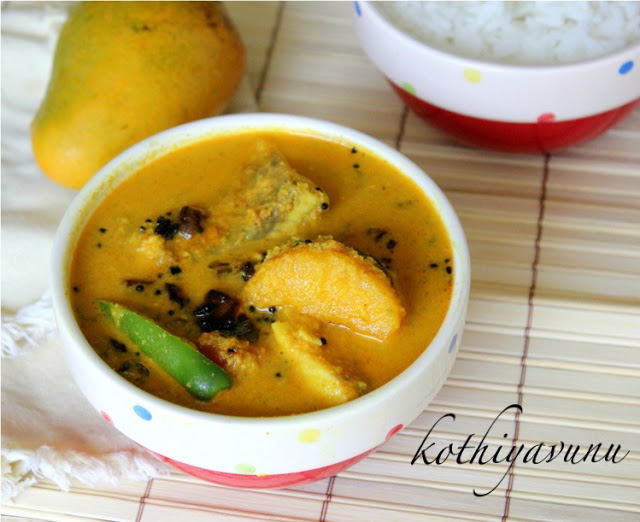 6. Tilt the pan/earthen pot in between such a way that everything is mixed well.
7. In a frying pan, heat coconut oil, splutter mustard, fenugreek seeds,curry leaves & remaining shallot saute till it turns to light brown and add to the curry…Serve with rice and enjoy!
Notes :
Keep this curry for at least 1-2 hours before serving so that the gravy absorbs all flavors.
I have used Tilapia in this recipe, you can use this recipe with any fish.