This recipe could be referred as my Sis's signature dish! I realized when I was posting these that I haven't ever posted any Crab /Njandu recipes…I can hardly believe it. I make this all the time in my kitchen with lots of variations, this time I decided to post it here!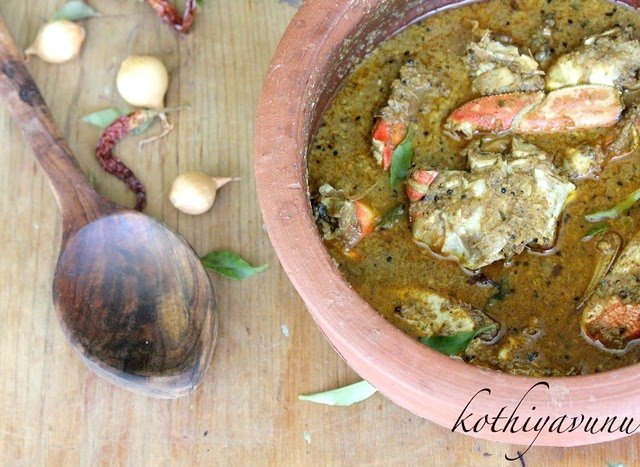 My sister is an absolute seafood lover, who cooks great in all seafood delights, whenever we crave to eat crab, we always count on her 🙂 So this is one of those recipes, I adapted from her cookbook. There are so many ways in which you can cook crab just like the other types of seafood but this is a simple curry tailored with roasted coconut with spices to fit to my family taste buds. If you have never tasted a crab curry before, now is the time. believe me It is genuinely mouthwatering!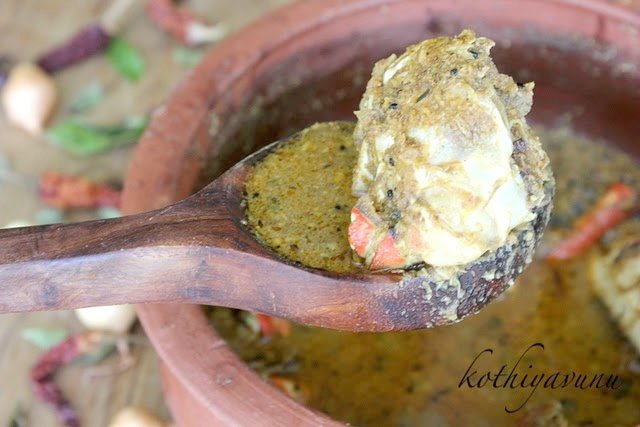 Here u go for all seafood and crab lovers..Enjoy!
Nadan Njandu Varutharacha Curry Recipe |Spicy Crab Curry with Roasted Coconut
Ingredients :
For Gravy :
Whole dungeness Crab : 1 or Soft Shell Blue Crab : 4 medium size or frozen 5-6 large legs with claws. (cleaned and cut into pieces)
Shallots / Red Small Onion : 8-10 (thinly sliced)
Turmeric Powder : 1/2 tsp
Red Chilly Powder : 1 tsp or to your tolerance level
Ginger : small piece (crushed)
Garlic : 3-4 cloves (crushed)
Green Chilly : 4 (crushed)
Freshly Grounded Pepper Corns : 1 tsp or to your tolerance level
Gamboge /Kudam Puli : 2-3 pieces
Oil : 1 tbsp (preferably coconut oil)
Fresh Curry Leaves : few
Salt to taste
Water as needed
For Roasted Coconut Paste :
Grated Coconut : 1 cup
Small Red Onions /Shallots : 4-6 nos
Turmeric Powder : 1/4 tsp
Red Chilly Powder : 1 tsp or your tolerance level
Coriander Powder : 1 tsp
Fennel seeds : 1/4 tsp
Fresh Pepper Corns : 1 tsp or your tolerance level
Curry Leaves : 3 sprig
Oil : 1/2 tsp (preferably coconut oil)
To Make Fresh Garam Masala :
Fennel Seeds /Perum Jeerakam : 1 tsp
Cinnamon Stick : 2 inch pieces
Cloves : 2
Star anise : 2
Cardamom : 2 pods
(or)
Use Store Bought Garam Masala : 1tsp
For Tempering :
Mustard Seeds : 1 tsp
Fenugreek Seeds : 1/4 tsp
Shallots / Small Red Onions : 4-5 (thinly sliced)
Dry Red Chillies : 3 (broken into 2 pieces)
Curry Leaves : few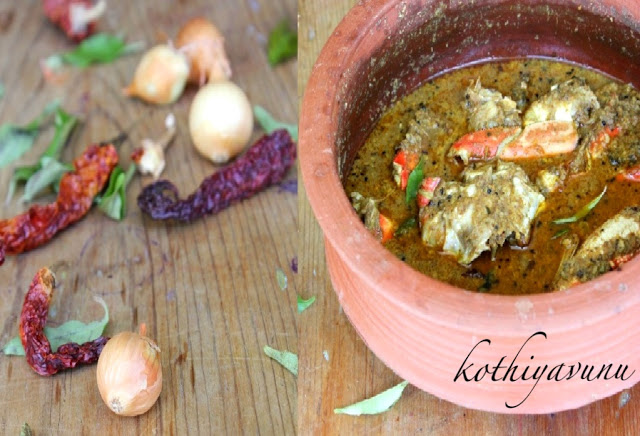 How to Clean the Crab :
1. Remove the top shell by holding the base of the crab with one hand and pull the shell away from the body with the other hand and turn the crab over and pull off the bottom part of the shell (flap like thing; the triangular-shaped section) and lift it away.
2. Turn the crab again and gently scrape away the gills on either side with your thumb and also throw away the intestine, which runs down the center of the back.
3. Remove the yellow layers in the cavity and keep the orange ones which is crab butter or crab egg seen in female crabs . Back home at Kerala its called Ponnu. Some people use that crab butter /crab egg/ponnu in the crab masala, which gives thickness to the gravy. So set them aside if you like.
4. Twist off the legs and rinse the crab below running water to remove any other unwanted dirt from crab and break it in half.
5. Crack the legs with back of knife, just two strikes, so flavor get into the meat and the meat comes out easily and or
Click here
to see how to clean the crab.
How to make Njandu-Crab Spicy Curry | Njandu Varutharacha Curry :
To make Crab Curry :
1. Dry roast all the ingredients listed above for "To Make Fresh Garam Masala" and grind to fine powder and keep it aside. (
Note :
You can prepare this in bulk and store, but fresh masala taste too good or use store bought garam masala.)
2. Heat a pan (preferably in 'Kalchatti' an earthen pot) add all ingredients listed above ' For Gravy' along with water, just to cover all the pieces.
3. Stir to mix and bring to boil. Close and cook for 5-8 minutes.
4. Meanwhile roast the grated coconut with 2 sprig of curry leaves, small onions/shallots over low heat. Keep sauteing till aromatic and nice brown color.
5. Add all the spice powders listed above 'For Roasted Coconut Paste' and fry on a low heat for a few minutes. (
Note:
Care should be take not burn the spices).
6. Cool the mixture and grind it well with 3tbsp of water in a mixer to a fine paste.
7. Add the above grounded coconut paste to the pan in which the crab is cooking ; mix well, close and cook it for 5-8 minutes. (
Note :
If needed add little more water and stir well.)
8. Now open the lid and sprinkle the half of freshly grounded garam masala and adjust the salt.
9. Optional – Add crab egg/ponnu (if your using it) and boil it for couple of minutes and remove from the heat.
10. Heat the coconut oil in a frying pan and splutter mustard seeds, followed by all the above listed ingredients "To Temper".
11. Pour it over the gravy and keep covered till u serve, so the gravy absorbs all the flavors.
12. Delicious Nadan Njandu/Crab Curry is ready.Serve with steamed rice,
roti
or with
appam
…Enjoy!
Notes :
You may adjust the spiciness by increasing or cutting down amount of pepper powder, chili powder according to your taste.
Adding more freshly ground pepper balance the cholesterol content of the crab and adds to it taste.
Using coconut oil enhance the authentic taste and flavor.
I prefer to use shallots instead of onions as it gives a great flavor to dish.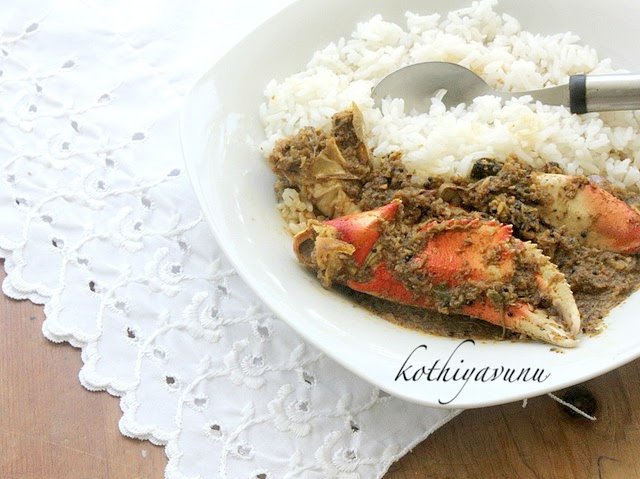 Click here for more Kerala Style Nadan Recipes.
Happy Cooking!
Sangeetha