I had this post languishing in my drafts for a long time now and so I thought i will post it before I loose track of it. Thoran or Upperi refers to stir-fry, seasoned with coconut, curry leaves and mustard seeds which is a usual preparation in the lunch menu of Kerala households which they relish with rice and curries…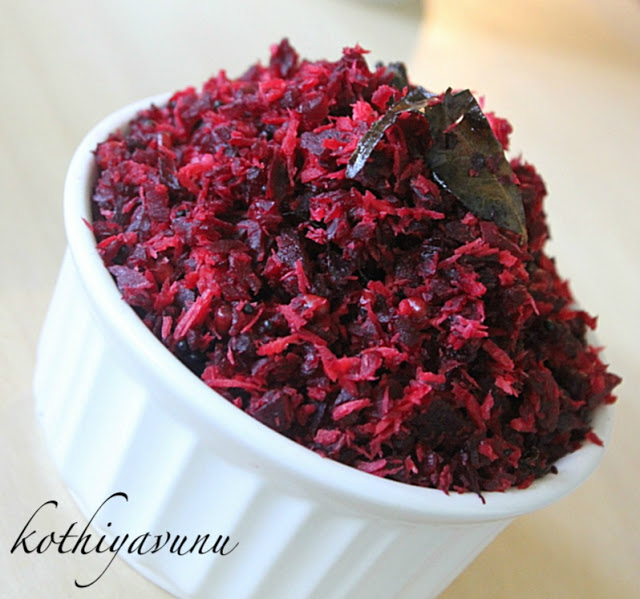 Thoran can be made with different vegetable, with small variations in spices.The one I am showing here is a simple thoran with beetroot which is mixed together with grated coconut, mustard seeds, curry leaves and turmeric powder and briefly stirred on a pan over a very fire. If you have all the ingredients ready, then it takes no time to whip this up. Hope you all will enjoy this classic Kerala Stir Fry /Thoran as much as we did 🙂
Beetroot Thoran Recipe – Beetroot Upperi Recipe | Beetroot Stir Fry Recipe
Preparation Time : 10 minutes
Cooking Time : 15 minutes
Serves : 3-4
Ingredients :
Beetroot : 1 large (shredded or finely chopped)
Shallots : 1-2 (thinly sliced)
Garlic : 2 pods (crushed)
Green chillies : 3-4 (slit lengthwise)
Grated Coconut : 1/4 cup
Turmeric powder
: 1/4 tsp
Mustard seeds
: 1 tsp
Curry leaves
: 1 sprig
Oil : 1 tbsp
Salt to taste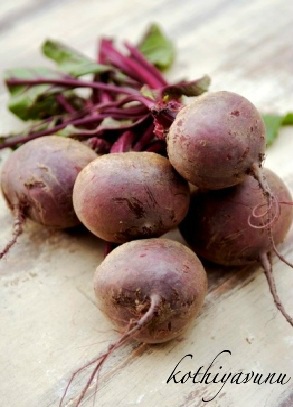 How to make Beetroot Thoran – Upperi Recipe | Beetroot Stir Fry Recipe:


1. Using your hands mix thoroughly the chopped beets, grated coconut, with turmeric powder, shallots, cumin seeds, garlic, salt and curry leaves or you can just pulse 1 time everything together coarsely in blender.
2. Heat oil in a pan. Add the mustard seeds and when it's starts to splutter.
3. Add the beet mixture and sprinkle very little water on the top and cover the pan and cook on low heat, stirring occasionally; After 5 minutes remove the lid and stir fry for another 5 minutes.
4. Serve hot as a side dish with rice and Enjoy!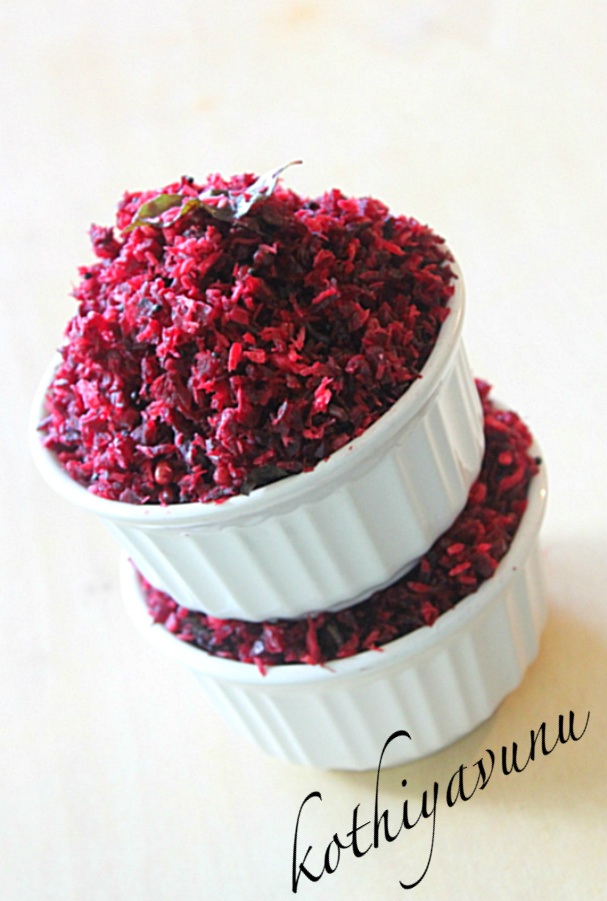 Click here for more Side Dishes Recipes.
Happy Cooking!
Sangeetha