Hello everyone! Hope you all had a wonderful & blessed Onam. It was so kind of you to leave your good wishes and as always, I enjoyed reading them all.
The recipe for today is a part of Sadya menu /Kerala feast 'Kurukku Kalan'. In Kerala (South India) Sadya is a traditional feast, where an array of vegetarian dishes, served on a banana leaf in a particular order. No Kerala feast /Sadya is complete without Kalan /Kurrukku Kalan /Katti Kalan which is made of yogurt, coconut, and vegetables like raw plantain and tuber like yam.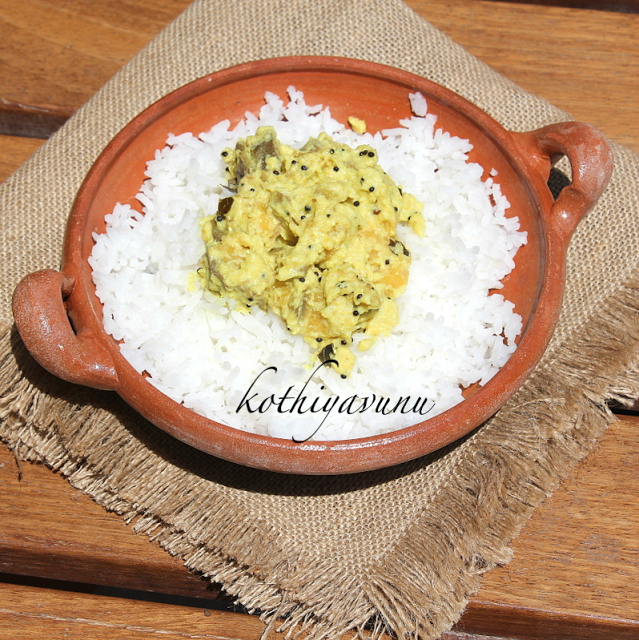 However preparation of Kalan and Kurukku Kalan /Katti Kalan slightly differs, the difference is the consistency of the gravy.
Kalan is prepared to pouring consistency whereas kurukku kalan is a thick curry where yogurt is concentrated. It is little time consuming to make, but its worth all the effort.
This is one of the most delicious Sadya /Kerala Feast specials that sets the mouth watering and the taste-buds tingling.:-) Do try and Enjoy!
Recipe for Kurukku Kalan /Katti Kalan /Thickened Yogurt Gravy
Preparation Time : 20 minutes

Cooking time : 30-45 minutes

Serves : 6
Ingredients:
Raw Green Banana (Perferably Nendran Kaya) : 1 no
Elephant Foot /Yam /Chena : 1/2 cup
Beaten Thick Sour Curds : 6 cups or 1/2 ltr ( preferably homemade with sour taste)
Turmeric powder : 11/2 tsp
Red Chilli Powder : a pinch
Pepper Powder : 1 tsp
Ghee : 1 tsp (Optional)
Roasted Fenugreek /Methi Powder : 1/2 tsp (dry roast and powdered)
Curry leaves : 2 sprig
Salt to taste
To Grind :
Grated Coconut : 1 cup
Green Chillies : 6 nos or to your tolerance level
Cumin Seeds : 1/2 tsp
For Seasoning :
Mustard Seeds : 1 tsp
Whole Dry Red Chillies : 3
Oil (Perfarbly Coconut Oil ) : 1 tsp
Curry leaves : few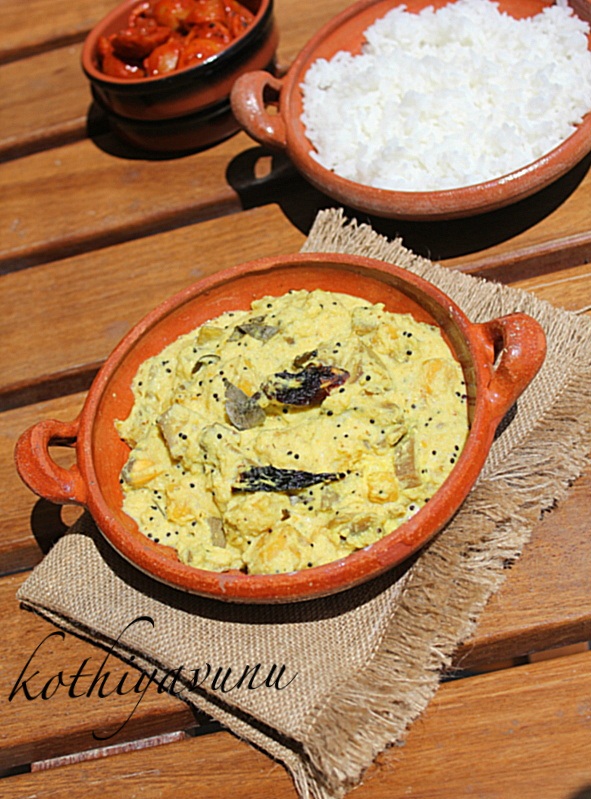 Method of Preparation:
1. Wash and peel the skin of banana and cut the vegetables into thick cube pieces and set it aside.
2. Beat the yogurt/curd well and do not add any water and set it aside.
3. Grind the grated coconut,cumin seeds,green chillies with little yogurt to a thick paste and keep it aside.(Note: Do not add water while grinding.)
4. Dissolve the pepper powder in 1 cup of water; strain the water and cook the chopped vegetables in pepper water along with turmeric powder and red chilli powder till the water dries and vegetables are completely cooked. Now add the salt and curry leaves and mix well. (Note : Make sure not to add salt to vegetables until they are completely cooked.)
5. Optional – Add 1 tsp ghee and combine well.
6. Now add the beaten sour yogurt and reduce the flame and allow to boil, stirring occasionally until the gravy is thickened to a semi solid consistency. (Note : When it cools down it thickens further therefore decide on the consistency.)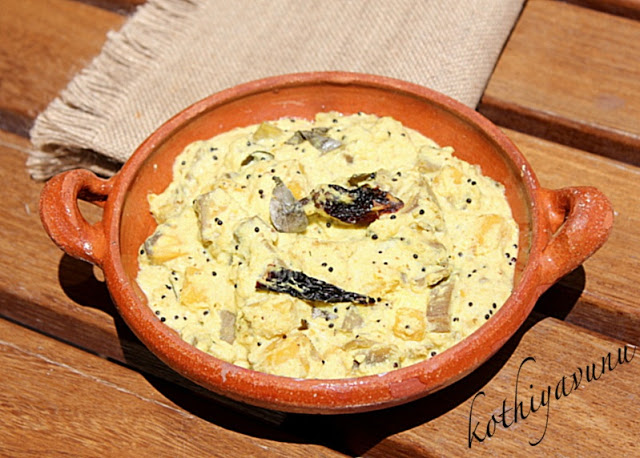 7. Add the grounded coconut mixture, stir well and heat through. (Note : Be careful not to overheat the mixture after adding the grounded coconut.)
8. Remove from the fire and sprinkle the methi powder and mix well; set it aside.
9. In a frying pan, heat the oil and add the mustard seeds. When these start to splutter, add the rest of the seasoning ingredients and fry till the chilies turn dark brown.
10. Pour the seasoning to the Kurukku Kalan and cover the dish for 10-15 mins. Let the flavor set…Serve with rice & enjoy!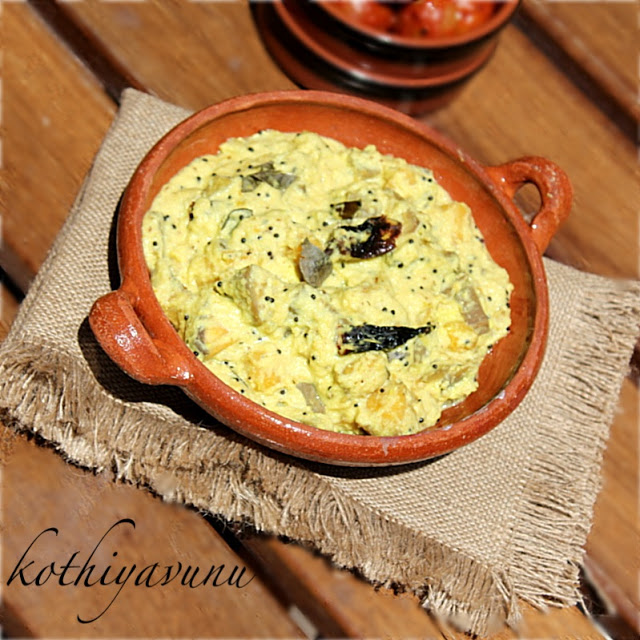 Notes:
Usually Kurukku Kalan/Katti Kalan is prepared up to step 6 and it is stored. Whenever needed, ground coconut is mixed and used. This method is used by cooks while making large quantities for Sadya /Feast. It will keep good upto a month even under room temperature. However, you may add grounded coconut mixture like I did and it keep well in the refrigerator for more than 1 week. Store this curry in air tight container and store it. Do not reheat, just bring it back to room temperature and serve.
For Kalan the curds/yogurt used must be sour, if you feel yogurt is not sour enough then just leave it in room temperature for couple of days before preparing kalan.
The consistency for Kurukku Kalan /Katti Kalan is when you serve them it should remain in the same place not flowing.
If you wish you can add any other oil, using coconut oil gives authentic & special flavour to the dish.
Related Posts:
Kalan
Click here for more Kerala Feast /Sadya Recipes.
Happy Cooking!
Sangeetha