India is a land of varied cultures, traditions and innumerable languages. Every now and then in the year comes with assortment of different festivals, it might well be described as a land of festivals! We celebrate everything, from the harvesting of crops, to the birthdays of gods and goddesses. Each festival has a religious or mythological significance behind it. Diwali is one of them. It is the festival of lights, The glow of the earthen diyas spreads the light of harmony, festivity and celebration. In this joyful festival of lights, I join to wish you all a very Happy, Prosperous and Safe Diwali!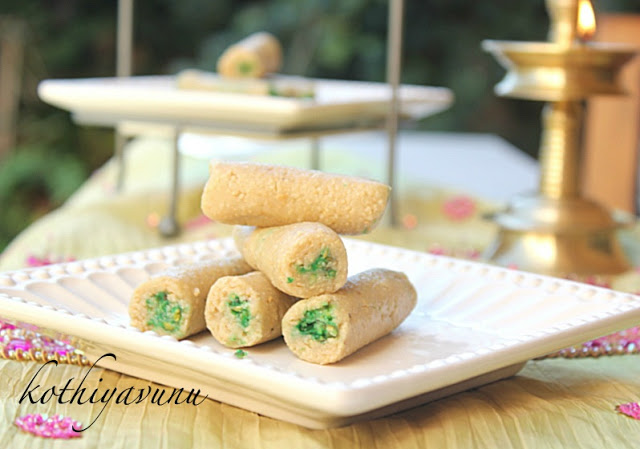 Growing up in Chennai (a city in the Indian state of Tamilnadu.) Diwali was so much fun and it brings back fond memories. I can't single out one special Diwali because every year has been special and we used to have a blast bursting loads of crackers, loads of diyas. Also I love sweets around during this time.You just can't afford to miss them..:-) However, bursting crackers is something I don't do nowadays but diyas and sweets were always a part of our Diwali..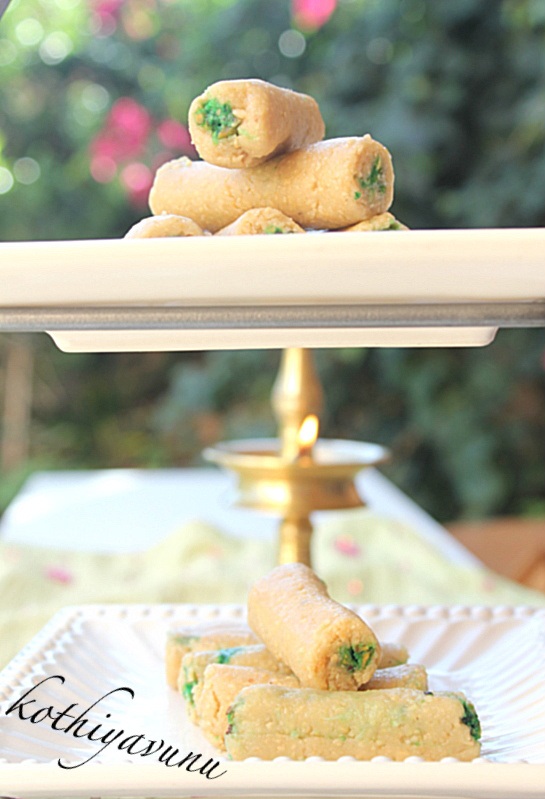 Now It's the time to be showered and shower your loved ones with gifts, so here u a virtual gift from me to u all 🙂 Enjoy!!
Recipe for Kaju Pista Roll / Cashew Pistachio Rolls
Preparation Time : 20-30 minutes + 60 mins for setting

Cooking & Grinding Time : 25 minutes

Serves : 6-8


Ingredients:
Cashewnut : 2 cup /250 gms
Pistachios : 7 tbsp
Sugar : 1 1/2 cup
Powdered Sugar : 2 tbsp
Water : 7 tbsp (just to the level of sugar immerses)
Rose Essence : couple of drops
Green Food Color : few drops – (optional)
Ghee to grease your palms.
Silver Warq/Varak : as required – (optional)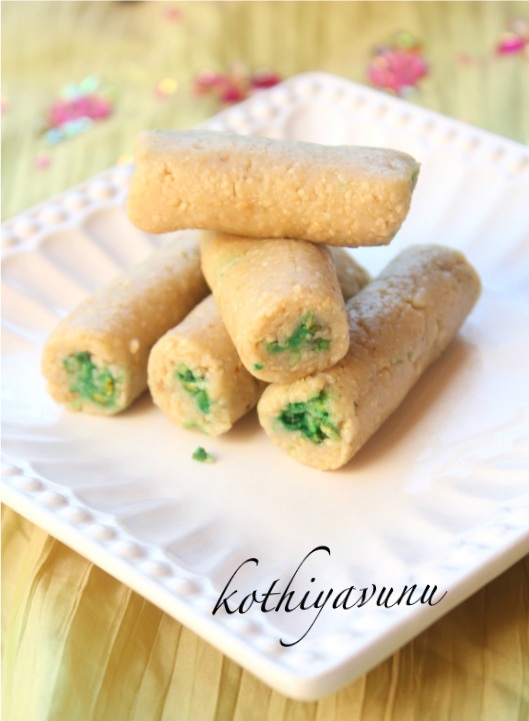 How to make Kaju Pista Roll | Cashew Roll Stuffed with Pistachio Powder :
1. Preheat the oven to 212°F /100°C.
2. Dry roast the cashewnuts and pistachios separately in the oven for ten minutes and set aside to cool completely. (Or) If you don't have access to oven then dry roast the cashew and pista on stove top over medium heat and set is aside to cool.
3. Grind the cashewnuts and pistachios separately in to fine powder. (
Note :
Taking care that no lumps are formed)
4. Add the 2 drops rose essence to the cashewnut powder and mix
5. Add the powdered sugar to the pistachio powder; mix it well and set it aside.
6. Heat sugar with three and a half tablespoons of water in a thick bottomed pan, and cook until one string consistency syrup is formed. (
Note :
To check the string consistency, drop a drop of sugar syrup in a bowl of water, it should get set on bottom of the bowl and when touched, it should not dissolve in water.)
7. Cool it slightly or till your palms could bear the heat for kneading.
8. Now grease little ghee on your palms and add the cashewnut powder and knead till it forms a dough for couple of minutes or till the cashew starts letting oil go.
9. Divide the dough into equal portions and take a lemon size of cashew dough and roll it down with rolling pin in small rectangle shape about out palm size between two plastic sheets.
10. Take a spoon full of the pistachio sugar filling and place it on one side of the rectangle shaped dough and roll it tightly without any cracks and trim either end with knife.
11. Decorate with varq. Allow to set at room temperature for 1-2 hours or in the refrigerator for 30 minutes.
12. Store in the refrigerator and serve at room temperature for great taste. Serve and Enjoy!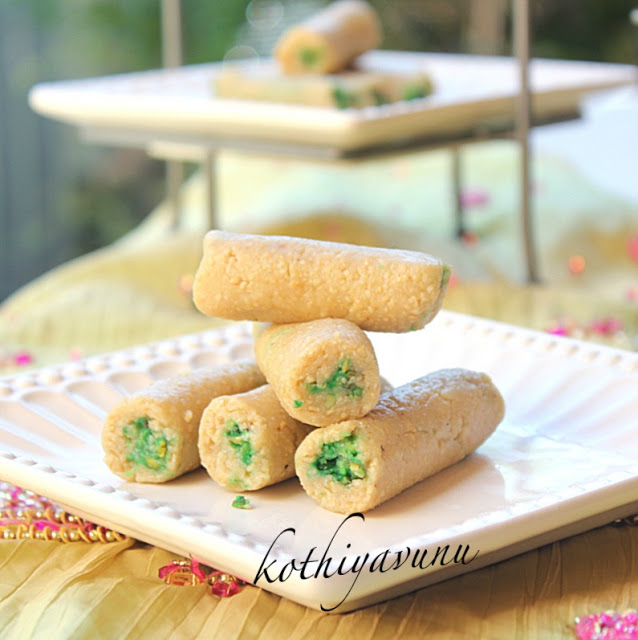 Notes :
If your using green food color then add couple of drops to the pista filling made with grounded pista and sugar and mix them all together.
Cashew needs to be grounded into very fine powder and I feel the blender/mixie does not do a very good. It is best to grind in a coffee grinder or an appliance meant for dry-grinding. In this recipe, I didn't powder it very fine, so roll was not so smooth. so didn't look proportional but it tasted great.
Adding silver Warq/Varak gives it a very traditional look but if you don't have it, no worries the roll will taste just as good.