Oreo Stuffed Chocolate Chip Cookies sounds delicious, don't they???

This is another recipe that has been making the rounds of many, many blogs but again, for good reason, they are delicious and super fast to put together, chances are you have everything on hand already, and it's a knock-it-out-of-the-ballpark for both kids and adults.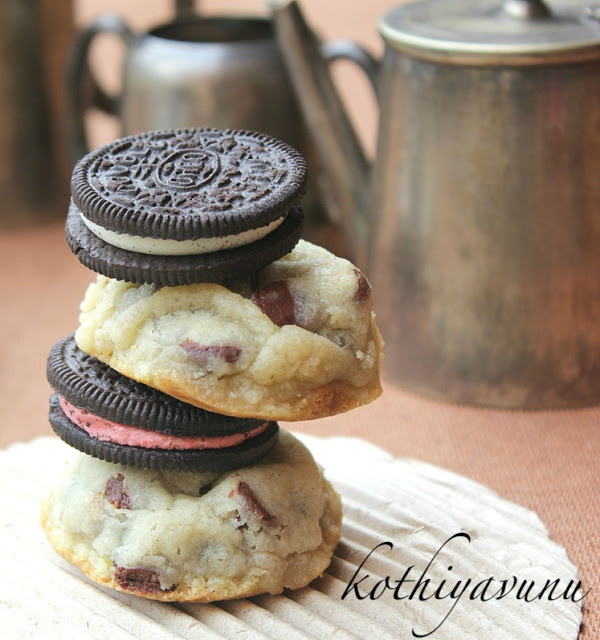 I saw these beautiful cookies when Namitha shared it on her blog
Collaborativecurry
and then navigated to
Picky Palate
. from there. Loved these easily made cookies and gave a shot. Believe me it was a super hit here.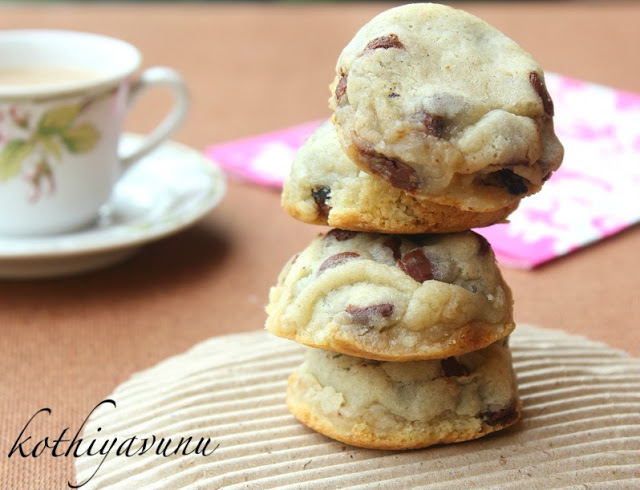 Yeah I made these for my daughter's birthday party and they were completely gobbled up before I was able to try one! And that means that these cookies are a major winner. You can see why just by the title – Oreo & Chocolate Chip Cookie, two ingredients that are already wonderful on their own, come together to make magic happen. Yes, these cookies have magical powers that compel you to force them into your mouth uncontrollably.:-)
Here comes that wonderful recipe. Do try and Enjoy!
Oreo Stuffed Chocolate Chip Cookies Recipe
Preparation Time : 25 minute
Baking Time : 12 minutes
Makes : 24 large size cookies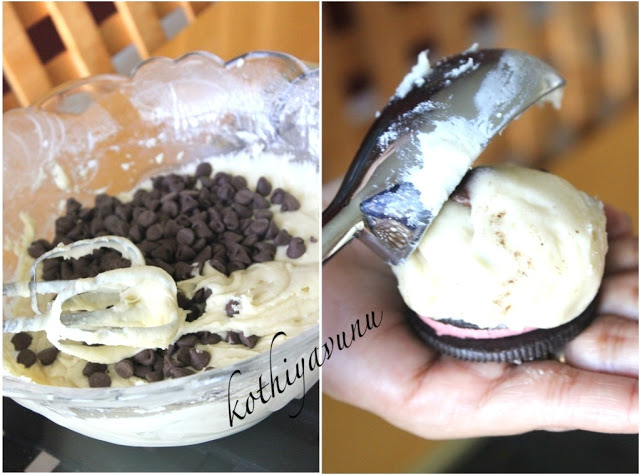 Ingredients:
Butter : 1 cup /2 stick
Light Brown Sugar : 3/4 cup, packed
Granulated White Sugar : 1 cup
Egg : 2 large
Vanilla Extract : 1 tbsp
All Purpose flour : 3 1/2 cup
Baking Soda : 1 tsp
Salt : 1 tsp
Chocolate chips : 10 oz.
Oreo Cookies : 24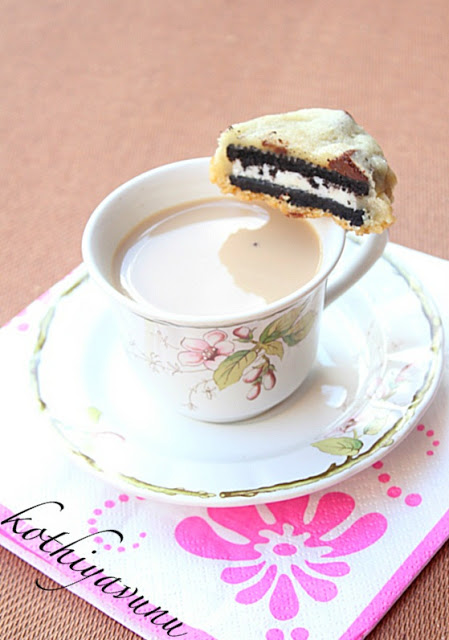 How to make Oreo Stuffed Chocolate Chip Cookies :
1. Pre-heat the oven to 350 degree F /180 degrees C and line a baking sheet with parchment paper.
2. In electric mixer or in hand mixer, beat butter and sugar until light and fluffy.
3. Add in the egg and vanilla extract and mix well.
4. In another bowl, whisk together flour, baking soda, and salt.
5. Gradually add dry ingredients to the butter mixture, beating just until incorporated. Takes about 2 to 3 minutes
6. Add chocolate chips and combine well.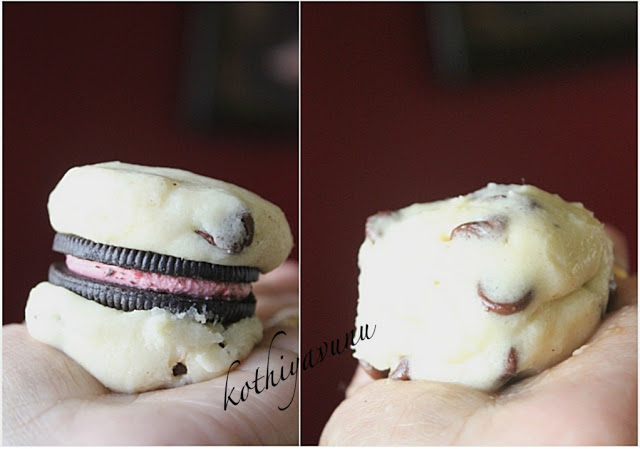 7. Take a scoop of the dough and place on top of the oreo cookie.Take another scoop and place on the bottom of the oreo cookie.
8. Press lightly between your palms and seal the edges together by pressing and cupping the cookie on your palm. (Note : The oreo cookie should be completely inside the dough with all the edges sealed.)
9. Place the cookies on the prepared baking pan, an inch apart.
10. Cover and chill in refrigerator for 10-15 minutes. (Note : This step is optional, If you running out of time, then proceed without chilling. Refrigerating dough prevents the cookies from spreading and losing their shape while baking)
11. Bake for 10-12 minutes or until the sides start turning brown.
12. Cool on baking sheet for at least 5 minutes before transferring to a wire rack to cool completely.
13. Store them in an air tight container or serve with cold milk or cup of coffee and Enjoy!
Check here for other Cookie Recipes
Happy Baking!
Sangeetha