Yet another traditional and popular delicacy from 'God Own Country'.
Chakka Pradhaman /Jackfruit Pudding is one of the most delicious dessert that sets the mouth watering and the taste-buds tingling. I was planning to post this recipe from many days. One of my reader, Malavika had inquired about this recipe a few days ago. So finally here it is.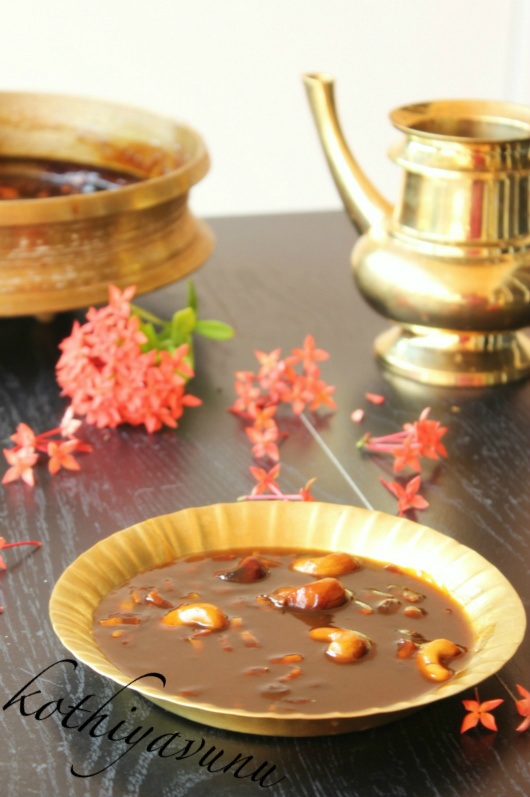 Be it a festive occasion or special day, this dessert makes a frequent appearance in our house. It's familiar recipe for most of keralaites, and for me it is yet another food that brings back the fond memories.

I remember going back to my ammuamma /grandma's house for our school vacations and my cousin brother would climb the tree in our backyard to pluck the jack fruits, me and my other cousin's would be helping him, ensuring everything it touched was covered in coconut oil first to avoid the gum like sticky secretion coming out from the core stem and then cutting of the fruit, deseeding them and saving the seeds for roasting them in aduppu – old fashioned stove burnt with wood, and waiting for our share Oh My..Those were the days!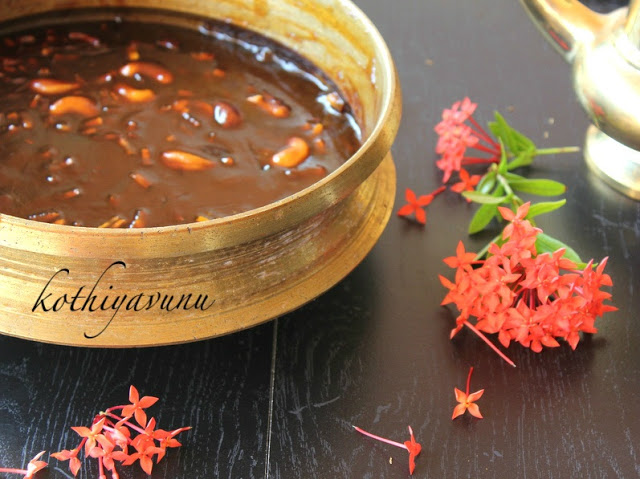 However, for those of you who are new to this recipe let me explain briefly; Chakka pradhaman is a traditional payasam /pudding of Kerala, South India made of Chakka Varatti /Jack fruit Jam or Jackfruit bulps cooked in coconut milk and then sweetened with jaggery .Varieties of pradhamans /pudding are made in Kerala, like Chakka -Jackfruit Pradhaman, Ada-Rice Flakes Pradhaman, Parippu-Lentil Pradhaman, Godambu- Wheat germs Pradhaman, etc. When one has Chakka Varatti /Jack fruit Jam at home chakka pradhaman can be prepared at any time. I made it according to ammuamma /grandma's recipe.
This delicious Payasam /Pudding can be served warm or cold, depending on the weather and your mood; cold is great on a hot summer night, while serving it warm makes this a superb comfort food. Once you taste this dish you are sure to come back for more..Enjoy!!


Grandma's Chakka Pradhaman Recipe /Jackfruit Payasam Recipe
Preparation Time : 10 minutes
Cooking time : 30 minutes
Serves : 5-6
Ingredients:
Chakka Varatti /Jack fruit Jam : 2 cup packed or Chakka Chola /Ripe Jackfruit Flesh : 30-40 flesh (de seeded) or Canned Jack fruit : 2 tins /500 gram each
Jaggery /Sharkkara : 5-6 blocks /500 grams or to taste
Thin Coconut milk -3rd extract /Monnampal : 1 cup
Semi Thick Coconut milk – 2nd extract /Randaampal : 1cup
Thick Coconut milk – 1st extract /Onnampaal : 1/2 cup
Cardamom powder /Elakka Podi : 1/4 tsp
Dry ginger powder /Chukku Podi : 1/4 tsp
Cumin powder /Jeeraka Podi : 1/4 tsp
Coconut Pieces (cut into very small bits) /Thengakothu : 1 tbsp
Cashew nuts : 10-15 nos
Raisins /Unakka Mundhiri : 1 tbsp
How to Make Coconut Milk :
Take a 1 1/2 fresh coconut, grate it finely. In a blender or food processor, add the grated coconut with1 cup of hot water and process for a minute, then squeeze it for milk. This gives you 1cup thick milk.
Return coconut to processor and add 2 cup hot water and process for couple of minutes and squeeze it for milk in separate bowl. This gives you 1cup thin milk.
OR
Buy 1 (400ml) can of thick coconut milk, shake well and pour 1/2 contents in a bowl and mix with 1 cup er (i.e. same quantity of water). Remaining milk in can is thick milk.
OR
Mix 25 g instant coconut milk powder with 200 ml water for thin coconut milk.
Mix 25 g instant coconut milk powder with 100 ml water for thick coconut milk.
Preparation for Chakka Pradhaman :


1. If your using chakka chola/Jackfruit flesh or canned jackfruit, then chop them into small pieces and pressure cook the chopped jackfruit pieces with one and half cup of water for 6-8 whistles or cook until soft (takes about 20 minutes).
2. Ground this cooked jackfruit in a mixer grinder to a paste or slightly mash it using a wooden spoon.
3. Meanwhile heat the third milk in a wide mouthed heavy bottomed pan or uruli (nonstick woks can also be substitute) and melt the jaggery in it.Strain the solution to remove fine sand particles and reheat the same.
4. Add the chakka varatti and reduce the fire to low; keep stirring to dissolve and boil until the mixture thickens.(Note : If your using chakka varatti or cooked chakka paste then it will melt in the coconut milk)
5. Add the second milk and boil again stirring continuously for about 8 – 10 minutes or until the mixture thickens
6. Finally add the first milk and cook for couple of minutes and switch off the flame. Keep stirring until the milk is incorporated.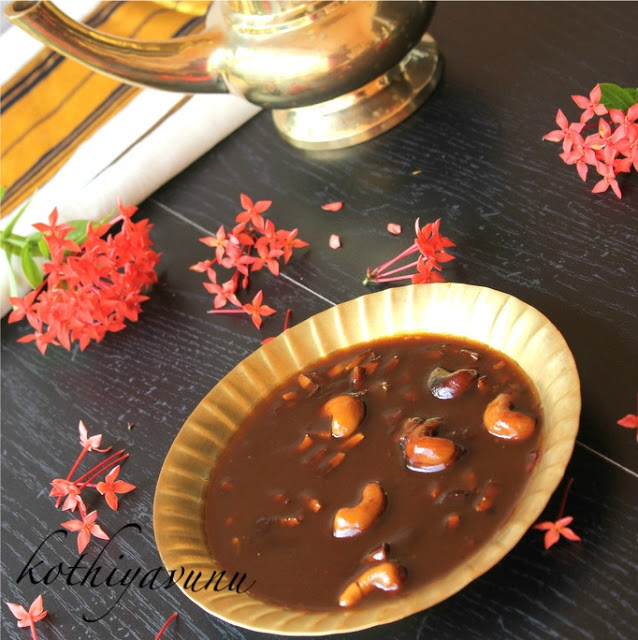 7. Add the dry ginger powder /chukku podi, cardamom powder, cumin powder.
8. Heat the ghee in a small pan; first fry the coconut pieces until brown and drain on to a paper towel and set aside. Fry the raisins until plump and drain. Add in the cashews and fry until golden brown.
9. Pour the fried coconut pieces, cashews, raisins over the pradhaman /payasam. Cover with a lid for 10-15 minutes.
10. Delicious Pradhaman /Payasam is ready to serve. Serve hot or chilled as you wish and Enjoy!!
Notes :
1. Adjust the amount of jaggery depending on the sweetness of the Jackfruit flesh or
Chakka Varatti /Jack fruit Jam
2. If you feel that the consistency of the payasam is still thin, mix 1 tbsp rice flour with little water and make a paste out of it. Add this paste into the payasam and cook for couple of minutes.