Who doesn't love pudding? I see no one raised their hand…:-)
This is a timeless recipe passed from family to family and one of my all time favorite pudding. This recipe is made with tender coconut pulp along with milk, sugar and condensed milk to create the perfect taste.Sounds good?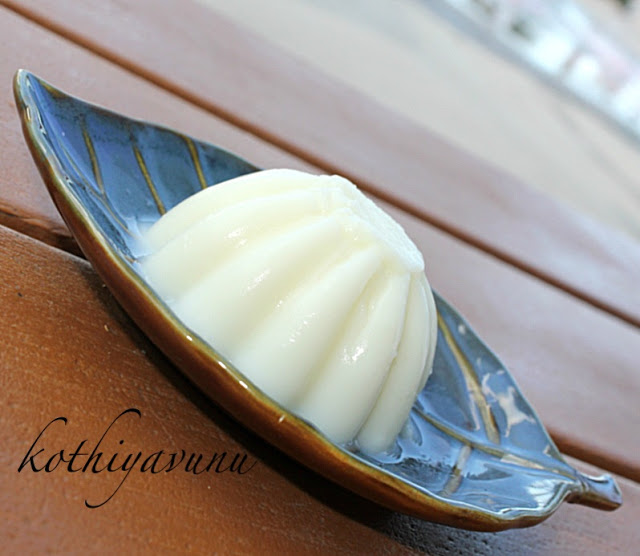 For me it is even more, it's a bowl of sweetness that sends me back in time, straight to my mom's kitchen. So, if you like coconut, you will not be disappointed with this pudding..Give it a shot! Enjoy!
Karikku – Elaneer Pudding Recipe – Ilaneer Pudding Recipe | Tender Coconut Pudding Recipe
Preparation Time : 20 minutes
Cooking Time : 20 Minutes + 2-4 hrs for setting
Serves : 4-6

Ingredients :
Tender Coconut Pulp : from 2 /1 cup (approx)
Tender Coconut Water : from 1 /1/2 cup (approx)
Gelatin : 5 tsp (If you don't have gelatine and replace with 10 grms china grass)
Water : 1 cup
Condensed Milk : 1 tin (reduce sugar if using condensed milk)
Vanilla Essence : 1/2 tsp
Milk : 1 1/2 cup
Sugar : 1/2 cup or according to your taste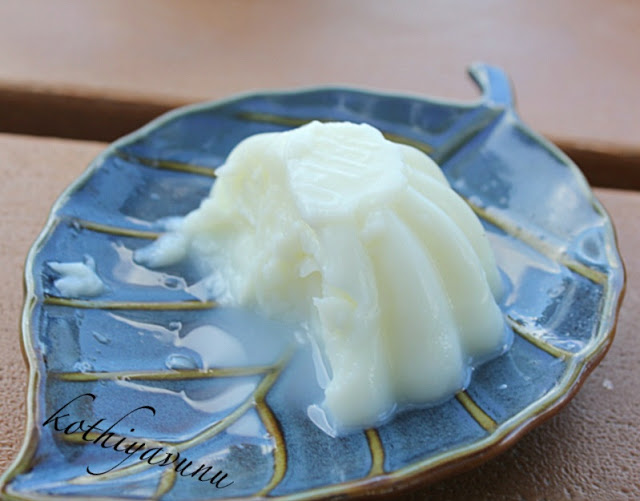 How to make Karikku – Elaneer – Illaneer – Tender Coconut Pudding :
1. Measure the water into a microwave-safe container and heat until steaming, about 2 minutes or in a sauce pan heat up the water until it reaches a rolling bowl.
2. Remove from the heat, while stirring the water with a whisk or fork, sprinkle the gelatin over the surface of the water and stir briskly in order not to have any lumps and keep it aside. (Or) If your using china grass then soak china grass in 1 cup of water and stir in low flame till completely dissolved.
3. Blend together tender coconut water and the pulp of one of the coconuts in a blender and set it aside.
4. Cut the flesh of the other tender coconut into small pieces and keep aside.
5. In a pan heat milk and condensed milk; stir well.Add sugar and stir till sugar is completely dissolved.
6. Add gelatin mixture or china grass, if your using china grass then strain and add to milk-sugar mixture.
7. Transfer to a dish and add the blended coconut pulp and stir well.
8. Add the thin scrapings of the tender coconut flesh to this mixture.
9. Pour into dessert bowls or cups and allow to cool down and then place in the refrigerator for at least 2-4 hours.
10. Yummy tender coconut pudding is ready to serve. Serve and enjoy!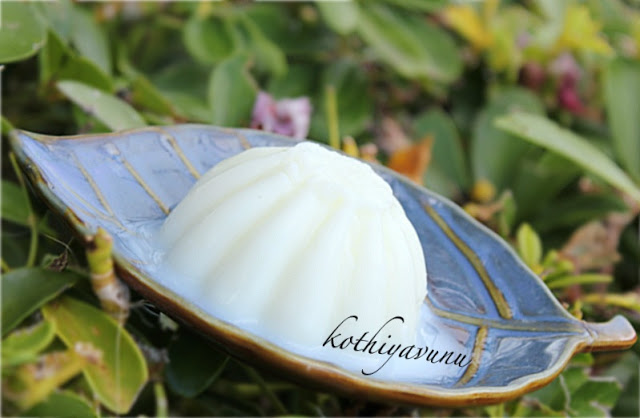 Related Posts
Thai Mango Pudding
Caramel Custard /Flan
Check here for more Desserts
Until next time, Bon Appetit,