My series on my favorite snacks continues; Crispy, Super Tasty Pappada Vada!
I made this snack out of nostalgia, really… It all started with a chat I had with my sis. We were talking about my space. Suddenly she asked me, do you remember Pappada Vada? which our amma makes as our evening snack in those days. Yes it reminds me of the days we used to enjoy this crispy and tasty snack once back from school. After rewinding our memories she gave me the recipe and methods and in no time I was in my kitchen trying my luck 🙂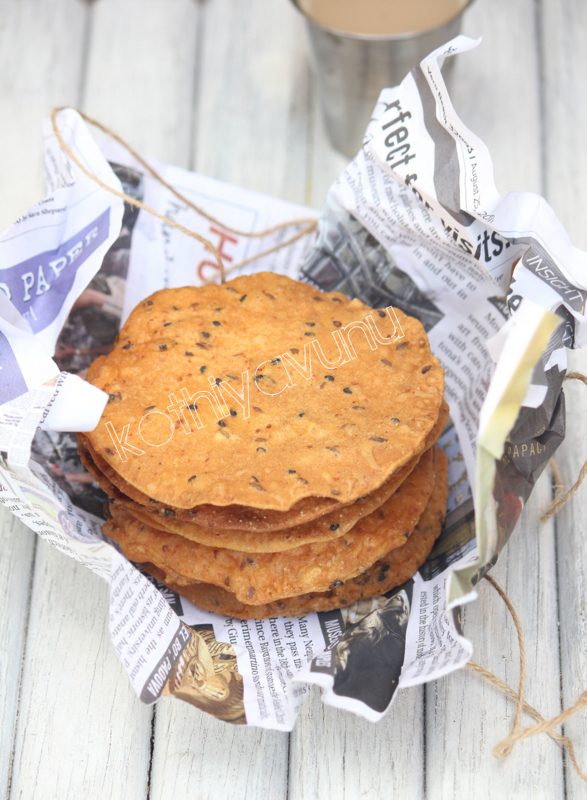 Now let me introduce Pappada Vada to my friends who haven't heard about the snack; Pappada Vada is a popular tea time snack in Kerala. It is very crispy and super tasty. I bet it will come out wonderful. If anyone decides to give it a try, I would love to know how it turned out! They go very nice with a cup of tea, perfect for a lazy afternoon. Enjoy!
Pappada Vada Recipe | Pappad Fritters Recipe |Pappada Boli Recipe
Preparation Time : 15 minutes
Cooking Time : 20 Minutes
Makes : 15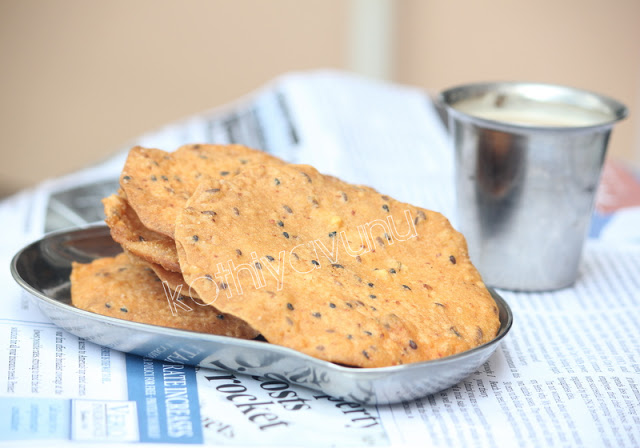 Ingredients :
Kerala Pappadam /Plain Pappads : 15
Raw Rice : 1/2 cup or Fine Rice flour :1 cup
Dry Red Chillies : 5-6 or Red Chilli Powder : 1tsp or to your tolerance level
Turmeric Powder : a pinch
Black Sesame Seeds /Ellu : 1tsp
Cumin Seeds /Jeerakam : 1 tsp
Asafoetida powder : a pinch
Salt to taste
Water : 3/4 cup or as needed
Coconut Oil /Velichenna – to deep fry : 1 cup or as needed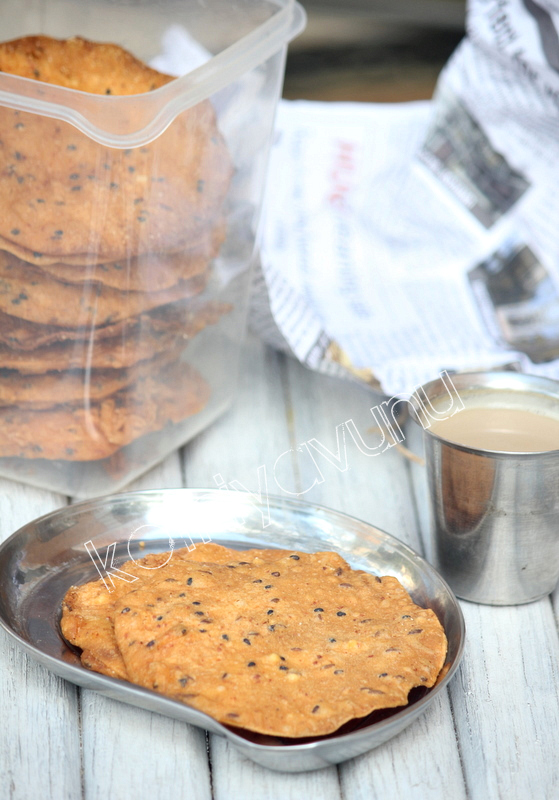 How to make Pappada vada – Pappad Fritters :
1. Wash ,clean the rice and soak them in water for 15-20 minutes. Drain out water, grind the soaked rice along with dry red chillies and turmeric powder to smooth paste in a mixer adding enough water (or) If your using rice flour then, in a blow add the rice flour, turmeric powder, red chilli powder and pour in water to make a loose batter and mix well.
2. Add salt, black sesame seeds, cumin seeds, pinch of asafoetida and stir well to blend everything together.
3. Heat coconut oil in a pan/wok. Dip the pappad in the batter, one pappad at a time, press it onto the batter surface and turn to the other side. (Note : Make sure that both sides are adequately coated.)
4. Place the pappad into the oil . Fry on low to medium heat till the pappada vada turns crisp.
5. Turn the other side; deep fry till golden and crisp and drain in kitchen tissues.
6. Repeat the same to all pappads and serve hot with tea or store in airtight containers and Enjoy!
Notes :
To re-heat, microwave for 10-20 seconds.
Batter should be of pouring consistency, it should be thinner than normal dosa batter.
Do not put the pappada in the moist batter for long, it will break and becomes mushy.
Using coconut oil enhance the authentic taste and flavor.
To make more crispier, dry the pappadam /papads in sun for about 15-20 mins.


Related Post :