Oh. My Lusciousness! Eggnog is something that my family looks forward to each Christmas. We tasted it for the first time at one of our friend's place and instantly fell in love with it on first sip 🙂 While having this I knew I wanted to give it a try.

I just made my first batch of homemade Eggnog minutes ago and it is so delicious! The best part of making your own eggnog is the freedom of creativity.
Now let me introduce Eggnog to my friends who haven't heard about it. Eggnog is delicious and ever-popular traditional holiday beverage. This rich creamy, frothy and easy to make, you'll wonder why you ever bothered to buy it in the store.
Eggnog recipe is made with milk, sugar, raw eggs and spices, usually cinnamon and nutmeg and with plenty of booze; such as brandy, rum or whiskey. Of course eggnog can be made without the booze too, but then it misses a certain depth of flavor, so depending on your personal taste you can spruce it up with the alcoholic beverage pretty much of your choice, or not. To know more about Eggnog read
here
.Eggnog's uses don't end at the punch bowl. You can infuse Eggnog flavour into baked goods too..Yes…it is on the way to make it to the site yet ;)…stay tuned..!!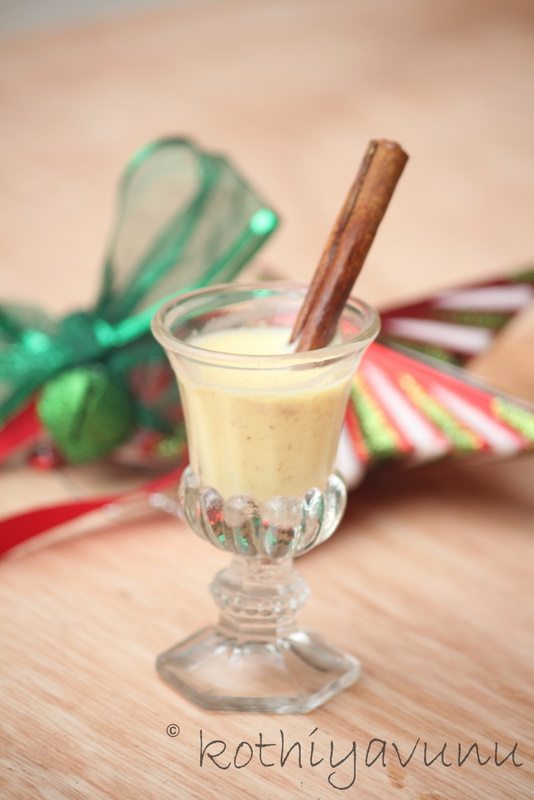 This how it goes..
Traditional Christmas Eggnog Recipe | Homemade Eggnog Recipe
Preparation Time : 15- 20 minutes
Serves : 5-6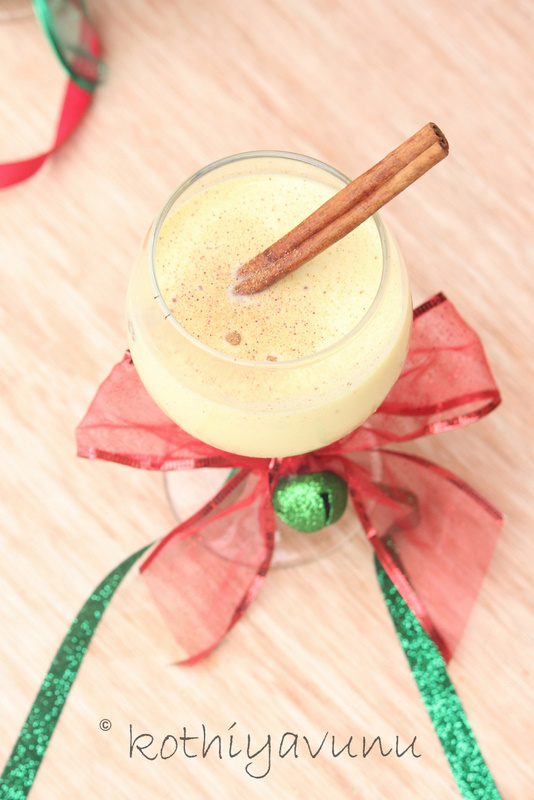 Ingredients :
Eggs : 4
Sugar : 1/2 cup
Vanilla extract : 1 tsp
Salt : a pinch
Rum (white or dark) : 1/4 cup
Cognac or other brandy : 1/3 cup (add or reduce alcohol just to your taste) (For Non-alcoholic version, just substitute with milk for alcohol.)
Whole Milk : 2 cups
Heavy Cream : 1 cup
Powdered Cinnamon : 1/2 tsp
Freshly Ground Nutmeg : 1/2 tsp + little extra for garnishing
How to mkae Eggnog – Homemade Eggnog :
1. Begin by separating the eggs yolks and whites. In a large bowl, whisk and mix together the egg yolks with half of the sugar, vanilla extract and pinch of salt until sugar dissolve and they are light and fluffy.
2. Add the rum, coganac and milk.
3. Add the cinnamon and nutmeg powder and set the mixture aside.
4. Now beat the egg whites. In the bowl of a stand mixer or in hand mixer; beat the whites until they are soft peaks and with the mixer still running gradually add the remaining sugar and beat until stiff peaks form.
5. Clean off the beaters and whip the heavy cream till nice soft stage.
6. Fold the egg whites into the milk mixture and then gently fold in the whipped cream.
7. Transfer the drink to a punch bowl and serve it in glass cups.
8. Sprinkle some nutmeg on the top for garnish and a little extra flavor. Serve and Enjoy!!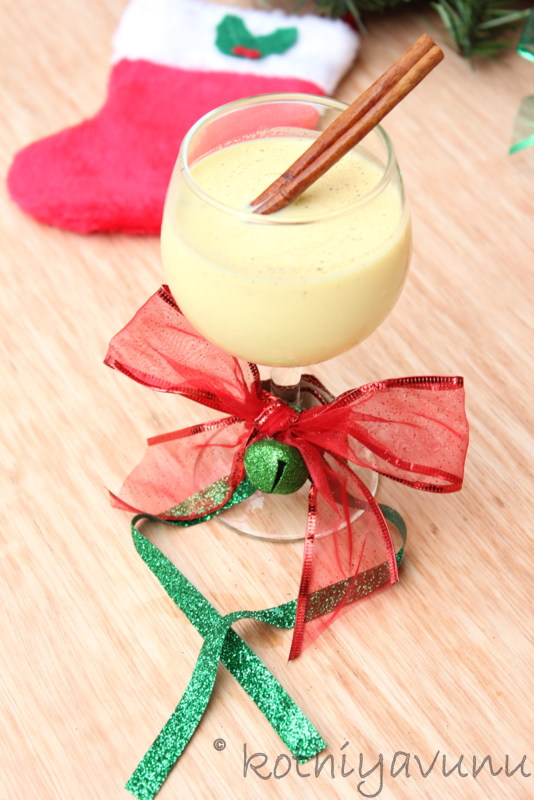 Notes :
This recipe uses raw eggs, so be sure to keep the drink cool at all times.
For non-alcoholic eggnog, simply substitute milk for the alcohol.
Recipe Courtsey : Mainly from Martha Stewart and from
here
Happy Holidays!
Sangeetha