Kerala Spicy Squid Roast-Nadan Koonthal-Kanava Roast!
What makes one's mom's recipe a winner?  The secret ingredients is boundless love and the care that goes into the dish and which is often our first real taste and it's such a treasure…Aren't they?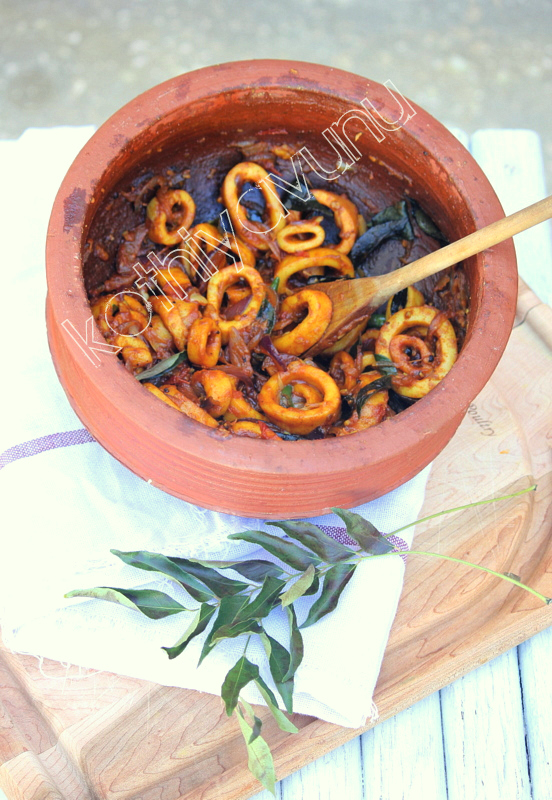 There are a ton of  recipes from my mom, I could share, this is one among them. Kerala Spicy Squid Roast -Nadan Koonthal-Kanava Roast. It amazes me how this recipes slip through the cracks. This is one of my old time favorite. This made me realize that there are still several more hidden within the cracks. Of course not the most earth-shattering of realizations.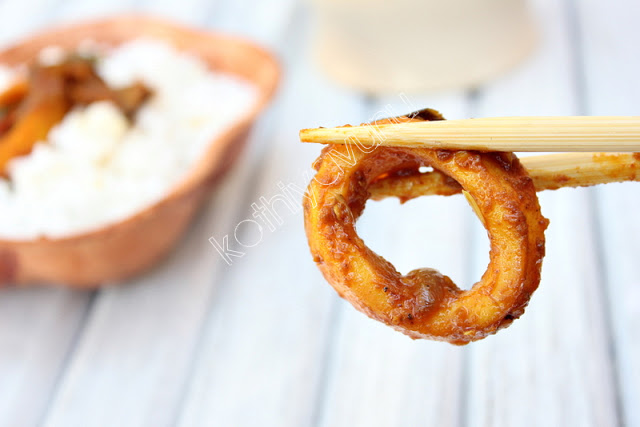 But there is something mystical about this Kerala Spicy Squid Roast -Nadan Koonthal-Kanava Roast, the aromas awakens your senses which in turn fires the appetite and it is hard for the taste buds to resist the temptation of this spice-rich preparation. Several fresh spices are used that gives a unique aroma and flavor to this preparation and not only it's hearty but it's healthy too.It is low in calories, contains no saturated fat and is high in natural protein and only takes minutes to prepare.
I whipped it up for our family lunch last week, every time I make this dish we lap it up like we have been starving for days.This is how I went about it…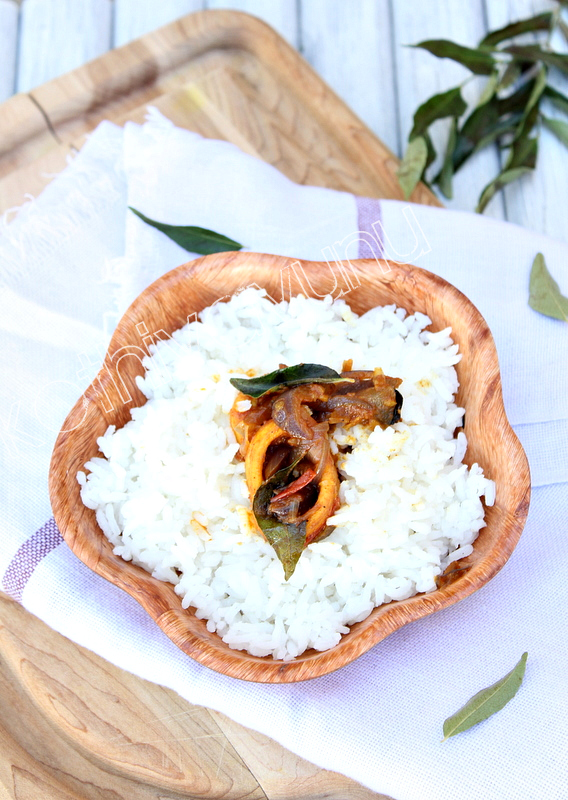 Kerala Spicy Squid Roast-Nadan Koonthal Roast Recipe – Kerala Kanava Roast Recipe | Calamari Roast
Preparation Time : 1/2 hour
Cooking Time : 10-20 minute
Serves : 4
Ingredients:


For Marinate:
Squid /Calamari /Koonthal /Kanava : 1 1b / 1/2 kg (cleaned and cut the squid into rings) (
Check here
  to see how to clean the Squid/Koonthal)
Red Chilli Powder : 1 tsp or to your tolerance level
Turmeric Powder : 1/4 tsp
Salt to tasteFor Roast :
Onions : 1 large, (finely, sliced)
Garlic : 4-5 (crushed)
Ginger : small piece (crushed)
Green Chillies : 2-3 (slit lengthwise)
Tomato : 1 (medium, chopped)
Red Chilli Powder : 1/2 tsp or to your spice level
Kashmiri Chilli Powder /Paprika  : 1/2 tsp
Freshly Grounded Black Pepper Powder : 1/2 tsp or to your spice level
Homemade Grama Masala : 1/4 tsp (To Make Fresh Homemade Garam Masala : Fennel Seeds /Perum Jeerakam : 1 tsp, Cinnamon Stick/karugapatta : 2 inch pieces, Cloves/Grambu : 2, Star anise / Takkolam : 2, Green Cardamom /elakka : 2 pods (or) Use Store Bought Garam Masala : 1/4 tsp) Curry leaves : 2 sprig
Coconut oil :  3 tbsp
Salt to taste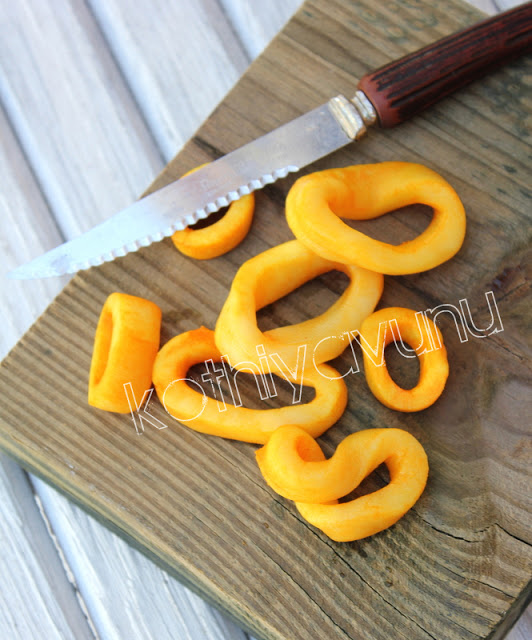 How to make  Fresh Homemade Garam Masala :
1. Dry roast all the ingredients listed above for "To Make Fresh Garam Masala" and grind to fine powder and keep it aside. (Note : You can prepare this in bulk and store, but fresh masala taste too good or use store bought garam masala.)
How to make Koonthal /Kanava /Squid/Calamari Roast :
1. Clean and cut the squid into rings and marinate it with above listed ingredients 'For Marinade' for 1/2 hr.
2. In a pan; preferably in 'manchatti' an earthen pot; heat 1 tbsp of coconut oil and add the 1 sprig of curry leaves and the marinated squid /koonthal and cook for 5 minutes, until the squid is hard. Remove from them the manchatti /eathen pot and keep it aside. (Note : Make sure not to overcook the squid /koonthal/kanava as the meat becomes rubbery.)
3. In the same pot, add a 2 tbsp of remaining coconut oil and add sliced onion, crushed ginger, crushed garlic, green chilles.
4. Saute well till the onion become light brown in color, now add the chopped tomatoes and cook till turns to soft and mushy.
5. Add all spice powders, remaining curry leaves and saute for couple of minutes. (Note : Take care not to burn the spices, add few drops of water to avoid burning the spices.)
6. Add the fried half cooked squid, mix well and roast it for 10 minutes on medium flame. Add more oil if needed.
7. Adjust the salt and drizzle little coconut oil and keep covered for 10-20 minutes, let the flavor set.
8. Delicious Spicy Koonthal/Squid Roast is ready. Serve with steamed rice,
Roti/Chapati
or with
Appam.
.Enjoy!
This is a very hot dish. Add or reduce chilli powder and pepper powder according to your taste. Optional – To bring down the heat, if you want can substitute red chilli powder with kashmiri chilli powder or paprika .
Using freshly ground pepper and coconut oil enhance the authentic taste and flavor.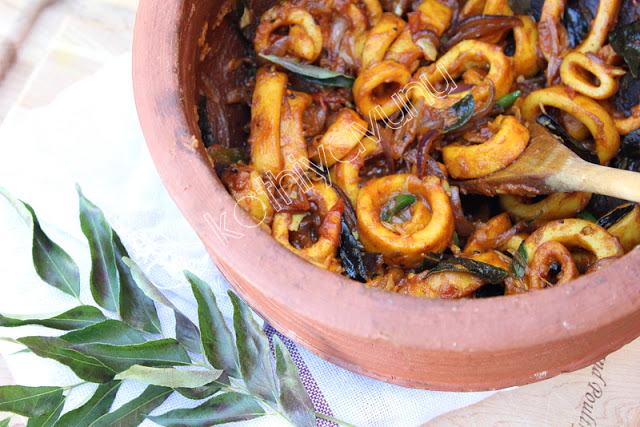 Have  a Good day all!
Sangeetha
Hungry for
?
Sign up, and get more recipes delivered directly to your inbox.