What are the recipes that take you back to a special place in your life? How long has it been since you've made it/them? For me one of them would be Kumbilappam /Jackfruit Dumpling.
During my daily routine call to my MIL, she said she is making kumbliappam for guests. At the very mention of this, I just could not get rid of the out-of-control craving and finally I ended up making it. This is one of my all time favorite snack.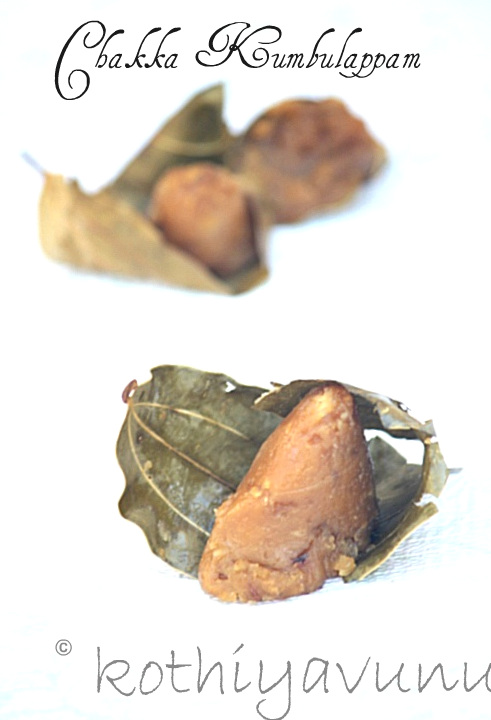 Kumbilappam is seasonal authentic dish from Kerala 'God's Own Country' and it also goes by several names; Kumbilappam, Chakka Kumbulappam, Chakka Appam, Vazhanayappam Theraliyappam.Whatever be the name, the recipe followed is the same. This special Kerala snack can be described as tastebud-tantalizing!
Jack fruit bulbs or the Jack fruit preserve, incorporated with rice flour, grated coconut and jaggery are mixed together to prepare the dough. It is then wrapped in fresh green Vazhanayila or Edanailla /Bay Leaves shaped in the cones (Kumbils) in which it is steamed.The flavor of jackfruit and cinnamony fragrance of the bay leaves blend together give a deliciously unique taste. I bet those who have ever tasted this dish onces, would never forget the unique taste, especially the special flavor of the appam, which makes the snack so special 🙂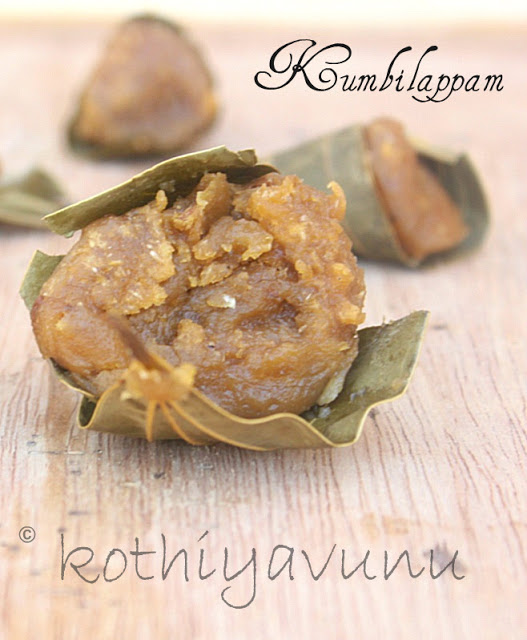 Traditionally fresh green Vazhanayila or Edanailla /Bay Leaves are used for wrapping, but I made it with dried bay leaves because, I couldn't get fresh green leaves anywhere here in US. If you have access to fresh bay leaves use them instead for a more delicious flavor or if bay leaves /edanailla /vazhana illa are not available, you can fold it in banana leaf or in aluminium foil or in butter paper in a cone shape. But don't forget to add crushed bay leaves to the dough, so you get the cinnamony flavor into the appam.
Here it is for you to try out..
Kumbilappam Recipe – Chakka Kumbulappam Recipe – Chakka Appam Recipe
Preparation Time : 30 minutes
Cooking Time : 30-45 minutes
Serves : 12-15 depending upon the size of the leaves
Ingredients :
Ripe Jackfruit Bulbs (finely, chopped) or Chakka Varatti /Jackfruit Preserves : 1 cup
Jaggery /Sharkkara /Molasses (Perferably the dark colored one /Karutha Sharkkara : 1/2 cup or according to the your sweet requiremnet (scraped)
Freshly Grated Coconut : 1/2 cup
Roasted Rice Flour : 1 cup
Cumin Seeds : 1/4 tsp (crushed)
Cardamom Powder : 1/4 tsp (optional)
Vazhana illa /Edana Illa /Bay Leaves : as required
Water
Salt : a pinch

Method of Preparation :
1. Melt jaggery /sharkkara with 1/2 cup of water. Remove the impurities and set it aside
2. If your using jack fruit bulbs then; in a blender add the finely chopped jackfruit and make a smooth paste without adding water.
3. Add jackfruit paste or
Chakka Varatti /Jackfruit Preserves along with jaggery syrup, grated coconut, cumin seeds, cardamom powder (optiona) and combine well with your hands.
4. Add rice flour little by little and make a smooth dough. Add water if necessary or the dough is too thick. (Note : It should not be too thick or too loose. The consistency should be little looser than the chappathi dough.)
5. Now take the
Vazhanayila or Ednailla /Bay leaves and make cones with it. (Note : To keep the leaves cone in shape; pin it up with toothpicks or with the stem of coconut leaves (Eerkkil). Leave the upper edge of the leaf to close the cone.)
6. Fill a tbsp of batter or more according to the size of the leaf, at middle.
7. Bend the top of the leaves and press inside to cover the top.
8. Steam it or pressure cook it, avoid inserting the weight-knob on the lid and steam for 30-45 minutes or till its done. To check if its is ready, open one and prick a tooth pick into it. If the toothpick comes out clean your kumbilappam /kumbulappam is ready to serve.. Enjoy!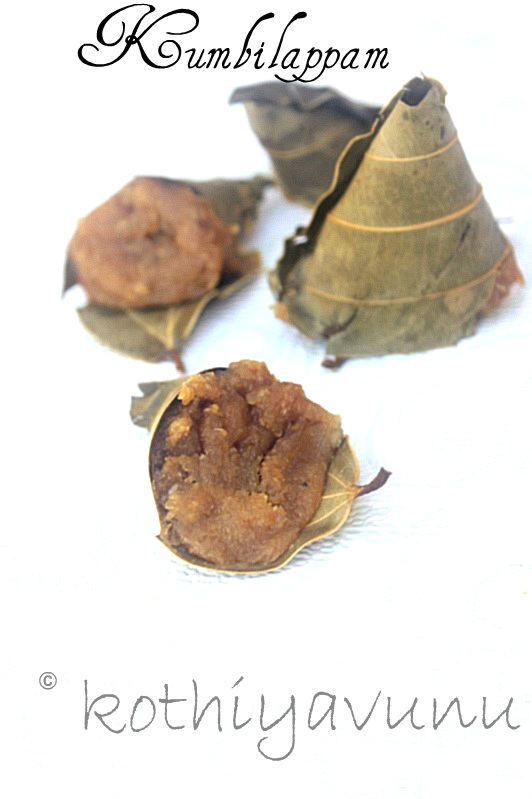 Notes :
If bay leaves /edana illa /vazhana illa are not available, you can use it banana leaf or in aluminium foil or in butter paper in a cone shape and fill the dough and steam it.


Related Posts
Good Day !
Sangeetha