If you love spicy chicken fry bursting with flavors then this is a perfect recipe for you. Simple! & Easy!
Though there are many vivid varieties of chicken fry and everyone has their own way of perfecting it, when it comes to masala chicken fry; this particular recipe always jump top in my list, as this is the quickest and easiest of all.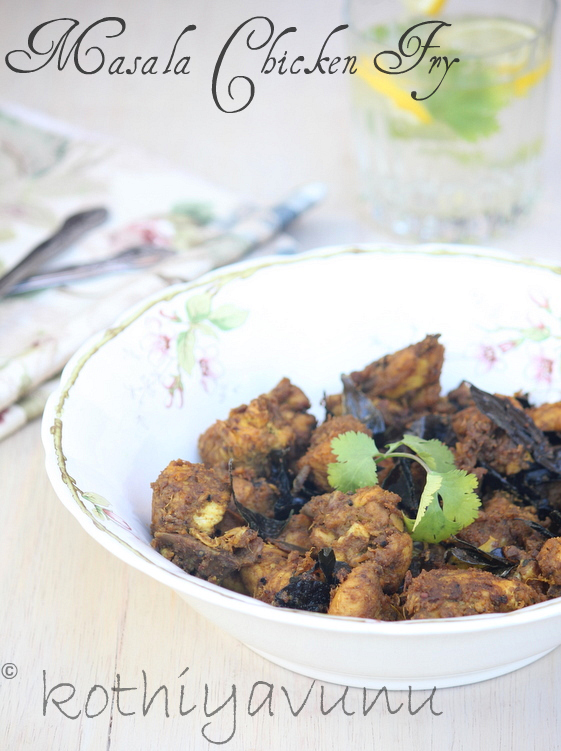 What I love about this recipe is that, with just the barest of preparation you can have a tasty spicy chicken fry within few minutes. I adapted this recipe from Vanitha magazine and is already one of the hit list in my kitchen. This goes well with chapathi/roti or fried rice. I relish this with curd rice 🙂 and of course any left-over chicken can be used in wraps or sandwiches and makes a good brunch. Make this dish as spicy as you like – it is equally delicious mild or hot.
More taste and less work! You must try out this simple yet delicious chicken fry..Enjoy!
Preparation Time : 10 minutes
Cooking Time : 20 -25 minutes
Serves : 2
Ingredients:
Chicken with bones : 1 lb /1/2kg
Ginger-Garlic Paste
: 3 tsp
Turmeric Powder : 1/2tsp
Red Chilli Powder : 1 1/2 tsp or according to your spice level
Coriander Powder : 2 tbsp
Garam Masala : 1/2 tsp
Fresh grounded Pepper Powder : 1 tsp or according to your spice level
Coconut Oil /Cooking Oil : 3 tbsp (preferably coconut oil)
Curry leaves : 3 sprig
Water : 3 tbsp
Salt to taste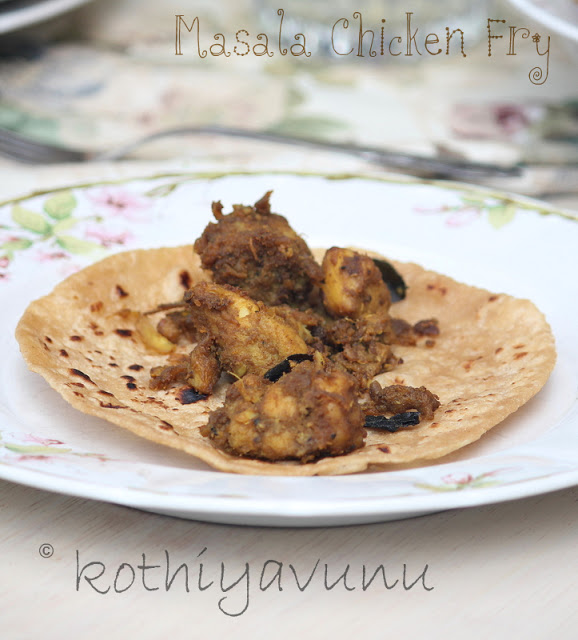 How to make Masala Chicken Fry – Kozhi Masala Varattiyathu :
1. Mix the chicken with all the ingredients above, except black pepper powder and coconut oil.
2. Pour 2 tbsp of coconut oil in a heavy bottomed pan and tilt the pan in such a way that oil gets spread evenly in the pan
3. Add the chicken with 3tbsp of water; cover & cook over medium heat for 5 minutes or until the chicken start to ooze out water.
4. Now remove the lid, reduce the fire to medium-low and mix well; cook until all the water evaporates.
5. Add the remaining 1 tbsp coconut oil, pepper powder and fresh curry leaves; dry roast it in medium heat till browned up (Note : Stir in between to avoid burning. Do not close the lid after adding oil to roast the chicken.)
6. Once the chicken have attained the dark brown color then remove from the fire.
7. Tasty Chicken Masala fry is ready to serve. Serve as a side dish for Rice or with
Chapathi/Roti …Enjoy !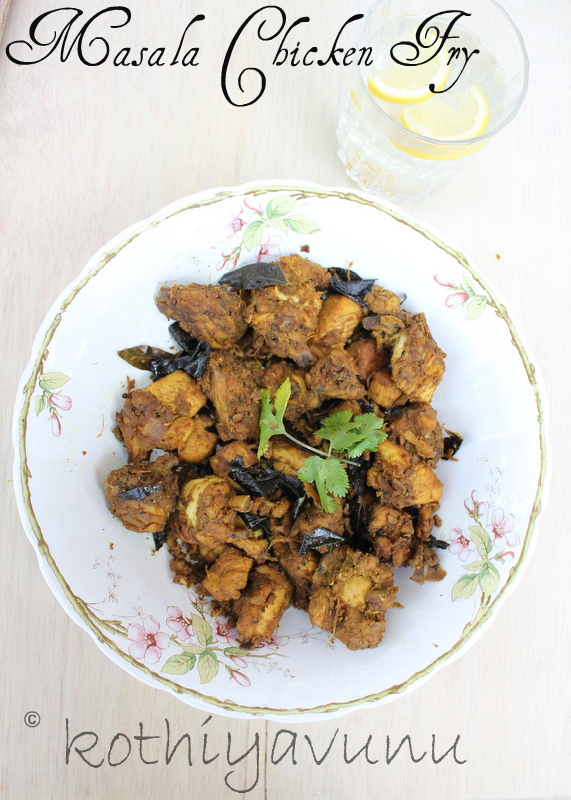 Related Posts :