If your are searching for a quick, simple, healthy, filling and a nutritious snacks, this might be a good fit.
Sometimes getting kids to eat banana can be a real challenge, so I'm always thinking of fun new ways to present it to little ones who resist it. As u all know that the essential nutrients is must to keep them healthy and strong.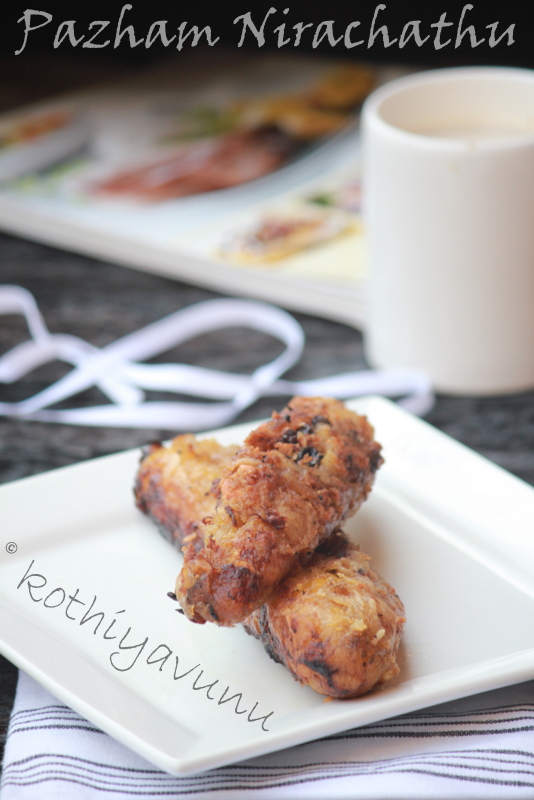 There are literally hundreds of snacks that can made with plantain…Interestingly you may find as many recipes as there are a wide variety of plantain snacks ! This is one among them…
Pazham Nirachathu is the malayalam word for Stufffed Banana. Ripe Banana stuffed with grated coconuts, nuts, and eggs, then its fried in ghee…oh my ! even the thought makes anybody drool, isnt it? It's such a simple and easy snack which can be prepared in just a matter of minutes using the ingredients that are always seen in the pantry and not only that this is healthy, filling and a nutritious snacks; even you can serve for breakfast too.
Whip this yummy snacks up in a matter of minutes – your family and guests will love it!
Recipe for Pazham Nirachathu /Ethakka Nirachathu /Stuffed Whole Banana
Preparation Time : 30 minutes

Cooking Time : 10 minutes
Makes : 3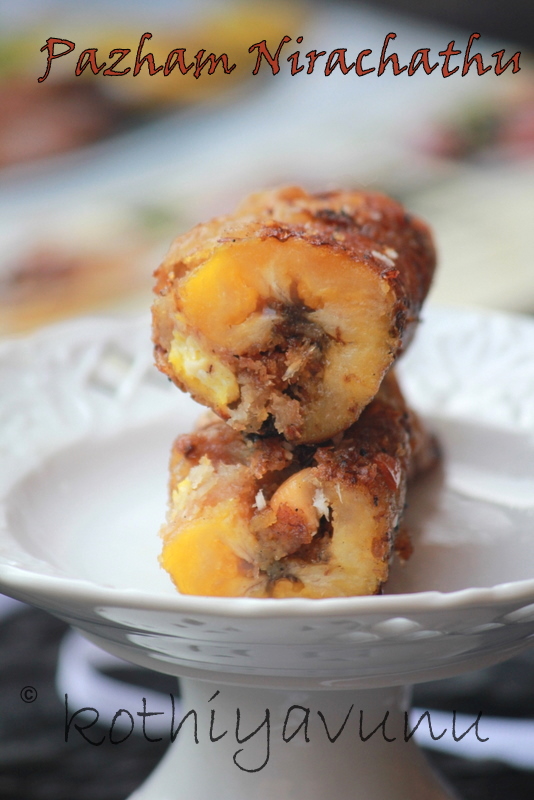 Ingredients :
Ripened Banana /Nenthrapazham : 3 no's

For making stuffing:
Grated Coconut : 6 tbsp
Cashew nuts or Almonds : 8-10 (chopped)
Raisins : 1 tbsp
Egg : 1 (beaten, Optional)
Sugar : 2 tbsp
Cardamom Powder : 1tsp
Ghee or Butter : 2 tbsp
Oil for pan frying
For Covering:
All Purpose Four : 1/4 tbsp
Sugar : 2 tbsp
Salt a pinch
Water : as needed to make a thick paste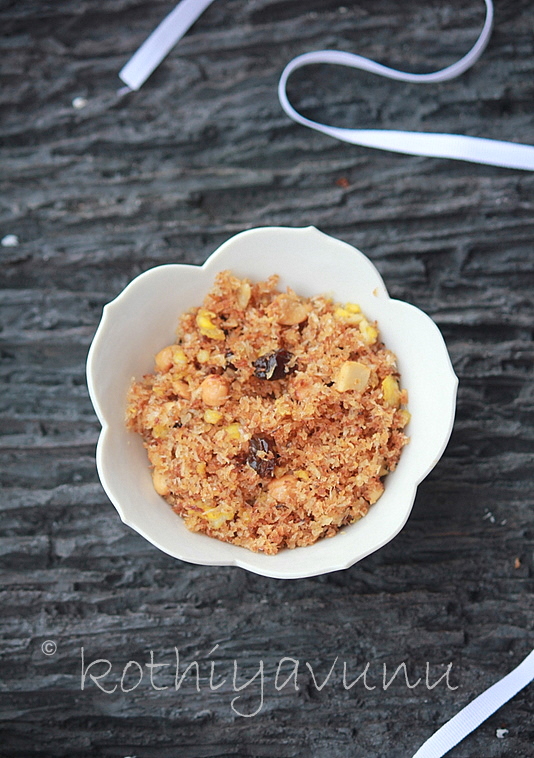 Method of Preparation:
1. Heat a non stick pan, add ghee, cashews and raisins and stir fry cashews and raisins; remove and keep aside .
2. Add grated coconut and sugar in the same pan, saute for couple of minutes.
3. Add eggs to the roasted coconut and scramble the eggs.
4. Add cardmom powder and fried cashew nuts, raisins; mix everything well and switch off the stove and let them cool.
5. Peel the banana, and make a shallow slit lengthwise. Remove the black seeds. (Notes : If it's hard for you to remove the black seeds from the banana, then just leave it there.)
6. Take about 3 tbsp of the coconut-nut stuffing and gently fill it into the slit made in the banana; using your hands, push the stuffing inside the banana as much as you can.
7. Mix together all-purpose flour, sugar, salt and add water to this and make a thick batter out of it.
8. Heat oil/ghee in a pan; dip the stuffed banana in the prepared batter and deep fry them till they turn golden color. Using a flat spatula, carefully flip the banana and let the other side turn golden brown too.
9. When done transfer on a kitchen tissue and serve warm and Enjoy !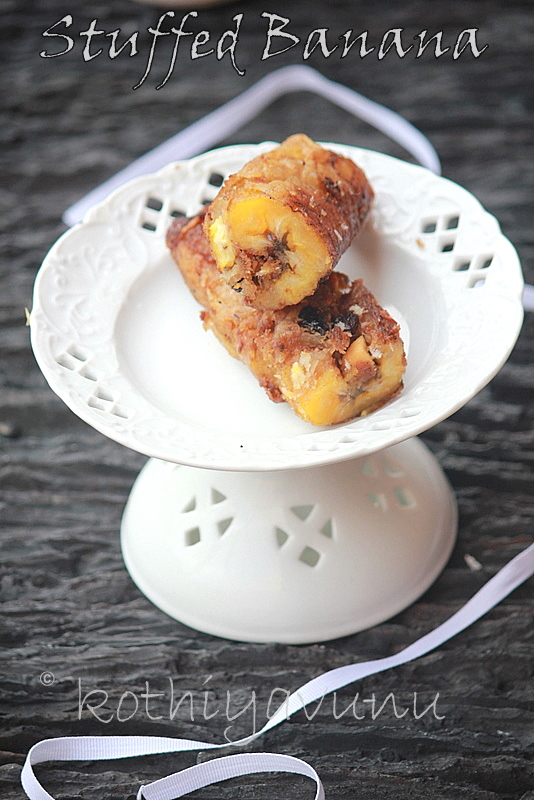 Notes :
Always select ripened banana for making this.
Click here for more
Snack
Happy Cooking !
Sangeetha