What's your favorite Cuisine?? There's no way I could pick just one, and if I did, may answer might change tomorrow and the day after and the day after 🙂 because I am one person who gets bored easily and needs variety to keep it interesting.
Thai curry always been one of my favorite, but I hardly make in home. We first had this thai red curry at one of our friend's place. My family fell in love with this rich and creamy curry, When I asked for her recipe, she gave me her book Simply Thai Cooking. Thanks 'La' for giving the book and sharing the wonderful recipes with us.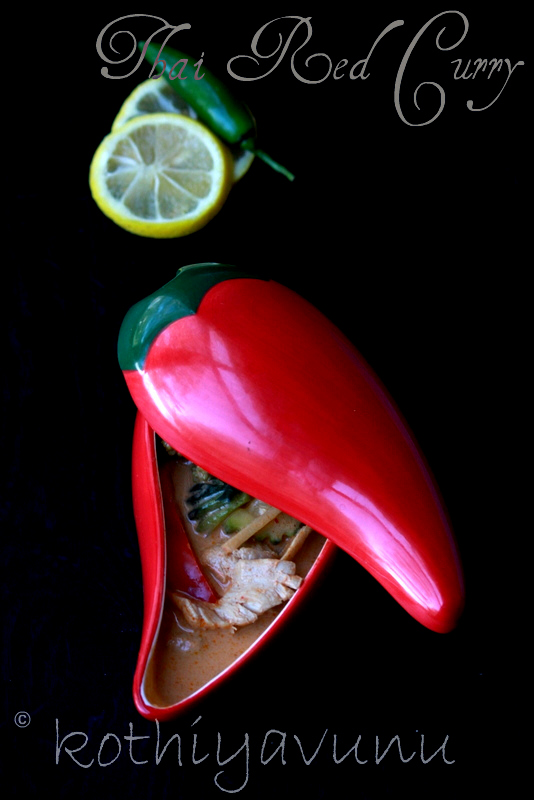 I first made this curry few months ago, I had a nice photo all lined up, pressed the button to take the picture and my camera battery died. I was very disappointed, especially when I tasted how tasty it was. But this past weekend, I felt motivated and so I did with little cheating by using instant store bought curry paste.
Thai curries are unique with their own distinctive tastes and it share different takes and preferences on blended spices and other fragrant aromatics. It can be made anywhere from mild to red-hot, depending on your taste. There are many red curry recipes, each with slightly different ingredients, but the key ingredients of the thai curries are curry paste, fish sauce, palm sugar.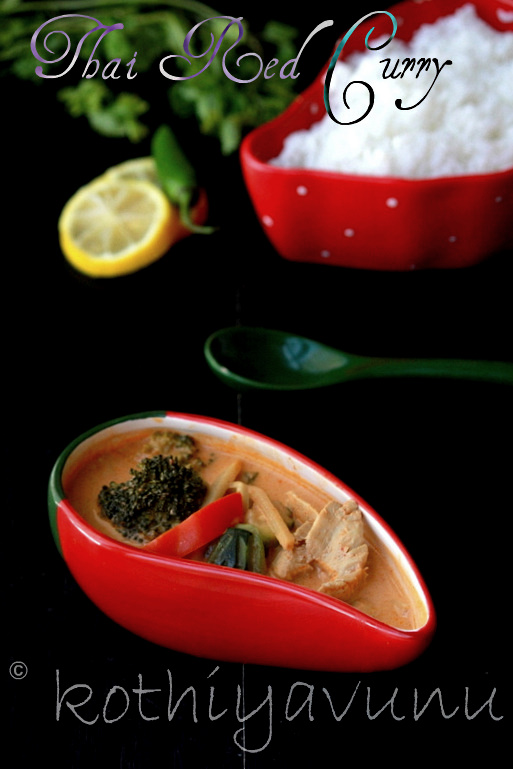 You can make this with chicken, beef, pork, or regardless of the meat of choice, or sea food, or as a vegetarian dish using tofu. Also you can play around the recipe and add your favorite flavors and ingredients. This red curry goes extremely well with steamed aromatic jasmine rice or with basamti rice. If you love Thai food, you will certainly love this rich and creamy curry. Enjoy !
Stay tuned for more thai recipes here in the near future 🙂
Recipe for Thai Red Curry /Thai Chicken Red Curry
Preparation Time : 10 minutes
Cooking Time : 20-30 minutes
Serves : 4
Ingredients :
Skinless, boneless Chicken breast halves : 1 lb (cut into thin strips)
Thai Red curry paste : 2 tbsp ( I used Mae Ploy Red Curry Paste) or Homemade Red Curry Paste – see the recipe below
Onion : 1 large (thinly sliced) (optional)
Garlic : 2 cloves (crushed)
Zucchini : 1 cup (sliced halved)
Red bell pepper : 1 (seeded and sliced into strips)
Broccoli florets : 1/2 cup
Fresh Lemon grass : 1 stalk (bashed with a rolling pin)
Fresh ginger : 2 tsp (grated)
Palm sugar : 2 tsp
Fish sauce or light soy sauce : 1/4 tsp
Chicken stock cube : 1 dissolved in 150ml /1/4 pint) hot water or use cornstarch : 1 tbsp (mix with coconut milk)
Coconut milk : 1 (14 ounce) can
Fresh Basil and Coriander leaves/Cilantro : handful (chopped)
Bird's eye chilies : 5 (optional)
Olive Oil : 2 tsp
Salt to taste

1. Heat the oil in a wok or large frying pan and saute the red curry paste until aromatic.
2. Add the chicken. Cook over a medium-high heat for 4-5 mins, stirring occasionally, until the chicken is lightly browned.
3. Add the onion and garlic and cook for a further 2 mins.
4. Add the zucchini, red pepper, lemon grass, broccoli, grated ginger, coconut milk, salt, chicken stock cube or if using corn starch, then mix it with coconut milk and use; mix well.
5. Bring to the boil, then reduce the heat and simmer for 20-25mins, until the chicken is cooked and the sauce has reduced a little.
6. Remove the lemongrass and add in the fish sauce or soy sauce, palm sugar and coriander leaves and stir-continuously for couple of seconds or so.
7. Dish out and serve, garnished with more fresh basil and coriander leaves and enjoy witj boiled or steamed jasmine rice or noodles.
Notes : If you like things a bit spicier, you could add some sliced bird's red chilli when serving.
If you do not have the store bought Thai Red Curry Paste, here is a Recipe for Thai Red Curry Paste adapted from epicurious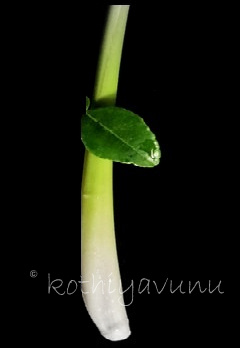 Ingredients :
Prik haeng /Thai dried hot red chiles : 17 to 20 (2- to 3-inch-long) halved and seeds discarded
Coriander Seeds :
4 teaspoons
Shallots /Red Onion : 5 or 6 tbsp small , chopped
Chopped Garlic : 1/4 cup
Lemongrass Stalks : 2 fresh, 1 or 2 outer leaves discarded or use reserved bottoms
Whole Black Peppercorns :
1 tsp
Galangal /Kha :
4 tsp finely chopped peeled fresh or thawed frozen grated
Kaffir Lime Leaves : 6 (4-inch-long) (fresh or frozen, finely chopped)
Cilantro Roots or Stems :
2 tbsp
Red prik kii noo /Fresh bird's-eye Chiles or Serrano Chiles : 15 to 20 (finely chopped)
Ga-pi /Thai shrimp paste :
2 tsp
Salt :
1/2 tsp
A large traditionally mortar and pestle (preferably stone or granite) or a food processor for preparation
Method of Preparation :

1. Tear the dried chiles into two with and soak in warm water until softened for about 20 minutes. Drain well.
2. Meanwhile, In heavy bottom frying pan; dry roast the coriander seeds over medium heat until fragrant for about 4 minutes, then let it cool.
3. Thinly slice lower 6 inches of lemongrass stalks and finely chop and set it aside.
4. Finely grind coriander and peppercorns with mortar and pestle or in food processor for about 2 minutes and set it aside
5. Toss together with lemongrass, galangal, kaffir lime leaves, cilantro, shallot, garlic, fresh chiles, and soaked dried chiles in a bowl.
6. Pound mixture in 3 batches with mortar and pestle until a smooth paste is formed, 8 to 10 minutes per batch, transferring to cleaned bowl or If using food processor, add about 1 1/2 tablespoons water per batch.
7. Return all of curry paste to mortar, then add shrimp paste and salt and pound (or pulse) until combined well, about 1 minute.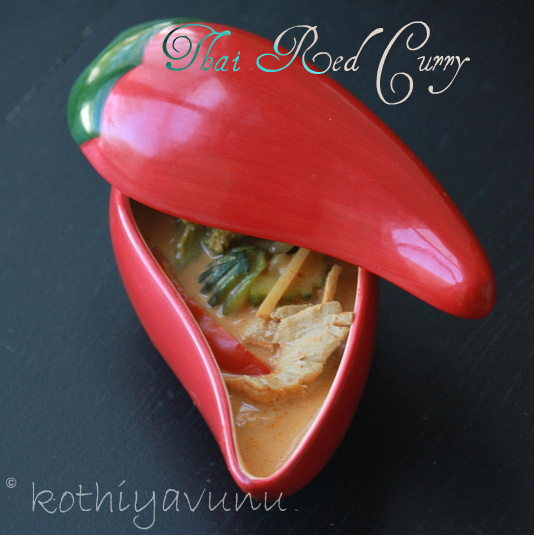 Happy Cooking!
Sangeetha