Wish you all a very Happy Easter ! For us this weekend will be full of Easter activities, friends gatherings, and of course, great food. Hope everyone is having a great weekend and wishing everyone a great week ahead!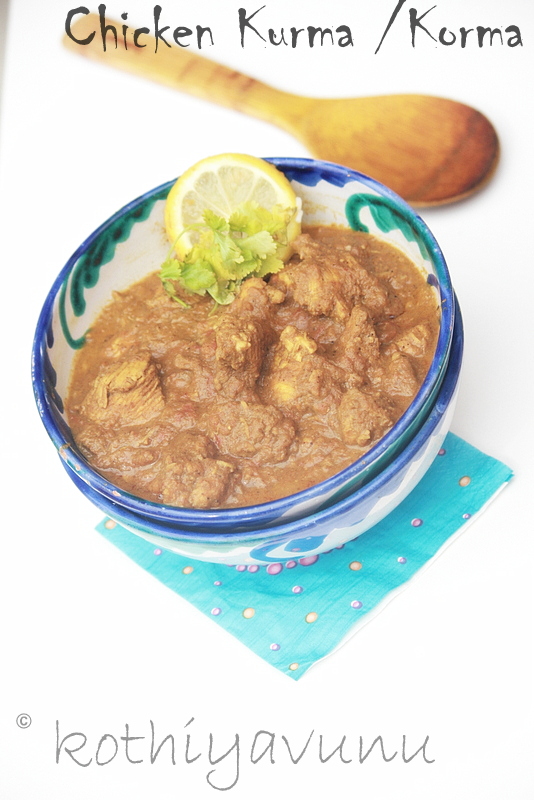 Before getting into recipe, I just wanted to thank to those who knocked my door to inform about errors in my pages recently…Sorry for any inconvenience caused. Yes, lately we had some issues with our server and now we are moving to new provider, we are still working on it, so probably by end of next week everything will be fixed, meanwhile if you face any issues please let us know. Your thoughts and suggestions are much appreciated.

Now lets move into recipes, here comes the simple, but yet tasty virtual treat to all my friends and well wishers who celebrating easter. One of the best korma recipe, I have prepared in recent times. Usually I used to prepare my mom stable kurma recipes, but few days back, when I spoke to my childhood friend, we were talking about fun times and our hangout's we had and while talking, I told here about my blog and she was glad and was too generous to share her family recipe with me. she mailed me some of her family's special recipe. Well! so I decided to try and blog her family specialty recipe with u all for this easter season!?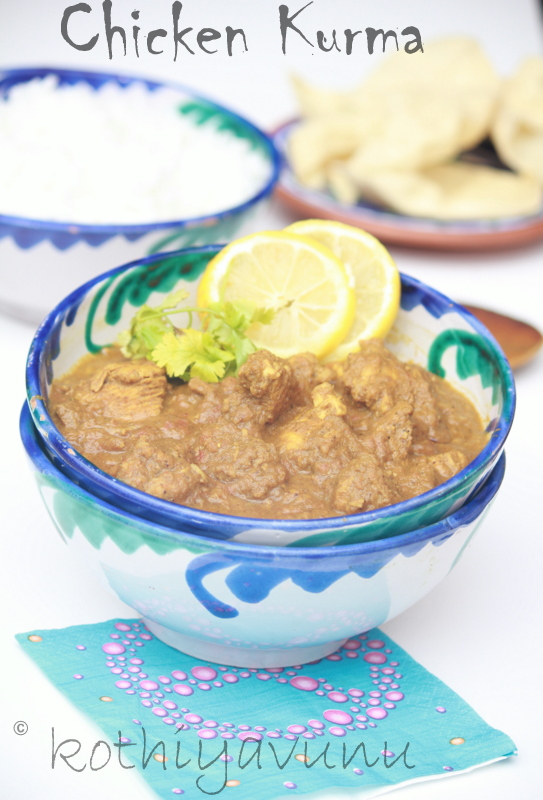 This is a rich, creamy curry and delicately flavored with fresh coconut, mint and coriander leaves. It use a blend of spices to give the curry a very unique mild sweet herby flavor and aroma. It pairs well with almost anything, Rice
Appams
,
Noolappam /String Hopper
,
Kerala Parotta
,
Ney Pathiri,
Roti
,
Indian Bread
etc…Give it a shot and don't forget to pour your feedback guys! Enjoy!
Chicken Kurma – Korma Recipe | Kozhi Kurma /Korma Recipe | Kerala Chicken Kurma
Preparation Time : 30 minutes
Cooking time : 30 minutes
Serves : 4-5
Ingredients:
Chicken with bones : 1.1 lb / 1/2 kg
Onions : 1 large (finely, sliced)
Turmeric Powder : 1/4 tsp
Thick Curd /Yogurt : 4 tbsp
Cinnamon : 1″stick
Cloves : 2
Green Cardamoms : 2
Salt to taste
Cooking oil : 3 tbsp
To Grind :
Small Red Onion /Shallots/Pearl Onions : 8-10
Grated Fresh Coconut : 1/4 cup
Green Chillies : 4 or to spice level
Whole Dry Red Chillies : 4-6 or Red Chilli Powder : 1 tsp or to your tolerance level
Coriander Powder : 1 tbsp
Poppy Seeds/Khus Khus /Couscous : 1 tsp
Coriander Leaves : 1/2 bunch + few for garnish
Mint leave : 10-12
Cashew nuts : 4
Roasted chickpeas : 1/2 tbsp (optional)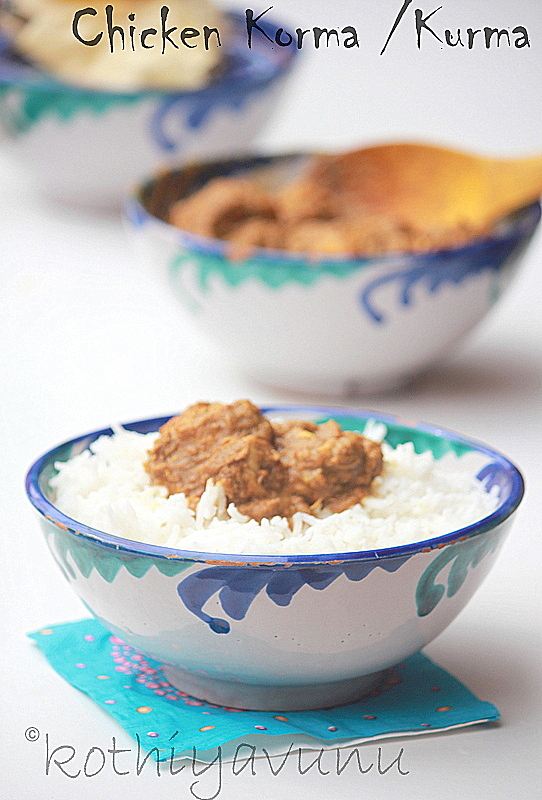 Learn How to Make Chicken Kurma – Korma Recipe – Easter Special | Kerala Chicken Kurma :
1. Clean and wash the chicken piece. In a medium blow, add the yogurt/curd and turmeric powder; whisk it well, add the cleaned chicken pieces and marinate it for 1/2 hr.
2. Grind the all the above listed ingredients "to grind" to fine paste and set it aside.
3. Heat a oil in pan, when its hot, add the cinnamon, cloves and cardamom and saute till the aroma rise, now add the sliced onion and statue till it turns to translucent and light brown in color.
4. Add the ground masala paste and saute till the oil separates on the sides of the pan.
5. Add the marinate chicken along with curd and stir fry until the chicken turns to pale white color.
6. Add the water as required, salt to taste and cook on low heat until the chicken are cooked.
7. Garnish with coriander leaves and serve with steamed rice, Appams, Noolappam /String Hopper, Kerala Parotta, Ney Pathiri, Roti, Indian Bread…Enjoy!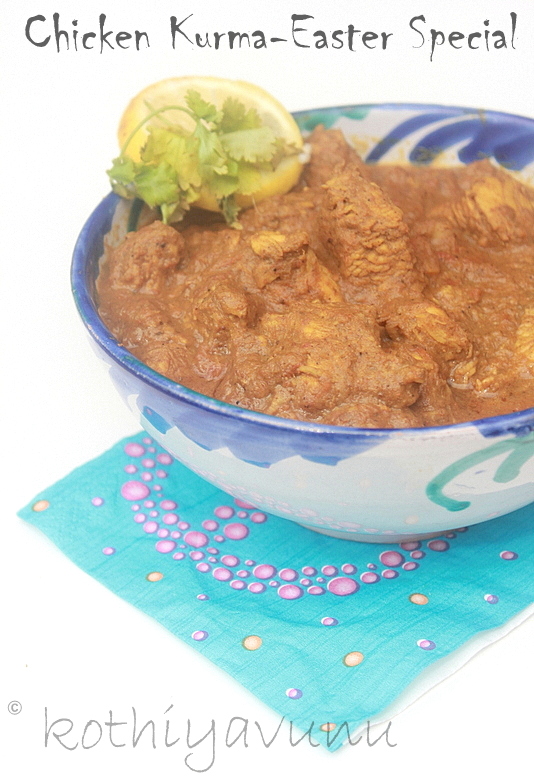 Related Posts :
Nadan Pepper Chicken Curry /Kerala Pepper Chicken Curry
Nadan Kozhi /Chicken Curry /Kerala Style Chicken Curry
Malabar Chicken Curry
Cashew Pepper Chicken
Varutharacha Kozhi Curry /Fried Coconut Chicken Curry
Click here for more Easter Special
Happy Easter Everyone!
Sangeetha