Yes, this is in fact the third sadya recipe, I am posting this week. As you all know festival of Kerala is fast approaching, so I am on gear; posting Kerala Sadya recipes…pls bear with me. Next week I'll get back to something different , promise 🙂
Sadya /Feast is a unavoidable part of any celebration in Kerala. There is saying in malayalam "kandam vitum sadya unnanam" which means that " You have to eat sadya/feast even if you have to sell your property for that" now you can guess the importance of sadya in malayalees mind.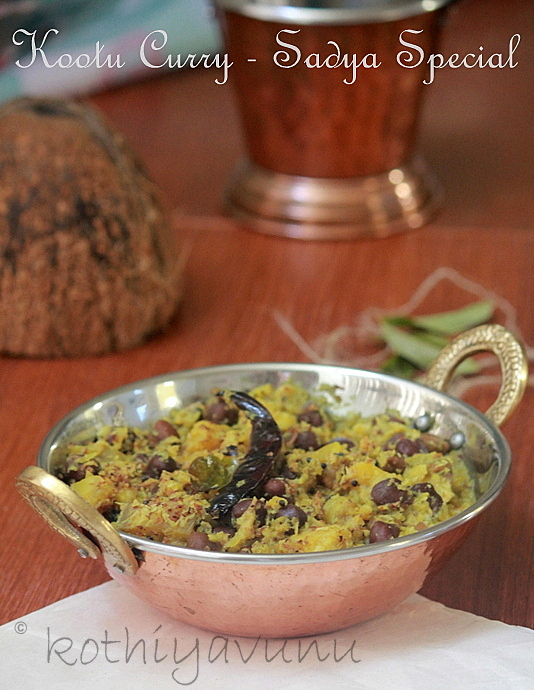 If you ask any Malayalee about Kerala Sadya (feast) dishes, I'm sure kootu curry will be one of the dish pops up regularly. Kootu means mingling or a combination, so as the name implies; it is a mixture of black chickpeas or chana dal and combination of vegetables like ash gourd /winter melon, raw plantain/kaya, elephant yam /chena with ground coconut and spices.This is prepared in different styles in different parts of Kerala and it's semi dry preparation. Some use chana dal /kadala parippu instead of chick peas/kadala.
Today featuring is my mom's version, which I made last day for our lunch. Yes now I can guess what your thinking 🙂 Are you not planning to prepare this again for vishu sadya? Yes ofcourse I am, but I'm going to make like my MIL version, which is little different version from this. If time permits and lucky enough click the pics, I will update here, if not will post later for sure 🙂
Ok now let see, how it is made in my kitchen…Hope you all will enjoy this classic Kerala special Kootucurry as much as we did! Enjoy!
Recipe for Kootu Curry /Kerala Koottu Curry – Sadya Special /Roasted Coconut with Mixed Vegetables & ChickPeas


Preparation Time : 15 minutes
Cooking time : 30 minutes

Serves : 4-6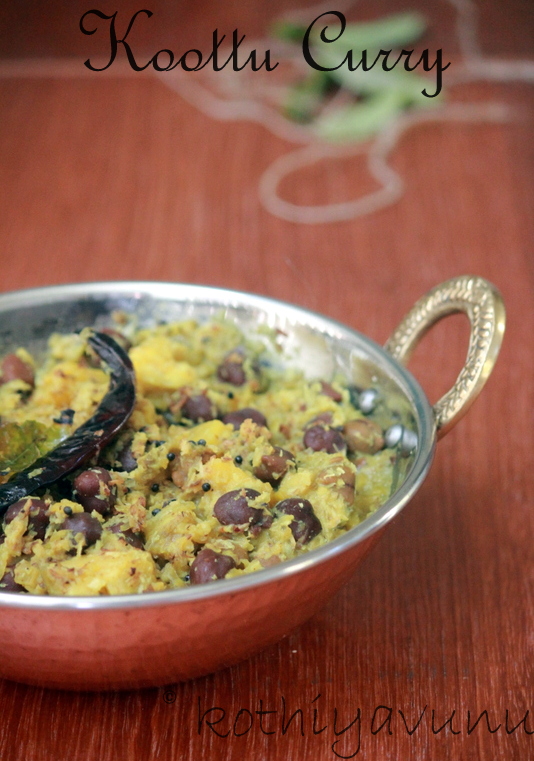 Ingredients :
Tender Ashgourd /Winter melon /Elavan /Kumbalanga : 1 cub (diced) or Pumpkin /Mathan : 1 cup (diced) (I have used pumpkin)
Chena/Yam 1 cup (diced)
Raw Plantain : 1/2 cup (diced) (you can add variety of vegetables according to your choice like carrot, potato)
Black Chickpeas /Kadala : 1/2 cup
Turmeric powder : 3/4 tsp
Red chilly powder : 1 1/2 to 2 tsp
Sharkara/Jaggery : 3 tbsp
Salt to taste
For Grinding
Grated coconut : 3/4 cup
Cumin seeds : 1tsp
For Seasoning:
Grated coconut : 3/4 cup
Mustard seeds : 1/2 tsp
Dry red chillies : 2 – 3
Curry leaves : 1 sprig
Cooking oil : 1tbsp ( For authentic taste use Coconut oil )
Method of Preparation :
1. Soak black chickpeas /kadala overnight and pressure cook adding enough water and salt for around 5 whistles.
2. Grind together grated coconut and cumin to a smooth paste with little water and keep it aside.
3. Cook the vegetables, raw banana, ashgourd and yam cubes along with 1 cup of water until they vegetables are almost cooked and 95 % of the water is evaporated.
4. Now add salt, turmeric powder, red chilly powder and jaggery. Mix well until the jaggery is dissolved.
5. Add the ground coconut mixture to the cooked vegetables and mix well.
6. Adjust the salt and cook for a few minutes or until the raw taste of coconut is gone.
7. Add the cooked chickpeas to the above mixture. Mix well and cook for couple of minutes. Remove from the fire and set it aside.
8. In small frying, pan add oil and splutter mustard seeds, dry red chillies, curry leaves and grated coconut and roast it until golden brown color.
9. Add this over the kootucurry and mix well. Optional – sprinkle add 1 tsp of fresh coconut oil on the top and cover it and allow it to stand for 10-20 minutes before serving. (Note : This will help the dish to absorb the flavor of curry leaves and coconut oil.)
10. Serve with rice and Enjoy!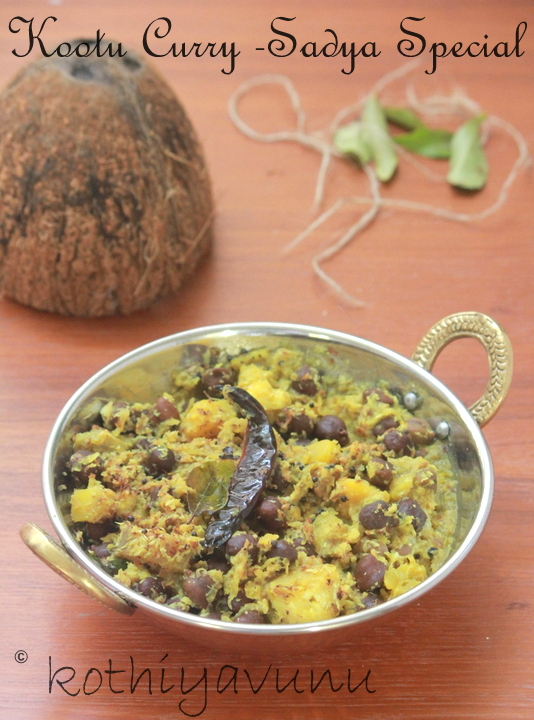 Related Posts :

Have a good day!
Sangeetha