If you are searching for healthy, simple and filling fish recipe, then you should try this baked version of salmon prepared along with Indian spices…This masala baked salmon are fabulous tasting and also extremely healthy.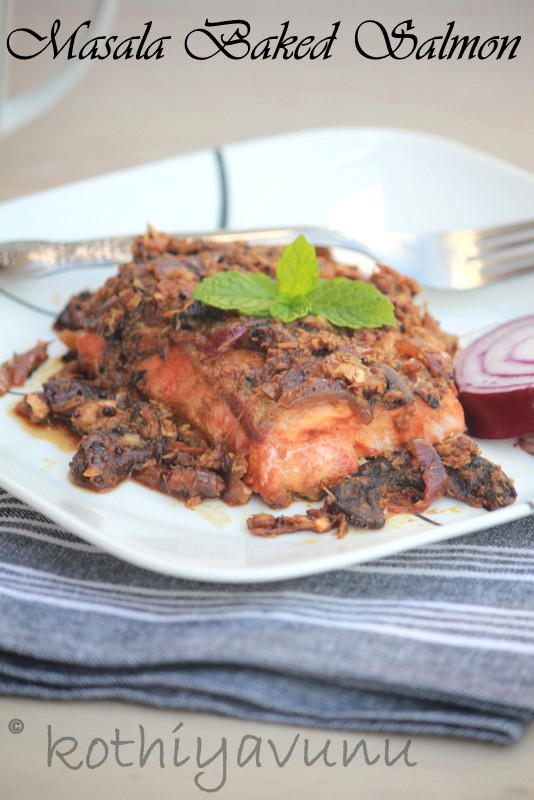 As I have told you in my earlier posts, I have bunch of recipe request to be posted, so following week I will try to dedicate myself for all your recipes request…Thanks to all who requested for recipes and waiting so patiently, I am truly touched by the love, and support you give me. Let's kick start with a recipe which is very healthy and completely a guilt free dish and anyone can enjoy them without any hesitation along with rice or on its own. This recipe is requested by one of my loyal reader of this blog 'Mrs.Anuksha' couple of months back. Somehow, it took me this long to get to this.
Onto recipe, Today features Baked Salmon with Indian Spices, as you all know Salmon is an important food for children and adult's alike, because it'rich in Omega 3 fatty acids,Vitamins A, B and D as well as the minerals calcium, iron, which are essential for brain development and help lower your cholesterol. This recipe may look like a very adult way to prepare this omega-3 packed fish, but it's actually quite simple and packed with flavors that will appeal to everyone in your house. In fact, it uses the method and base recipe from my very favorite Meen Pollichathu /Fish in Banana Leaf, so I knew this would be a winner. Traditionally, back home in Kerala this Mean Pollichathu is one of a very popular recipe served in house boats; fish along with the spices be wrapped in banana leaves and roasted on a greased pan.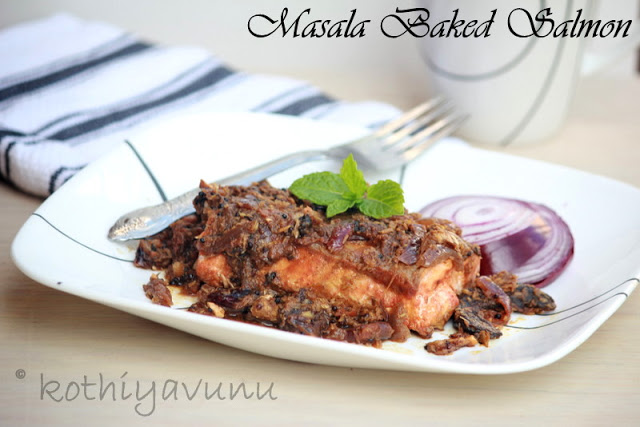 Trust me folks, It's very tasty and if you like fish, this is the perfect recipe for you. Here I have used Salmon fillets, and instead of grilling them in a pan, I baked them in the oven. Note that I also tested this recipe using halibut with excellent results or you can also make with any whole fishes like tilapia, kingfish, pearlspot, pomfret in the same way and if you get some banana leaf, that adds a little bit of the exotic to this already fantastic dish. The banana leaf imparts an amazing flavor to the fish. If you can't, use aluminum foil for wrapping and rest assured, minus the banana leaf flavor.
Makes a nice dish to serve company or anyone who loves fish. Serve with plain or steamed rice, sure to a hit with everyone at your dinner table!
So, Anu finally here comes the recipe you requested a while back…hope all of you like this version…Enjoy!
Recipe for Masala Baked Salmon /Baked Salmon With Indian Spices
Preparation Time : 30 minutes
Cooking time : 15 minutes + 20 minutes for baking
Makes : 2 big fillets

Ingredients :
For the Marinade:
Salmon : 2 big fillets
Kashmiri Red Chilly Powder : 1/2 tsp
Turmeric Powder : 1/4 tsp
Cumin Powder : 1/4 tsp
Lime Juice : 1/2 tsp

Yogurt : 1 tsp
Salt to taste
For the Masala :
Shallots/Pearl Onion/Small red Onions : 15- 20 or Onion : 1 (finely, chopped)
Tomato : 1 large (finely, chopped)
Green chilles : 2 (finely, chopped)
Ginger : 1″piece (finely, chopped)
Garlic : 4-5 pods (finely, chopped)
Turmeric Powder : 1/2 tsp
Coriander Powder : 1 tsp
Fenugreek Powder : couple of pinches
Freshly grounded Pepper Powder : 1/2 tsp
Cambogia /Fish Tamarind /Kudampuli : 2-3 small piece or to taste
Warm Water : 1/2 cup
Vinegar : 1 tsp
Coconut milk : 3 tbsp
Mustard seeds : 1 tsp
Curry leaves : 1 sprig
Coconut oil : 1/2 tsp
Salt to taste
For the Wraps :
Banana Leaves or Aluminium foil coated with coconut oil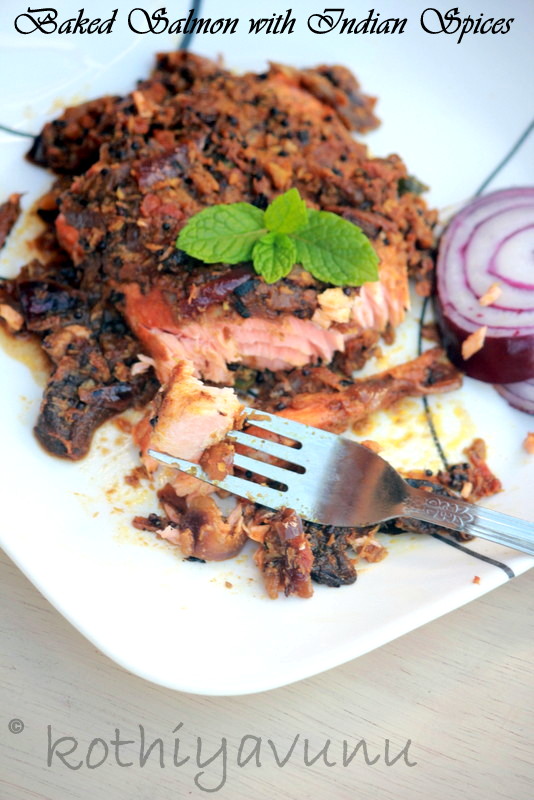 How to make Masala Baked Salmon-Baked Salmon With Indian Spices:
1. Wash and clean the salmon fillets and marinate with all above listed ingredients 'for the marinade' and keep aside for about 15 to 20 minutes.
2. Soak the cambogia /fish tamarind (kudampuli) pieces in 1/4 cup warm water for 10 mins.
3. In a non stick pan; add little coconut oil, when its hot, add the mustard seeds, when it starts to splutter add the chopped shallots/pearl onion and saute until its translucent.
4. Add chopped garlic, chopped ginger,chopped green chillies, curry leaves and saute for a few secs; now add chopped tomatoes and saute till the tomatoes are well mashed and the oil separates. (
Note
: Do not let the ingredients burn.)
5. Immediately add all spice powders, salt and mix well.
6. Add the vinegar and cambogia /fish tamarind (kudampuli) along with the water in which they were soaked and mix in thoroughly, increase the flame to high and cook till gravy thickens, reduce the heat and add the coconut milk. check taste for any additional seasoning; mix well, remove from the fire and transfer to a bowl. Cool and keep it aside
7. In the same frying pan; heat coconut oil and fry the marinted fish, filpping each side for a minute. (
Note:
Do not over cook.)
Baking & Assembling:
1. Pre heat the oven at 350 F. Line an oven safe dish or in the baking tray with banana leaf, if its available or else with aluminum foil with enough left over to wrap it up.
2. Lightly smear coconut oil on the banana leaf or in aluminum foil; now scoop 1/2 of the cooked gravy on to the banana leaf or foil and place the fish on top. Smear the remaining gravy on top of the fish.
3. Now make parcels of the fish inside the banana leaves or with the foil, fold the edges and bake for about 15 to 20 minutes. (Note : Don't over cook the fish, and then it starts falling apart)
4. Serve with lime, onion wedges and hot steamed rice or on its own and Enjoy!