In India around this time, say 13-15th of april, many states welcome their Traditional New Year and they are 'Baisakhi 'of Punjab, 'Poyela Boishakh' in Bengal,'Varsha Pirappu' in Tamilnadu, 'Bohaag Bihu' of Assam and Vishu in Kerala.
We wish a very Happy & Prosperous New Year to all my beloved readers and friends across the globe! I hope this year brings peace and happiness to everyone.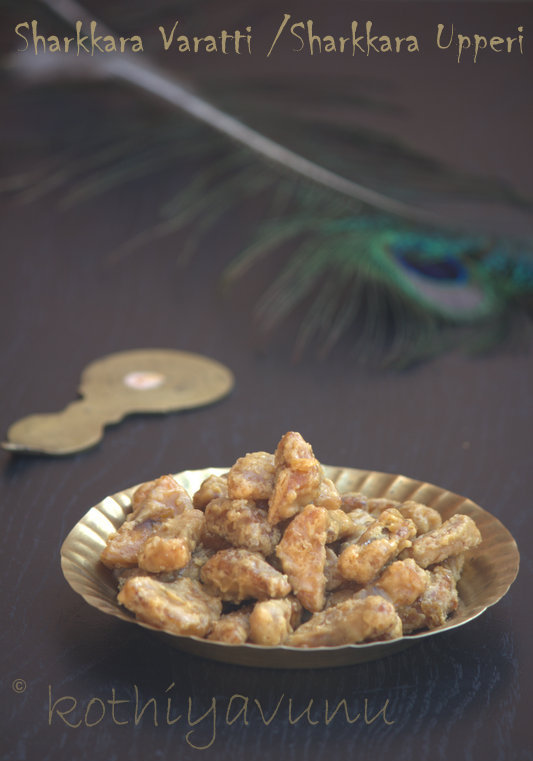 To mark these festivals, I have a special virtual treat to you all…Sarkkar Varatti /Sarkkara Upperi/ Jaggery Coated Banana Chips straight from God's Own Country.
Kerala is a huge hub of bananas and I think probably this is second most popular fruit after coconut. Thus, this wonderful tasty fruit has made its way into a good number of the dishes of Kerala. One of the very famous dishes that has become universally popular is the hot, crisp
Banana Chips /Ethakka Upperi
made out of finely sliced rounded banana pieces and deep fried in pure coconut oil. Yet another unique preparation with bananas is the 'Sarkara Varatti'. Sarkkara Varatti /Sarkkara Upperi is prepared by chopping bananas into a thick piece, deep fried and then mixed into melted jaggery. It is a must for all festive occasions and weddings in Kerala. No sadya (feast) is complete without this…
The place where we leave have very few Indians, and Malayalee's are a rarity, so we don't have Indian grocery shop nearby, and I have never seen these kinds of chips here, so I tried this at home, last couple of times, the results were terrible. As most of you know, if you won't get right consistency, banana pieces won't stick to the jaggery coating, but finally this time my persistence paid well.
Now, lets move into the recipe…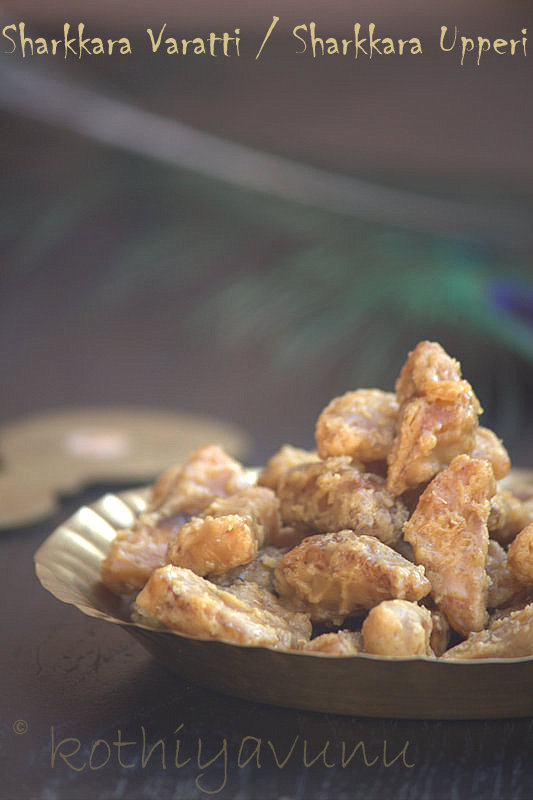 Recipe for Sarkara Varatti / Sarkara Upperi /Sarkara Piratti /Jaggery Coated Banana Chips
Preparation Time : 20 minutes

Cooking time :25-30 for frying bananas pieces & 15-20 minutes for jaggery syrup

Makes : 80-100 pieces, (depending upon the size of banana pieces)
Ingredients
Unripe Raw Green Plantains /Nendram Kaaya : 3 nos
Turmeric : 1 tsp + A pinch of salt

Salt : 1/4 tsp, mixed in 1/2 cup water ( Saline solution)
Jaggery /Sarkkar : 1 cup
Dried Ginger Powder : 1 1/2 tbsp
Cardamom Powder : 1 tsp
Cumin Powder : 1 tsp
Coconut Oil /Cooking Oil : 2 cups or as needed
Granulated sugar : 1 tbsp, for garnish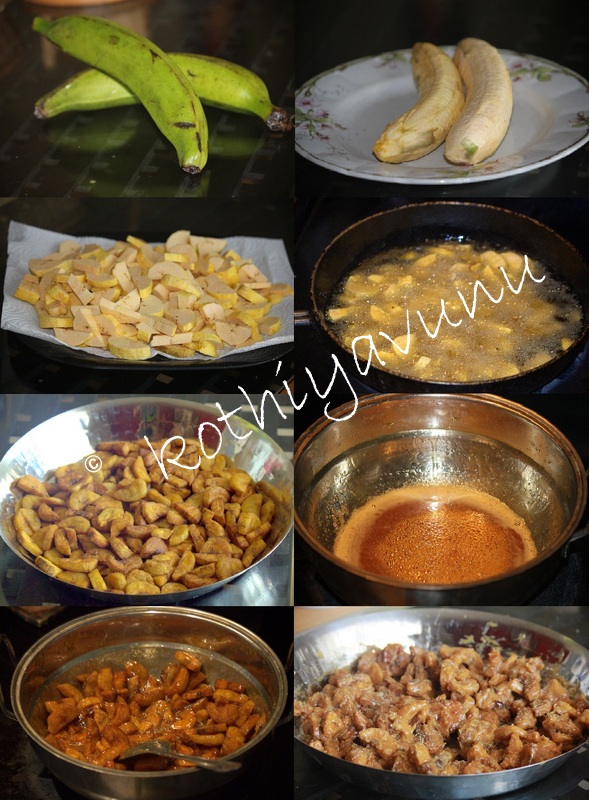 Method of Preparation :
1. In a large pan, add water and turmeric powder and keep aside.
2. Apply coconut oil to your hands to avoid stains/ discolorations from the sap of raw banana peel. Peel the outer skin of the bananas and immerse them in the turmeric water for 20 minutes. (Note : This will remove the stickiness of plantain and preserve the color).
3. Remove the plantain from the turmeric water and pat dry. Slice midways along the length; thereafter, slice into slightly thicker chunks, approx. 1.5 cm and dry the sliced pieces in baking sheet or in a plate lined with kitchen tissue for couple of minutes.
4. Heat the oil in a deep frying pan on medium heat.(Note: It should neither be too smoky nor dull and be sure not to fill oil more than half of the pan you are using.)
5. When the oil is really hot, reduce the flame to medium-low and slide the sliced bananas into hot oil without overcrowding them and occasionally give stir to flip them and keep them from sticking together.
6. When it is half done; approximately 8 mins. Minimise the flame to its lowest and sprinkle the saline solution; immediately close the pot with a lid. (this will prevent splashing) and remove the lid after a couple of minutes.
7. When the bubbling diminishes completely, turn over the flame to medium and gently toss them on every side till chips are reddish and golden. ( approx it takes 25-30 minutes from start, low-medium flame) (
Note :
To see whether it's done, take one and crush it . If still soft or squishy inside it's not done, so simmer and fry in hot oil until it attains a crisp.)
8. When the chips are reddish and golden and make a crisp, rasping sound when stirred, scoop these into a colander with a plate underneath to catch any oil drippings. Spread them on kitchen tissue to cool. Let them cool completely.
9. In a thick bottomed pan heat jaggery and water till jaggery melts. Strain this to removes any impurities. 10. Now reheat the strained syrup on a low to medium heat, stirring frequently till it reaches a thick consistency. i.e the syrup will be like oil; means neither it be watery nor so thick. (
Note :
To check the consistency, put one drop of the boiling jaggery in cold water. If it is of the right consistency, it won't dissolve and it should form a pearl-drop.) and you can also see thin threads of jaggery syrup when you stir it 2-3 thread consistency /nool paruvam.
11. Reduce the heat to low and add the fried banana pieces and mix well and stir continuously.It will be really difficult to stir them.
12. Now add the ginger powder, cardamom powder and cumin powder to this and stir constantly, so that all the slices are coated with the jaggery.
13. Remove from the fire and let this cool for some time; then add powdered sugar and mix well. This gives a nice appearance to the sharkara upperi and the slices do not stick to one another. Add more sugar if required.
14. Transfer to a wide plate and allow it to cool down completely and then store in an airtight container…Serve and Enjoy!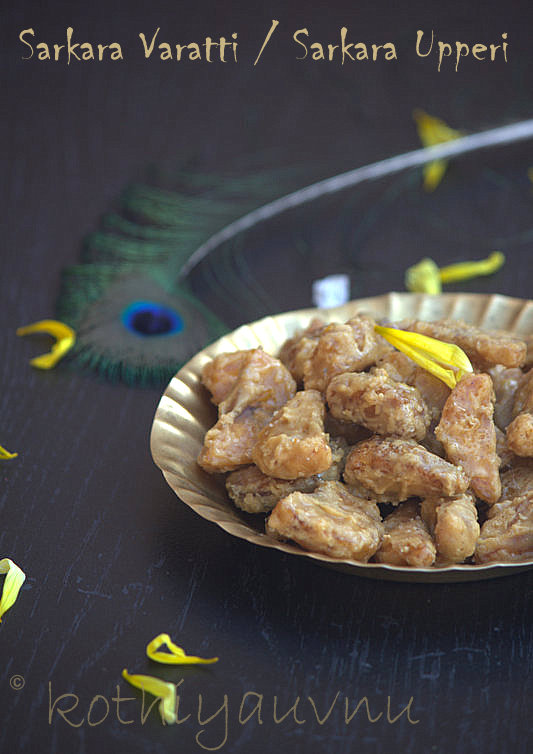 Notes :
Do not keep the sliced banana for long. It will get dark color and won't get the fresh taste.
The syrup should be in right consistency; if not the banana piece won't stick to jaggery coating properly. The
consistency of the syrup will be like oil; neither it be watery nor so thick.
If the jaggery is not properly coating the banana pieces then add 1-2 tbsp rice flour to thicken the syrup and mix well.
Related Posts :
Banana Chips /Ethakka Upperi
Nurukku Upperi /Quartered Banana Chips
Cheers!
Sangeetha