Want to treat your friends with a delicious Kerala Snack? then you should try this!
My husband always been a great fan of Kerala country style snacks/ Nadan palaharam and I think not only my hubby most of Keralites have a special bonding with these kind of humble snack.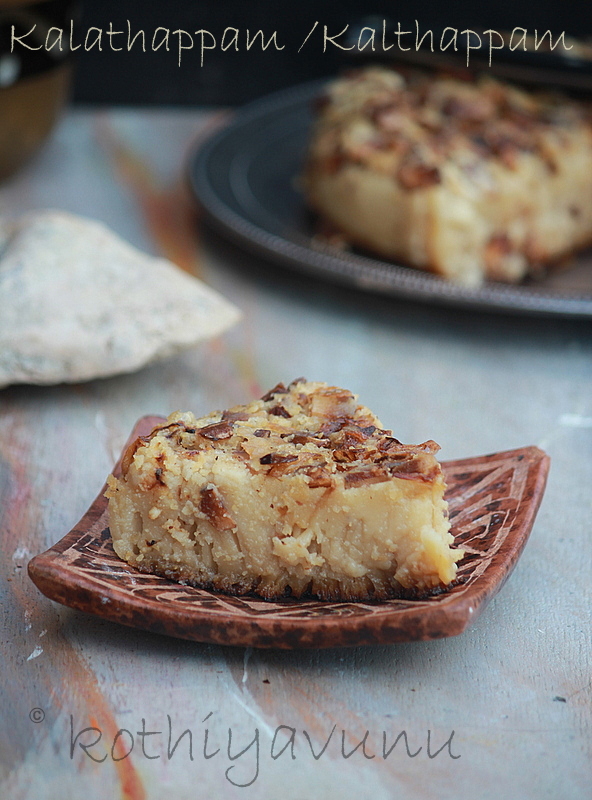 This kind of Kerala Special is absolute favorite. No matter how good I get at cooking or whatever else I learn to make, we both know nothing will replace these Kerala Specials. Whenever he hits craving for these kind of snacks, he starts saying wish with Mom now and so on….!, that become usual symbol for me to understand, that I should make these…He doesn't care how it is made and preparation goes, he LOVES them. I enjoy them too. 🙂
On to recipe, Kalathappam is a very popular North Malabar delicacy. It's such a simple and easy snack which can be prepared in just a matter of minutes using rice flour, jaggery, fried shallots and coconut flakes and either cooked in a pan or in a pressure cooker like a cake, traditional it is cooked in mankalam /earthern cooking pot with the help of coal in very low flame. But to make the process easy, we can cook with pressure cooker or nonstick pan, but can't beat the taste of slowly cooked kalathappam in manchatti.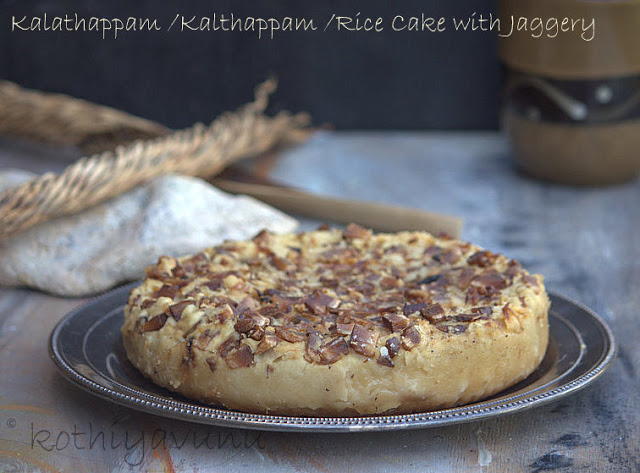 There are two versions of Kalthappam; sweetened and unsweetened…today I am sharing the sweetened version, which I adapted from a cookery show, Taste of Kerala. It's all soft, looks almost like
Kalappam
, but the difference is underpart of the Kalathappam is slightly burnt and the dough perhaps is something like
Unniyappam's
. It is cross between a
Kalappam
and
Unniyappam
and needless to say it's very delicious, especially the lavishly strewn coconut bits.
If you are planning for a tea time get-together and in search of a special kerala tradtional snacks, I can suggest this one ! Do try and Enjoy!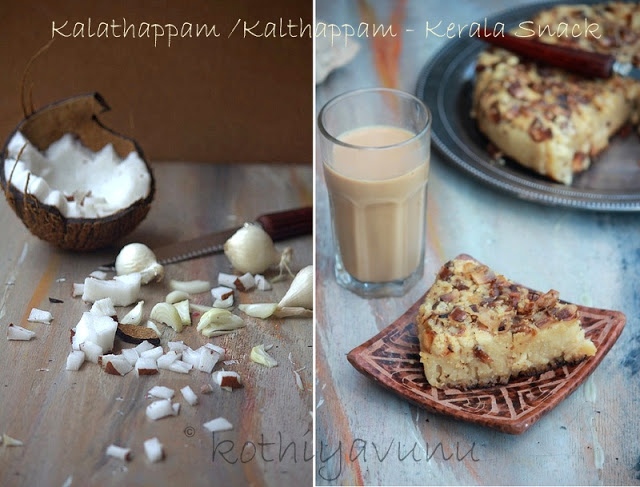 Kalathappam – Kalthappam Recipe – Sweetened version | Rice Cake with Jaggery | Kannur Special Kalathappam
Preparation Time : 2 hrs
Cooking time : 20 mins
Serves : 4
Ingredients :
Raw Rice/Pachari : 1 cup
Parboiled Rice /Puzhungalari : 1 cup (both rice soaked in water for 2 hours)
Cooked Rice : 1 cup
Jaggery : 1/2 cup or according to your taste
Shallots /Red Onion : 1/4 cup (finely sliced)
Coconut Bites /Thenga kothu : 4 tbsp
Baking Soda : a pinch (optional)
Salt to taste
Coconut Oil : 2 tbsp
Water as needed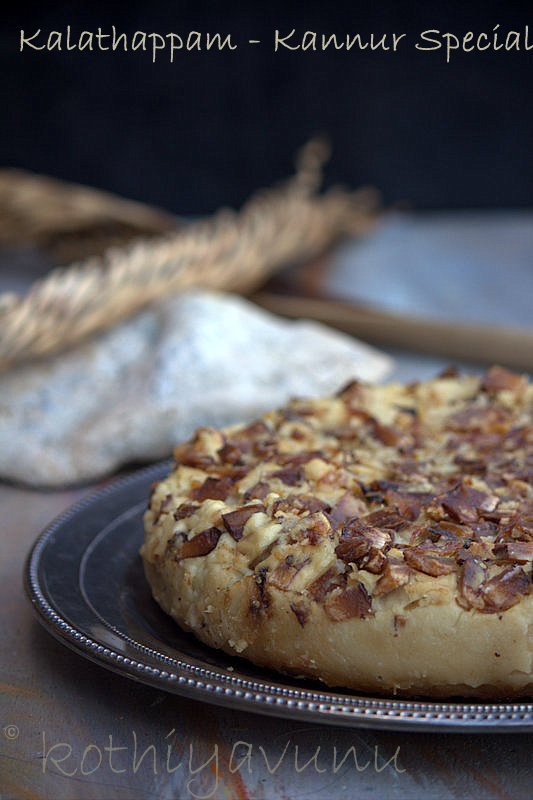 How to make Kalathappam – Kalthappam Recipe| Kannur Special Kalathappam :
1. Wash and soak rice for couple of hours.Drain the soaked rice and grind it along with cooked rice and 1/4 cup of water. (Note : Don't add more water, the batter has to be medium thick.The consistency should be like idli batter).
2. Melt the jaggery with 1/4 cup of water; remove the impurities and add the jaggery syrup and salt to rice batter; mix well. Optional – Add pinch of baking powder to the batter.
3. In a pressure cooker, add coconut oil and saute the coconut slices till it become golden brown and transfer to plate and saute the shallot to golden brown; do the same and set it aside.
4. Now there will be enough oil left in the pressure cooker, so swirl the pessure cooker in such way that oil is coated on its all sides.
5. Add half of fried shallot and coconut slices to the batter and mix well.
6. Heat the pressure on high heat and pour the batter and add the remainng fried shallot and coconut slices on top of it and cook for 2 minutes on a high flame. Next lower the flame; close the pressure cooker tightly without the weight/whistle and cook for 15 minutes.
7. Switch off the stove and keep it there for another 15 minutes.Open it carefully and check if the its is cooked by inserting a toothpick. If it comes out clean its done, cook it on the low-medium flame for 5 more minutes and then remove from stove and let cool.
8. When cold invert and cut into pieces and serve with tea/coffee or as breakfast and Enjoy!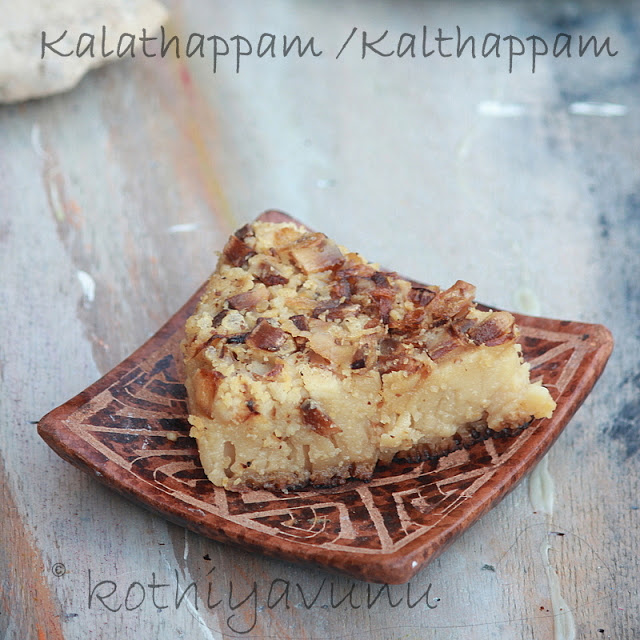 Related Posts :
Vattayappam /Steamed Rice Cake
Kallappam /Rice Cake with Toddy
Kappa Kinnathappam /Tapioca Steamed Cake in a Plate